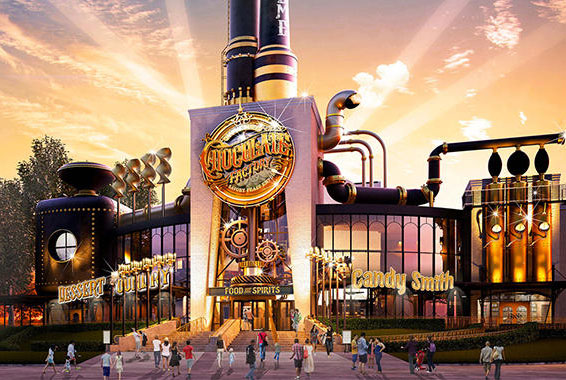 Fans of the wonderfully weird world of Willy Wonka can probably hear their stomachs growling as news has broken that a restaurant inspired by the imaginative Chocolate Factory is in the works.
Universal Studios Orlando announced it will open Toothsome Chocolate Factory & Savory Feast Emporium on its CityWalk, close to Universal Islands of Adventure theme park.
Although not officially affiliated with Roald Dahl's book Charlie and the Chocolate Factory or either the 1971 film Willy Wonka and the Chocolate Factory or the 2005 adaptation Charlie and the Chocolate Factory, it's clear where this restaurant's roots lie.
Adorned with tubes, towering smoke stacks and funky gadgetry to resemble Willy Wonka's iconic factory, the staff will be decked out in accordance with the zany theme, embracing a "unique Steampunk fashion," according to Universal Orlando.
And even though traditional items will appear on the menu, like burgers, pastas, seafood, steaks and salads, the real treat comes with dessert.
Snozzberries, mushrooms spurting whipped cream or pumpkins filled with sugar cubes won't be served, but the "artisan" ice cream sundaes and milkshakes promise to have patrons feeling like Charlie, Augustus Gloop or Veruca Salt. Universal Orlando says the milkshakes will come in five fun flavors: Chocolate x5, Bacon Brittle, Espresso Buzzzz, Red Velvet and Key Lime Pie.
The restaurant will also sell various candies and chocolates, which visitors can witness being made.
Toothsome Chocolate Factory & Savory Feast Emporium will open later this year. We suggest you forget about your golden ticket invite and find a place in line soon. ~Matthew Pariselli