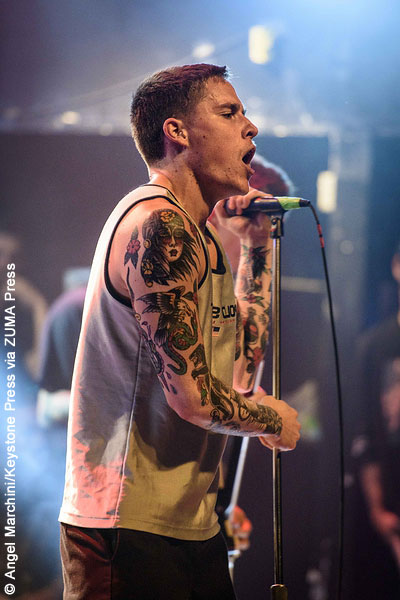 The U.S. band The Story So Far from Walnut Creek, California was performing in Toronto at The Mod Club when lead singer Parker Cannon (pictured) noticed a girl who'd gotten on stage to take a selfie.
He was behind her when he leaped into the air and kicked her in the back. She went flying off the stage into the crowd.
A fan was filming the concert and posted the video above to YouTube, where it's gotten over 900,000 views. Mod Club manager Jorge Dias said he was shocked by the singer's actions and has banned the group from playing at the club. "We are appalled by the actions of the singer," he said. "That was a very cowardly act."
The videographer described what happened with obvious sarcasm: "Parker gently caresses girl off stage with his foot after overstaying her welcome."
As it turns out, this is not the first time Cannon has kicked a fan. Last June he kicked a guy in Houston, Texas who was on the stage taking a selfie. The fan landed on the stage and then quickly scrambled off.
The incident in Toronto looks far more serious, although the woman has not yet come forward to press charges.