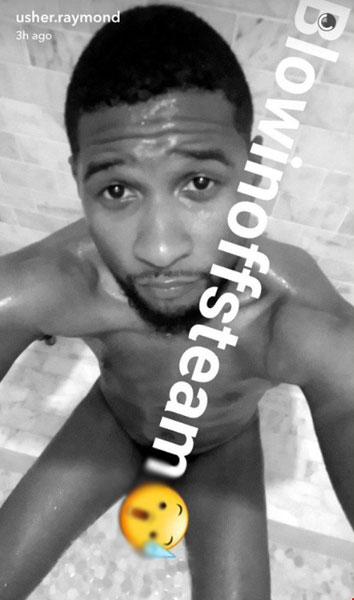 "Can U Handle It?"
Usher, best known for his club-popping tracks and hard-hitting dance moves, has turned up the heat on Snapchat with a sizzling nude selfie.
The singer, songwriter and actor is an avid fan of Snapchat, documenting several activities per day. Yesterday, he took it one step further.
After posting about eating crabs, taking a flight, watching films and strolling around his humble abode, he chose to take a shower…and left the curtain open for the world to join in.
Usher carefully captioned the photo so his private areas were the only parts not visible to his Snapchat followers. With the caption "Blowin' off steam" diagonally positioned across the image, a well-placed emoji conceals his manhood.
This isn't the first time the 37-year-old has posted a sweltering photo to social media. In November 2015, he gave his fans a glimpse of his chiseled abs through Instagram. We have a feeling the image sparked a "Yeah!" from a follower or two.
But the only woman able to enjoy Usher's fiercely fit physique is Grace Miguel, who married Usher last year during a private ceremony in Cuba.
"U (don't) Got it Bad," Grace.
~Matthew Pariselli