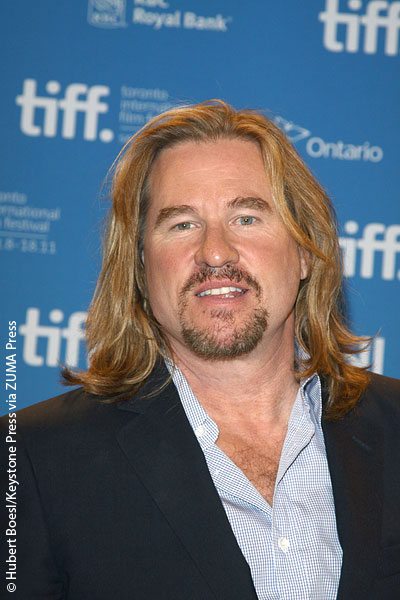 Val Kilmer may "love" Michael Douglas, but that isn't stopping him from denying a false claim made by the Wall Street star.
In a Tuesday, Nov. 1 Facebook post, Val addressed Michael's statement that he's currently battling cancer. He wrote, "I love Michael Douglas but he is misinformed."
The 56-year-old Batman Forever actor added that he has "no cancer whatsoever."
In London last weekend, Michael was discussing the 1996 drama The Ghost and the Darkness, which both he and Val headlined. He made a startling announcement when he said that Val has cancer.
Michael, 70, said, "Val was a wonderful guy who is dealing with exactly what I had, and things don't look too good for him."
He was referring to the stage 4 oral cancer he fought and eventually beat in 2013.
Val corrected Michael's comments and added that he spoke to him nearly two years ago in regards to seeing a specialist about a lump in his throat. Val said he was treated at UCLA and is still dealing with a swollen tongue, but is "rehabbing steadily."
He also said he's filmed three movies in the last year — including Cinema Twain, which is about his one-man Mark Twain play — and that he's sure Michael "meant no harm" by declaring that he has cancer.
Check out Val's full Facebook post below.
What do you think about this? Should Michael have spoken out about Val's health? Share your thoughts with us. ~Matthew Pariselli