Venom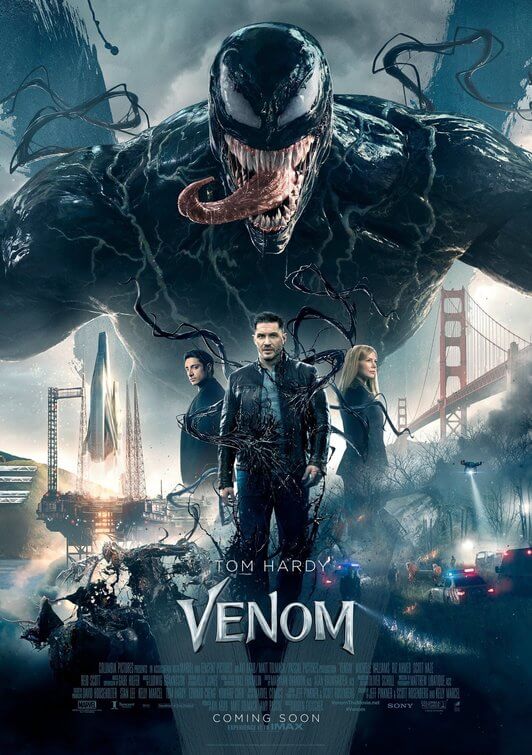 held tight to its first-place crown while two new releases earned a spot in the top five at the box office this weekend, including the highly anticipated biographical drama First Man starring Ryan Gosling. Check out all the films that made the top five this weekend – October 12 to 14.
Venom had a strong second week in theaters and earned an additional $35.7 million to bring its gross domestic total to $142.8 million. The superhero thriller stars Tom Hardy as Eddie Brock, an investigative reporter whose body is taken over by an alien symbiote known as Venom.
Bradley Cooper and Lady Gaga's drama, A Star is Born, took second place again and raked in an additional $28 million at the box office for a total of $94.2 million in its second weekend.
Ryan Gosling stars as Neil Armstrong in First Man, which debuted in third place and earned $16.5 million in its first weekend in theaters. As the race to send a man to the moon intensifies, NASA enlists Armstrong to pilot Apollo 11 and command the dangerous lunar landing.
Another newcomer, Goosebumps 2: Haunted Halloween, achieved a spot on the list, bringing in $16.2 million at the box office. The action-adventure flick follows Sonny Quinn (Jeremy Ray Taylor) and his friend Sam Carter (Caleel Harris) after the two unwittingly let loose all of author R.L. Stine's frightening creatures into the world.
Rounding out the list is the animated film Smallfoot, which earned an additional $9.3 million for a domestic total of $57.6 million in its third week.
Did you see any of the movies on the list this weekend? Let us know your thoughts below! ~Caitlyn Clancey