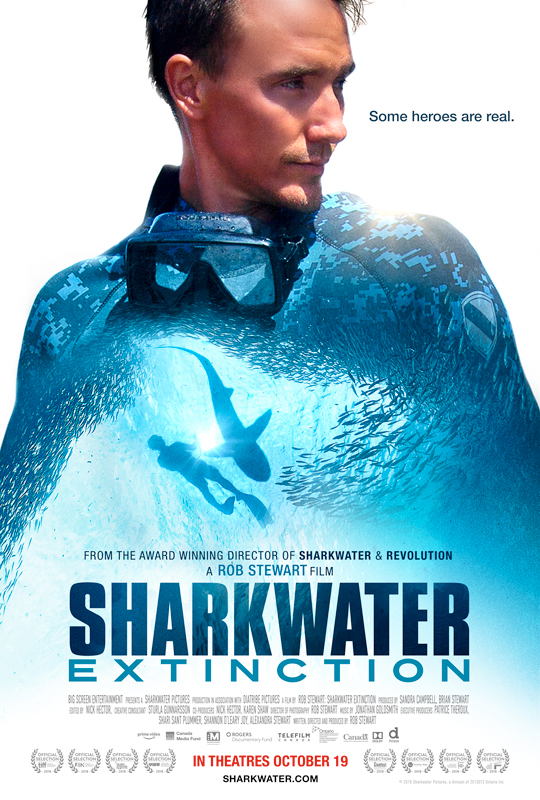 The Vancouver International Film Festival has announced the debut of the Rob Stewart Eco Warrior Award. The annual award will recognize an individual whose work as an activist and storyteller advances social impact agendas and changes the way we think and act in the world.
"VIFF is humbled to announce the first annual Rob Stewart Eco Warrior Award will be presented to an impact filmmaker beginning 2019 and include a cash grant of $5,000," said Jacqueline Dupuis, Executive Director of VIFF. "Together with RBC and Cineplex, we are committed to elevating social visionaries and defenders of truth and Rob Stewart is a shining example of exactly that."
Rob Stewart was an award-winning filmmaker and beloved conservationist, known for his films Sharkwater (2007), Revolution (2013) and the upcoming Sharkwater Extinction (2018), which brought the devastating issues of shark finning and ocean conservation to the world stage. In fact, following the release of Sharkwater, many countries put bans on shark fins in place.
However, Rob found his work wasn't done when he discovered sharks were being hidden in many products sold to the public, such as cosmetics, pet food and even our food, which is what he was working on exposing while shooting Sharkwater Extinction.
In January 2017, while getting footage of rare sharks for the film, Rob tragically passed away during a dive off the Florida Keys. The world was stunned by the loss of one of the most influential activists of our time. Rob risked everything in a tireless effort to educate, preserve and defend the oceans.
"The Stewart family is honored that the Vancouver International Film Festival has created the annual Rob Stewart Eco Warrior Award. Our thanks to RBC and Cineplex for their tremendous support in making this possible," said Brian and Sandy Stewart, Alexandra Stewart and her husband, Roger Rudisuli. "VIFF was a special place for Rob; in addition to Sharkwater Extinction, both Sharkwater and Revolution premiered there and he worked with so many people in Vancouver and BC in the protection of our oceans. Rob would be thrilled that this award will continue to inspire filmmakers committed to making positive change in the world."
"As a filmmaker, Rob gave his life to changing people's perceptions of sharks. They are extraordinary creatures that play a crucial role in our marine ecosystems," said Michael Kennedy, Executive Vice President, Filmed Entertainment for Cineplex. "The greatest tribute Rob could receive, would be for people to rise up to help end the relentless slaughter of our precious sea life. We at Cineplex hope this Award helps to create this change through education and positive action."
Sharkwater Extinction will debut in theatres across Canada on October 19, 2018.