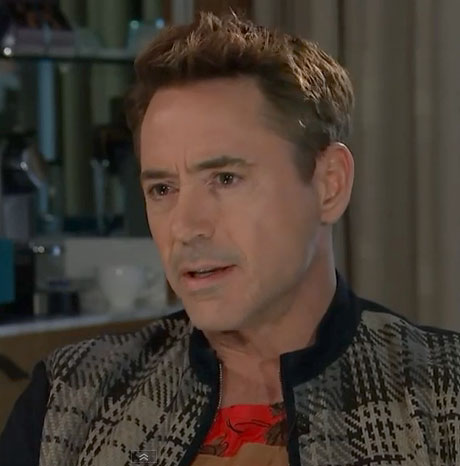 While doing a tension-filled interview with British Channel 4 News presenter Krishnan Guru-Murthy to promote his new movie Avengers: Age of Ultron, Robert Downey Jr. became visibly annoyed when the interviewer suddenly began to ask about his past. At first, he laughed off Krishnan's question about a quote he gave years earlier about having spent time in prison, and asked whether they were there to promote a movie, in an effort to get the interview back on track.
When Krishnan asked whether he could also ask questions about Robert and not just the movie, Robert answered with a warning glint in his eye, "You have as much time as anyone else will."
Krishnan then said, "Well, let me ask you a few more questions then and you can answer them if you want to, and not if you want to," while Robert looked to his left at someone off camera. Krishan added, "We've got three more minutes on our agreement," while Robert glared at him, interrupting with, "Your foot's jumping around a little, you'd better get to your next question."
Instead of dropping it, Krishnan asked Robert, who was visibly getting more annoyed by the moment, about his past again, referring specifically to his past drug use, and asking if he felt he was free of "all of that."
Robert finally interrupted him by shaking his head and asking, "I'm sorry, I really don't… What are we doing?" Krishnan responded, "I'm just asking questions, that's all." To which Robert replied, "Right. Bye!" He then got up, and after apparently smacking the journalist on the shoulder, left. Watch the video below.