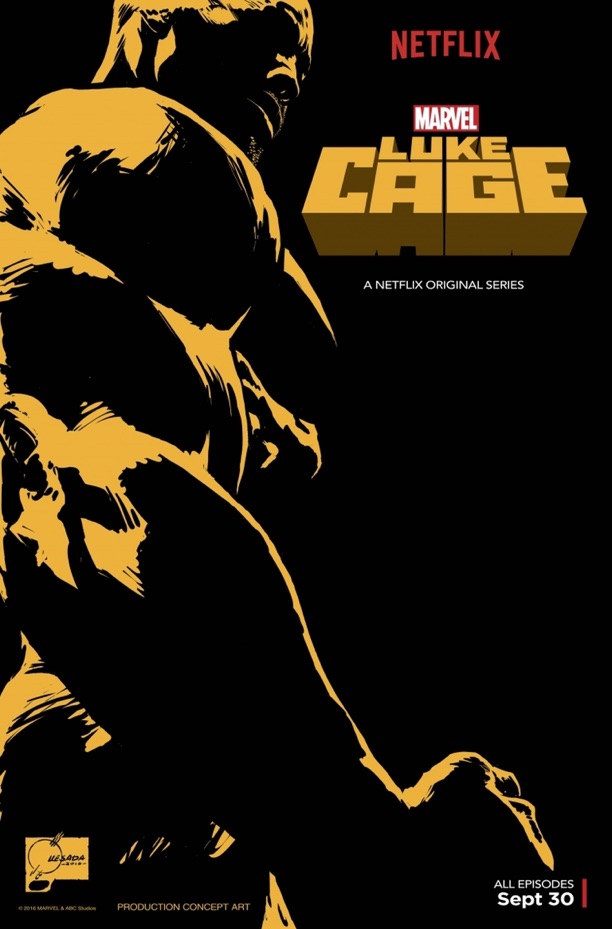 Marvel has finally dropped trailers for some of its upcoming original Netflix shows: Luke Cage, Iron First and The Defenders!
Released at San Diego's Comic-Con, each trailer is about a minute long and gives us some idea of what to expect in the superhero-packed lineup. Scroll down to see the trailers. Make sure to comment down below on what series you are most excited to see!
~ Natalia Makarski
First off, we have Luke Cage. With it debuting on September 30, it's obviously going to be the most anticipated trailer of the three. We see Mike Colter from Marvel's Jessica Jones show off his character's superhero strength with his effortless ability to tear off a car door and use it to break down the metal door of a building. Even when he is shot at, the bullets have no effect on him and he continues on walking. With Ol' Dirty Bastard's Shimmy Shimmy Ya playing in the background, he easily overpowers all of the men going after him, and kicks down a metal grate door. When he is questioned about being Harlem's hero, he responds with, "I'm just getting started."
The Iron Fist trailer offers somewhat less information, but it does give us a look at its protagonist Danny Rand, played by Finn Jones — who is looking very different from when we last saw him as Loras Tyrell from Game of Thrones. We are shown flashbacks of a woman and an injured child, before we see Danny lying in the snow, and two monk-looking men are looking down on him. We then flash to the city, where Danny is constrained to a bed in what appears to be some sort of hospital, but of course, he manages to bust through the wall anyways. The series is set to be released in 2017.
Similar to The Avengers, the upcoming The Defenders, where the heroes of Daredevil, Jessica Jones, Luke Cage and Iron Fist, are all tied together in a miniseries. The trailer doesn't offer many hints as to what to expect from the team, but opens up with Nirvana's Come as You Are playing, while clips of various articles and notes are shown. One reads, "Who is Danny Rand?" We then hear a voice in the background that asks, "You think the four of you can save New York? You can't even save yourselves." The Defenders will be releasing sometime in 2017.