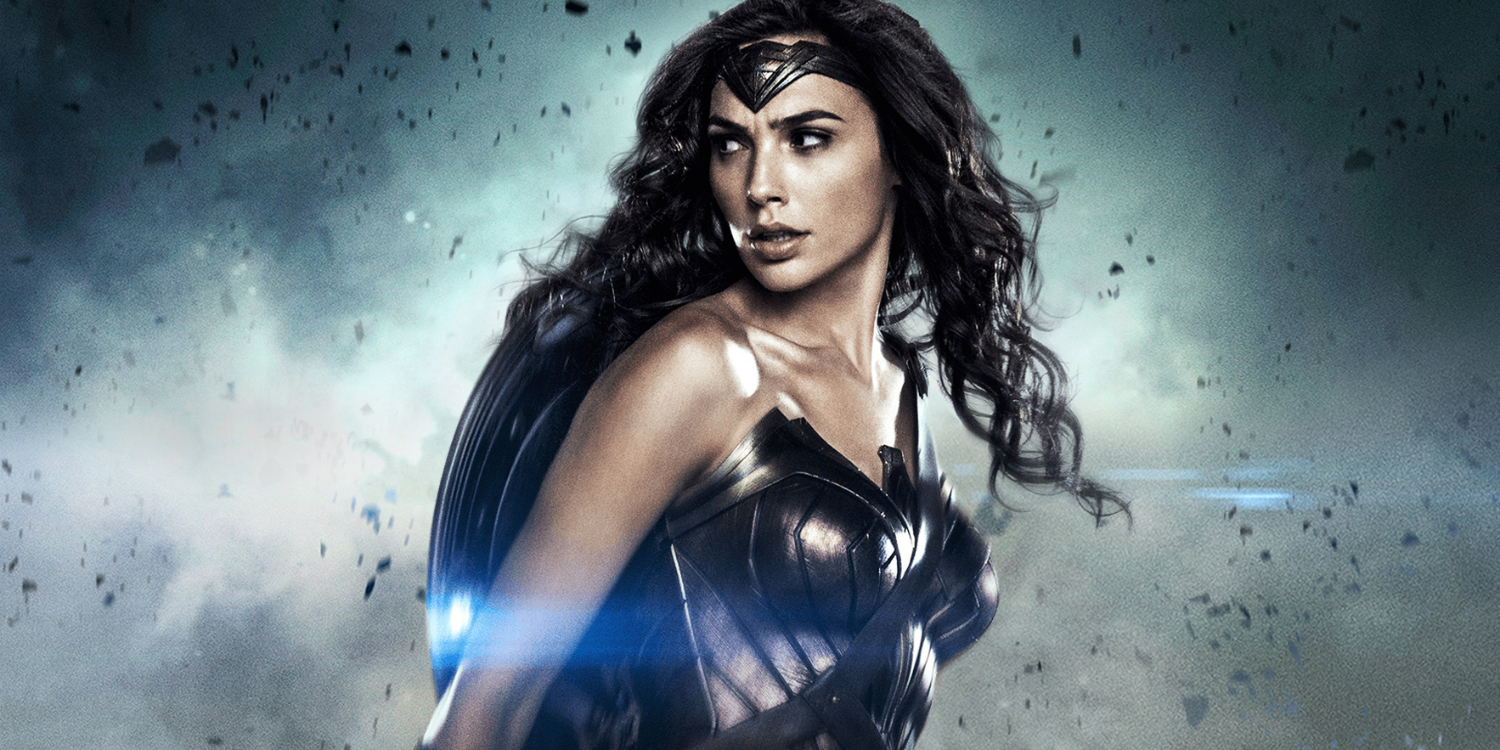 Comic-Con premiered some jaw-dropping trailers over the weekend that have broken the internet, and we've got your fix of them below. Keep scrolling, grab some popcorn and let your inner fan-girl shriek.
~ Yanis Khamsi
Wonder Woman
In the Comic-Con trailer for Wonder Woman, Diana Prince (Gal Gadot) rescues United States Air Force pilot Steve Trevor (Chris Pine). Steve is the first man Diana has ever encountered, having grown up in the Amazon. Diana explains to Steve that she has never known a man. When Steve asks about her father, Diana says that she was brought to life by Zeus. "Well that's neat," Steve replies.
The movie is set 100 years ago during World War I. Diana Prince is an immortal amazonian goddess who, after spending her life secluded, decides to implicate herself in World War I. Fans of Wonder Woman will be relieved to see her famous outfit, shield and lasso remain in tact. This particular origin story does not stay true to the comics, which depict Wonder Woman as more complex and involving several different "Wonder Women." Trying to convert the comics into a theatrical film would have probably felt too cluttered, and so a new origin story was made.
Justice League
In the first look at Justice League Bruce Wayne/Batman (Ben Affleck) is searching for Aquaman (Jason Momoa) in a remote fishing village. He's heard rumors about a man who brings fish to the village in the winter. "I hear you can talk to fish," Bruce Wayne asks Aquaman. Bruce then asks the Flash (Ezra Miller) to join the Justice League. He agrees because he needs friends. Bruce tests The Flash's abilities by throwing a Batman blade at him. After catching the blade, he asks, "Can I keep this?" The trailer also features Wonder Woman (Gal Gadot), and a first look at Cyborg (Ray Fisher).
Fans of D.C. comics are raving about this trailer. It's the most they have ever seen of Aquaman in the D.C. cinematic universe, as well as an introduction to Ezra Miller's Flash.
Suicide Squad
In the Suicide Squad soundtrack remix trailer, colorful text appears reading, "Hey Hall H, you wanna see something?!" The team sit together in a bar as Deadshot (Will Smith) proposes a toast. "Here's to honor among thieves," he proclaims. More info on their mission is revealed. There appears to be a giant electric field in the middle of the city. "Look at the pretty lights!" exclaims Harley Quinn (Margot Robbie). The team is seen engaging in combat against the briefly shown villains of the movie. The Joker (Jared Leto) is seen laughing maniacally, and then says, "I can't wait to show you my toys!"
Nothing of this sort has ever been attempted in the modern superhero blockbuster era. Villains are often times poorly developed in superhero movies. No more. Suicide Squad is the story where the villains are protagonists. It will also be the live-action debut of Harley Quinn, one of D.C.'s most iconic characters. Jared Leto's Joker is generating a lot of online buzz, but his trailer appearances have been limited.
Doctor Strange
In the second official trailer for Doctor Strange, Doctor Stephen Strange (Benedict Cumberbatch) is shown getting into a serious car accident. We then see him seriously maimed in a hospital bed with his friend and colleague Christine Palmer (Rachel McAdams) at his side. When Doctor Strange visits a Tibetan monastery, he is exposed to alternate dimensions. "This doesn't make any sense," he says. "Not everything does…not everything has to" he is told. Kaecilius (Mads Mikkelsen), the film's villain, introduces himself as "death and pain." Strange is handed a piece of paper reading "Shamballa." Strange thinks it's a mantra, but it turns out to be the WiFi password.
Most movie fans aren't familiar with Doctor Strange, but the humor present in the trailer has already won over millions. Doctor Strange has long been a favorite of Marvel fans because of his character's command of the mystical. It's more than just super strength with Doctor Strange, there's a profound tradition of magic and secrecy that he is allowed to join. While there may be an appeal to having an iron suit, fans of Doctor Strange appreciate the mythology of his lore.
The Lego Batman Movie
In the Comic-Con trailer for The Lego Batman Movie, Batman (Will Arnett) asks his computer how to put the Joker (Zach Galifianakis) into Arkham Asylum. Alfred (Ralph Fiennes) tells Batman it's time to stop dressing in black and staying out all night and take care of his son. It turns out Batman adopted an orphan child (Michael Cera) "sarcastically." When the boy discovers the bat cave, he asks, "does Batman live in Bruce Wayne's basement?" Batman responds, "no, Bruce Wayne lives in Batman's attic." The orphan discovers a "Reggae Man" suit, but feels that the pants are too tight. When he removes the pants, the boy's costume becomes the iconic Robin costume. When Robin asks why the bat mobile doesn't have seat belts, Batman screams, "because life doesn't give you seat belts."
Batman is known for being dark, brooding and serious, so Michael Cera's silly Robin is the perfect contrast. In fact, the juxtaposition of Batman's dark appearance with Robin's boyish (and ridiculous) looking outfit have long been a source of humor for fans of Batman. The Lego Batman Movie appears to be no exception.
Fantastic Beasts and Where to Find Them
In the Comic-Con trailer for Fantastic Beasts and Where to Find Them, the year is 1926. Newt Scamander's (Eddie Redmayne) monsters are on the loose in New York City. The city's muggles, colloquially known as "No-Maj," are beginning to grow suspicious. We see some impressive shots of Newt's monsters, as well as era-appropriate cars and buildings. Jacob Kowalski (Dan Fogler), a No-Maj, joins Newt on his quest to recapture his monsters.
Fans of Harry Potter are excited. Fantastic Beasts and Where to Find Them was a popular book written by J.K. Rowling. After seven movies following the mostly rule-adhering students of Hogwarts, fans get to experience the more adult side of the wizarding world. Newt Scamander is a deviant who was expelled from Hogwarts, and his mischievous adventures will be a welcome change from seeing school children run around campus hoping to not get expelled. There's a certain class to seeing full grown adults playing on the border of morality with regards to Harry Potter protagonists.
Kong: Skull Island
In the Comic-Con Trailer for Kong: Skull Island, Packard (Samuel L. Jackson) asks Randa to tell him everything he knows or else "I'm gonna blow your head off." The team is stranded on Skull Island, which is shown extensively in the trailer. "This planet doesn't belong to us," Randa says. The trailer also introduces Captain James Conrad (Tom Hiddleston) and Weaver (Brie Larson). At the end of the trailer, King Kong's face is shown. He is not pleased.
We've all seen King Kong climbing up the Empire State Building ten million times. In Kong: Skull Island, our heroes are trapped in King Kong's home turf. This is a welcome change to the tired formula. Fans will no doubt see the movie, but King Kong is an inherently good monster. Godzilla is destructive, but King Kong has a conscience. This makes him boring and less intimidating in the eyes of moviegoers. King Kong's appeal was always in how sympathetic he was, having been taken from his home and turned into a circus act. King Kong as a straight-ahead monster movie is new, but movie fans are still not convinced.
Blair Witch
In the official Comic-Con trailer for Blair Witch, James Donahue (James Allen McCune) finds amateur video he believes was shot by his sister. James' sister has not been seen for 15 years, and he ventures into the Black Hills Forest to find her and uncover the truth behind the legend of the Blair Witch. The trailer shows James and his friends tragically treading the same path his sister Heather and her friends treaded in the previous Blair Witch movie. The team enters the same house where the last movie ended. The screen goes to black and James is heard crying, "I'm so sorry."
The Blair Witch Project changed the game, but it's hardly a movie that fans felt needed a franchise. When Blair Witch 2 came out, fans were not impressed. Many horror fans still think it should have been left alone, but the critical buzz around Blair Witch has many horror fans hopeful it will turn out well.
King Arthur: Legend of the Sword
In the official Comic-Con trailer for King Arthur: Legend of the Sword, the famous sword Excalibur is buried in a stone. Men from all around try to lift the sword, but to no avail. When Arthur (Charlie Hunnam) lifts it, he is asked to join the Resistance and claim his rightful place as King. Arthur says he doesn't want to fight. This is followed by footage of Arthur fighting. We are introduced to Vortigern (Jude Law), a British warlord who killed Arthur's parents and stole his rightful crown.
King Arthur is a timeless legend that few movie fans would oppose to seeing remade. After seeing the trailer, fans are buzzing about the film's unique visual style. There are goofy sound effects, quick cuts, and loads of action. Fans are also excited about Game of Thrones stars Aidan Gillen and Michael McElhatton being on board.