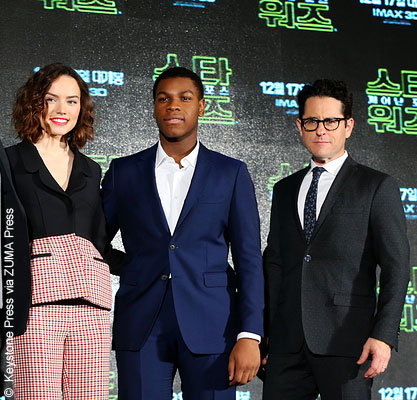 Director J.J. Abrams, pictured here with cast members John Boyega and Daisy Ridley at a publicity event in Seoul yesterday (Dec. 9), has admitted that there will be Easter eggs (inside jokes or hidden messages) in the upcoming movie Star Wars: The Force Awakens, which opens in just over a week from today.
He told popsugar.com a few days ago: "We put some Easter eggs in, but they were Easter eggs that weren't sort of the normal, from-another-movie type of Easter eggs."
Abrams added: "They were things we knew people would discover upon later viewings. Small things. But there's a chase that involves the Falcon, and if you look at it carefully, there are a couple of things that happen in it that might be fun to recognize."
He also talked a little about the plot, saying that while the movie is about "the characters we know and love," such as Han Solo (Harrison Ford), Princess Leia (Carrie Fisher) and Luke Skywalker (Mark Hamill), there also had to be a reason to tell the story.
"These two characters of Finn and Rey — and there are others, too — these were the characters we really wanted to explore… these were just two characters that, for whatever reason, were really compelling to us. And that was the thing that we knew was the most important thing. Because Star Wars has always been this generational story of young people discovering their value and place in this universe."
Star Wars: The Force Awakens opens Friday, December 18, 2015.