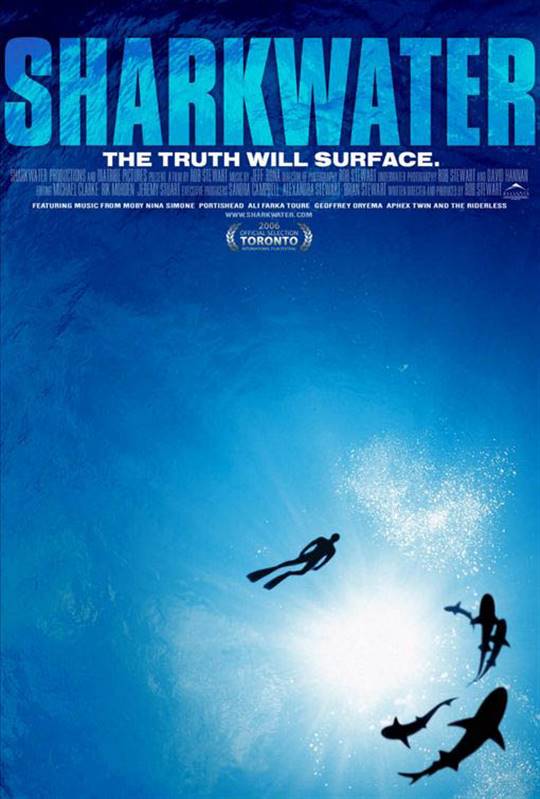 Tomorrow (April 19) is National Canadian Film Day and there will be hundreds of free screenings of your favourite Canadian films playing across Canada in every province — all day long.
One of the most popular is Sharkwater — Rob Stewart's award-winning documentary about sharks. Stewart spent his life working diligently to save sharks, whose numbers have been decimated by illegal shark finning.
Sharkwater won more than 50 awards around the world and was the highest-grossing documentary in Canada in the last 10 years. Since the movie debuted at the Toronto International Film Festival in 2006, Stewart's efforts to protect sharks led to over 80 countries banning the cruel practice.
If you can't attend a screening but would like to make a donation to the World Wildlife Fund in Rob Stewart's memory to continue his conservation work, click here. A tax receipt will be issued.
Work continues on the sequel — Sharkwater: Extinction — Stewart was filming when he passed away during a diving accident.
For more about National Canadian Film Day, click here. ~Alexandra Heilbron
Full list of venues showing Sharkwater across Canada on April 19:
St. Joseph CES at 477 Warminster Drive in Oakville, ON at 8:30 a.m.
East York Collegiate at 650 Cosburn Ave in Toronto, ON at 9:00 a.m. (double bill with Angry Inuk)
St. Peter's Hospital at 88 Maplewood Ave. in Hamilton, ON at 10:00 a.m.
Churchill Community High School at 1201 Hildebrand Drive in La Ronge, SK at 10:30 a.m.
St. Jerome Catholic School at 111 Sharpecroft Blvd in North York, ON at 12:30 p.m.
Whitestone Public Library at 2206 Hwy 124 in Dunchurch, ON at 1:00 p.m.
Queen Alexandra Middle School at 181 Broadview Ave, Toronto, ON at 1:00 p.m.
Downsview Branch at 2793 Keele Street in Toronto, ON at 1:00 p.m.
SCRL – Altona Branch at 125 Centre Ave West in Altona, MB at 1:00 p.m.
Mount Forest Branch at 118 Main St. N. in Mount Forest, ON at 2:30 p.m.
Ocean Park Library at 12854 – 17th Ave in Surrey, BC at 3:00 p.m.
Caistorville Branch at 9549 York Rd in Canfield, ON at 6:30 p.m.
Toronto Public Library Leaside Branch at 165 McRae Drive in Toronto at 6:30 p.m.
The Movie Mill Inc at 1710 – Mayor Magrath Dr. S. in Lethbridge, AB at 7:00 p.m.
Red Deer College Motion Picture Arts Program at 4922 49 Street in Red Deer, AB at 7:00 p.m.
Swift Current Library at 411 Herbert St East in Swift Current, SK at 7:00 p.m.
Habitat for the Arts at 500 Robson Street in Jasper, AB at 7:00 p.m.