Watch: The Super Bowl Big Game Spot 2019 movie trailers
By Marriska Fernandes on February 4, 2019 | Leave a Comment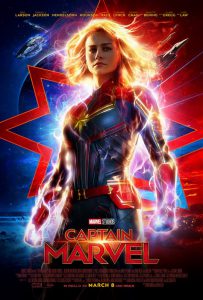 While millions were watching the Super Bowl this past weekend as Tom Brady was in his element, many of us were anxiously anticipating new footage from our favorite movies and series releasing this year.
From Brie Larson kicking butt in Captain Marvel, to Jordan Peele's horror film Us, to the adrenaline-packed Fast & Furious Presents: Hobbs & Shaw, the Big Game trailer releases had something for everyone. Here's a look at the new trailers that dropped yesterday. ~Marriska Fernandes
Avengers: End Game
Thanos (Josh Brolin) has wiped out 50 percent of all living creatures. With Tony Stark (Robert Downey Jr.) adrift in space, the remaining Avengers, including Black Widow (Scarlett Johansson) and Captain America (Chris Evans), are making a plan—with the help of Scott Lang (Paul Rudd).


Fast & Furious Presents: Hobbs & Shaw
A spinoff of The Fate of the Furious, this film has Dwayne Johnson's Luke Hobbs forming an unlikely alliance with Jason Statham's Deckard Shaw.
Captain Marvel
Carol Danvers (Brie Larson), a member of the United States Air Force, gains super powers after the explosion of a device created by an alien race called the Kree. The explosion infuses her blood with that of the Kree, leaving her with superpowers.


Us
From Jordan Peele, the writer/director of Get Out, comes this horror about the Wilson family — Gabe, Adelaide (Lupita Nyong'o) and their children, Zora and Jason. During a vacation at their beach house, they come across doppelgängers of themselves, who are clearly there to murder them.
Toy Story 4
Woody (voice of Tom Hanks) and the rest of the toys are back for an all-new adventure, welcoming new friends to Bonnie's room, including a reluctant new toy called Forky (voice of Tony Hale).


Alita: Battle Angel
In the post-apocalyptic town of Iron City, Dr. Dyson Ido discovers a human core named Alita and rebuilds her into a new body. There she befriends the young Hugo, who dreams of escaping. Together, with Dr. Ido, they discover that Alita is more than she seems.


Wonder Park
When June discovers a park is being overrun by cute but very naughty chimpanzombies, she decides to team up with the characters in an effort to clean up the park and make it wonderful again.


Scary Stories to Tell in the Dark
Directed by André Øvredal and written by Dan Hageman, Kevin Hageman, and Guillermo del Toro, this film follows a group of kids who face their fears in order to save their town. This Sunday we were blessed with four short teaser trailers.

Hanna
The upcoming Amazon Prime Video series Hanna follows an extraordinary young girl who was raised in the forest and now evades the relentless pursuit of an off-book CIA agent while she tries to unearth the truth behind who she is.

Our Planet
The eight-part Netflix documentary series will showcase the planet's most precious species and fragile habitats, revealing sights on Earth in ways they've never been seen using the latest in 4k camera technology.

The Handmaid's Tale
A teaser of season three of Hulu's The Handmaid's Tale reimagines Ronald Reagan's iconic Morning in America commercial.

---
---
---