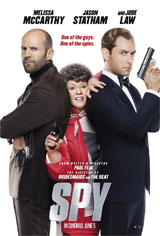 This week we have 7 exciting new trailers to tease you with.  Two spy movies, a few comedies and a cool reboot of a classic sci-fi film. Which movies are you looking forward to seeing on the big screen?
1) Southpaw
2) Spectre
3) Masterminds
4) Spy
6) Preggoland
7) The D Train
Southpaw:  Jake Gyllenhaal plays Billy Hope, a down-on-his-luck boxer. When tragedy strikes and he loses it all, Billy enters the battle of his life as he struggles to become a contender once again and win back those he loves. This film also stars Forest Whitaker and Rachel McAdams.

Spectre: A cryptic message from Bond's (Daniel Craig) past sends him on a trail to uncover a sinister organization.

Masterminds: Zach Galifianakis and Kristen Wiig star as armored car drivers who are able to pull off one of the biggest heists in U.S. history with the help of a conman (Owen Wilson). Based on a true story.

Spy: Susan Cooper ( Melissa McCarthy) works for the CIA as an analyst and wishes her job had the same excitement that her partner (Jude Law) and top agent Rick (Jason Statham) get with theirs. She gets her wish when she volunteers to go undercover to infiltrate the world of a deadly arms dealer.

Mad Max: Fury Road: A reboot of the original Mad Max film from 1979, which starred Mel Gibson in the title role. This one stars Tom Hardy as Max and Charlize Theron as Furiousa, trying to survive in a post-apocalyptic world, in which people fight to the death.

Preggoland: A 35-year-old party girl (Sonja Bennett) who lives with her father (James Caan) fakes getting pregnant so she can fit in with her friends.

The D Train: The head of a high school reunion committee (Jack Black) travels to Los Angeles to track down the most popular guy from his graduating class, now an actor (James Marsden), to convince him to go to the reunion.