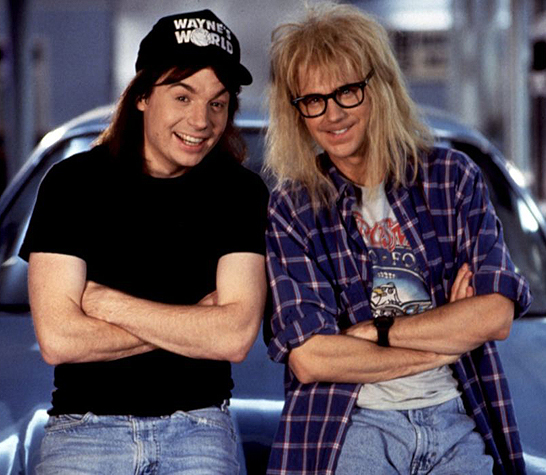 Party on, Wayne!
With Wayne's World's 25th anniversary coming up next month, the seminal Saturday Night Live spinoff flick will be rocking into theaters across the U.S. in celebration.
Screening on Feb. 7 and 8, the '90s classic will also feature an exclusive introduction with Rolling Stone's Peter Travers, and a post-credits roundtable discussion with director Penelope Spheeris and select cast members.
On top of that, Paramount Home Media Distribution will also release a special Wayne's World double feature on DVD and Digital HD on Feb. 14, followed by an iTunes edition with brand new digital extras, including a director's commentary and a making-of featurette.
Wayne's World is the big-screen offshoot of Mike Myers' popular SNL character Wayne Campbell, who, along with his friend Garth (played by Dana Carvey), hosts a local public-access television show, aptly titled "Wayne's World," in Aurora, Illinois.
According to the Chicago Tribune, the city of Aurora is also getting in on the fun, hosting an ongoing celebration called "Party On! 25 years of Wayne's World" that will offer everything from movie screenings to look-alike contests to air guitar competitions. For those of you looking to take a trip to Illinois, the event runs from Feb. 3 all the way through to July 4. ~Shelby Morton
Game on! Remember when Wayne and Garth play street hockey and Wayne's crazy ex Stacy rides her bike into a car? Tell us — what's your favorite Wayne's World moment?