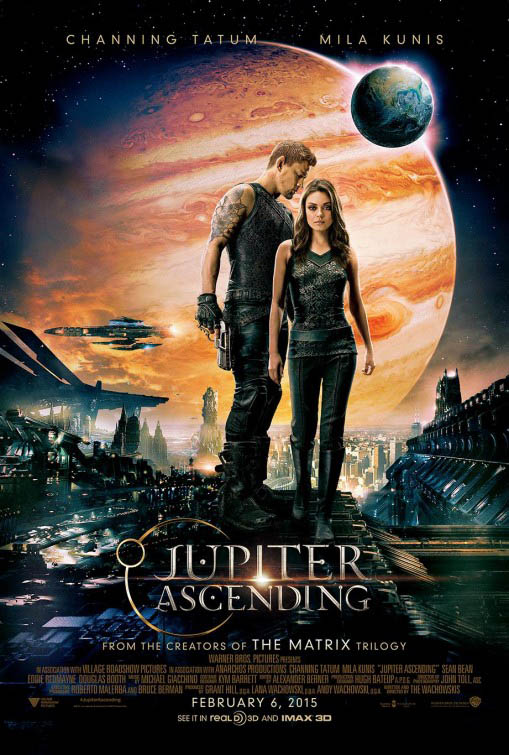 It's the first Friday in February and it's freezing outside. What a better way to warm up then to head to the movies to check out the new releases.
If you are a fan of action movies, this weekend is meant for you.  The anticipated sci-fi fantasy Jupiter Ascending opens today starring Mila Kunis  as Jupiter Jones, a janitor who is unaware her DNA marks her as potentially being the universe's next leader.  When she is ordered for execution, Caine, a genetically engineered ex-military hunter played by Channing Tatum, tracks her down and rescues her and takes her back to his planet where she begins to glimpse her fate. Click here for showtimes.
When evil witch Mother Malkin (Julianne Moore) escapes from being imprisoned for centuries, she seeks revenge on the knight who put her there — Master Gregory (Jeff Bridges).  Gregory has only until the next full moon to do what usually takes years: train a new apprentice, Tom Ward (Ben Barnes) to fight a dark magic unlike any other. The action packed Seventh Son opens today. Click here for showtimes.
If nautical nonsense (or a fun, family flick) is what you are craving, The SpongeBob  Movie: Sponge Out of Water is just the movie for you. When the top-secret Krabby Patty recipe is stolen, SpongeBob and friends travel ashore to our dimension where he has a run in by the pirate Burger-Beard, voiced by Antonio Banderas, who wants the patty recipe for himself. For showtimes click here.
If you are in the mood for some light-hearted comedy/romance then Love, Rosie is worth a watch. Longtime best friends Rosie (Lily Collins) and Alex (Sam Claflin) have yet to take their relationship beyond the friend-zone despite the fact that they both have feelings for each other. Things get complicated when Alex falls for another girl. Will they find their way back to one another, or is it too late? For showtimes click here.
A young prince seeks the aid of two legendary crusaders, Gallian (Nicolas Cage) and Jacob (Hayden Christensen)  to defeat his despised older brother and return him to his rightful place on the throne in the action/adventure film Outcast. For showtimes near you, click here.
And there you have the new releases for this weekend. Enjoy and stay warm movie lovers! ~Suzanne Coolen