True Grit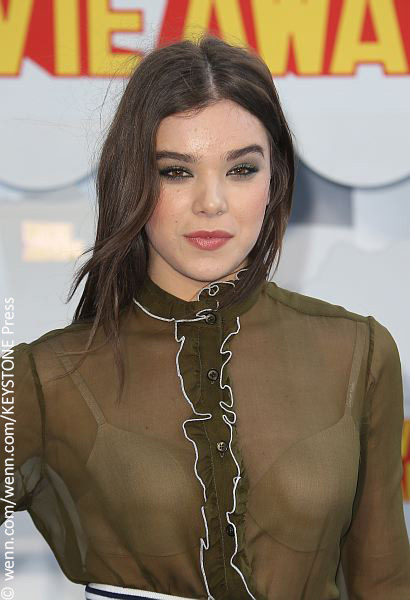 actress Hailee Steinfeld has signed to star in the upcoming supernatural thriller Break my Heart 1000 Times. Based on the young adult novel by Daniel Waters, the film could evolve into a franchise.
Hailee's Pitch Perfect 2 co-star Anna Kendrick has also signed on to a new project. Anna and Aubrey Plaza will now join Zac Efron and Adam Devine in the comedy Mike and Dave Need Wedding Dates.
The Homesman's Hilary Swank is set to act in Denial, the film adaptation of the book History on Trial: My Day in Court with a Holocaust Denier, by Deborah E. Lipstadt. Hilary will star alongside Tom Wilkinson in the story about the legal battle Lipstadt was involved in after she was accused of libel by a man who she said was a Holocaust denier.
A release date has been set for the animated film Shaun the Sheep Movie. Coming out August 7, the film is based on the TV series, Shaun the Sheep, that premiered in 2007 and airs in 180 countries worldwide.
Fifty Shades of Grey is about to get darker…the title anyway. Marlon Wayans and producer/writer Rick Alvarez are teaming up to create a spoof of the pop culture phenomenon. Marlon will co-write and star in the comedy, titled Fifty Shades of Black. This is a reunion for Marlon and Rick, who also worked together on a number of projects including the Haunted House franchise. Production will begin shortly and Fifty Shades of Black is slated for release in 2016.
Angelina Jolie and Brad Pitt have secured a release date for their new film By the Sea. The film is set to roll out on November 15th, just in time for awards season. Angelina wrote the script and will direct and produce alongside husband Brad. By the Sea marks the first time the couple have worked together since Mr. and Mrs. Smith.
Kate Hudson is the latest name added to the cast of Mark Wahlberg's Deepwater Horizon. The role will see Kate play the wife of an oil rig engineer, played by Mark. The cast also includes Gina Rodriguez, Dylan O'Brien, John Malkovich and Kate's stepfather, Kurt Russell. This is the first onscreen pairing for the father-daughter duo. Deepwater Horizon is set for release on September 30, 2016.
Alexandra Daddario is joining Kate Upton in director William H Macy's road trip sex comedy, The Layover. Alexandra and Kate will star as lifelong friends who decide to avoid their problems by taking a vacation, only to find their plane has been rerouted due to a hurricane warning. Alexandra also stars in San Andreas, which opens later this month. Currently the release date for The Layover is yet to be determined. ~Andree Rhooms and Erin Stewart