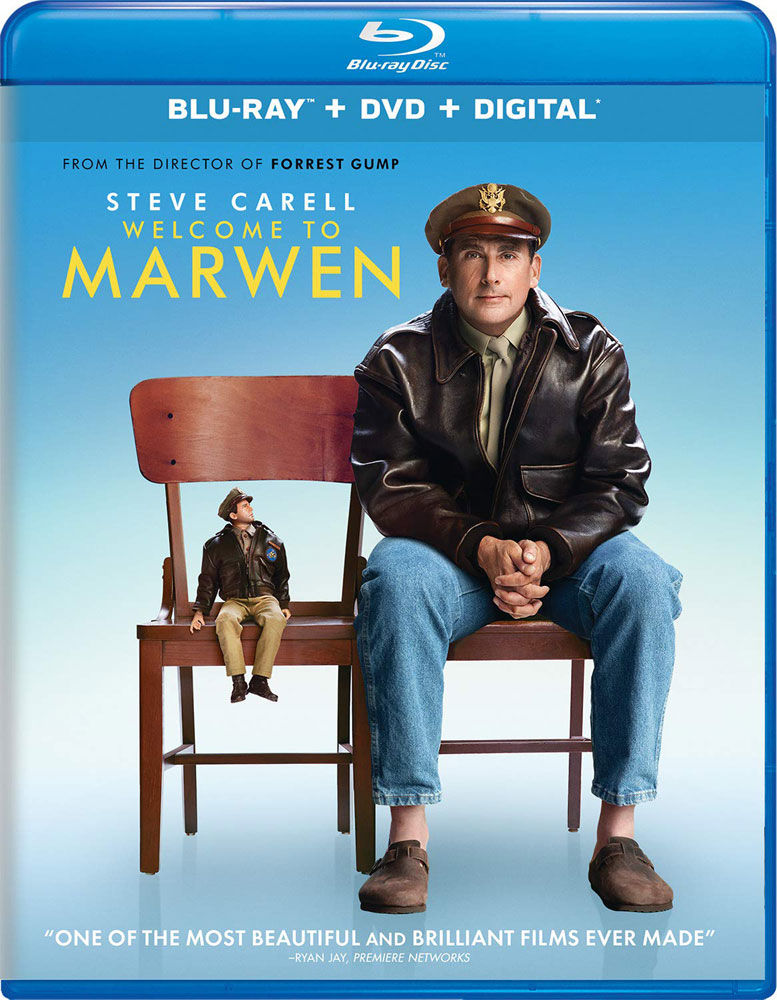 Robert Zemeckis is one of Hollywood's most storied filmmakers with some of the most iconic films of the last few decades to his credit. Last year he added Welcome to Marwen to his filmography.
Inspired by the documentary Marwencol and the story of photographer Mark Hogancamp (Steve Carell), who survived a horrific attack, Welcome to Marwen opens with Mark capturing on film the adventures of Cap'n Hogie, the doll representation of Mark as he's shot down and captured by Nazi soldiers. In the midst of being beaten by the Nazis he is rescued by the women of Marwen, characters representing the various important women who have helped Mark during his recovery.
His photography shoot is abbreviated by a moving truck bringing Nicol (Leslie Mann), a new neighbor across the street. Packing up, he heads inside, where he is reminded of his need to take his medication, the upcoming art gallery show of his photographs, and the impending court date for the sentencing of his attackers.
The reminder of the sentencing causes Mark some anxiety as it brings up the trauma of the attack that left him with permanent brain damage and memory loss. Wanting to forget the pain and move on with his life, he puts off the thought and continues his art as a form of therapy.
With iconic visionary films like the Back to the Future trilogy and Who Framed Roger Rabbit as well as Oscar-nominated and winning dramas like Forrest Gump and Cast Away under his belt, it's safe to say that there were some pretty high expectations for Welcome to Marwen. Unfortunately, after a rather impressive first trailer displaying its creative visuals with an uplifting tone, the end result falls short of its ambitions.
One of the biggest problems of the film is that its screenplay just throws you into the middle of the story. Immediately we're introduced to the world of Marwen and Mark's imagination with very little context given to those unfamiliar with Mark Hogancamp's story. That lack of familiarity with his story has the unintended consequence of distancing audiences from its lead protagonist. We already see how odd and strange his hobby can be, but his added reservedness and timid demeanor create another barrier that audiences have to warm up to.
Generally, that type of handholding for audiences is something I'd argue against, but in a film aiming to be uplifting and inspirational, having to work for that is less than optimal as we don't get a sense of his journey. With Forrest Gump and Cast Away we get to see the respective journeys of their protagonists and the end result of seeing their triumph and victories is fulfilling, but here we're dropped into a battle zone filled with emotional land mines that explode into visual set pieces that we have to draw conclusions from.
That isn't to say that the decision to narrate Mark's photographs into actual narratives representative of his trauma is a bad one — quite the opposite actually — but the ambition to do so doesn't quite work with the rest of the film. In that regard there is a dissonance between the sequences told through Marwen and the visual effects, and the rest of the live-action portions of the film.
However, in speaking of those Marwen segments told through visual effects and motion capture, they are the most impressive aspects of the film. With the dolls taking on the likeness of its cast, Zemeckis is able to use motion capture technology to tell his visually creative narratives with great effect. Though well prepared from his previous efforts in Beowulf, The Polar Express and A Christmas Carol, Zemeckis is able to work past the issue of the "dead eye" look of those films with the updated technology. The result is the cast being able to deliver solid performances both in live-action and in motion capture.
As for the cast itself, it's a talented and affable group led by Steve Carell. He's asked to do a lot with this film and though he is great at portraying the broken side of Mark Hogancamp, it's a stretch to have him as a swashbuckling adventurer and ladies' man as Cap'n Hogie, making his performance unintentionally comical. The rest of the cast are all solid as well, even if they are given very little to do — this is all about Mark.
Welcome to Marwen is a film that had a lot of potential to be great, especially taking inspiration from the critically successful Marwencol documentary. There is a lot of ambition here with this film and Zemeckis is able to flex some of his visual creativity muscles through the Marwen segments, but the film's writing could have used another look over in how it tries to frame Mark as a person for audiences to relate to and sympathize with. Much like the town of Marwen, the movie feels like a scaled-down version of a much more complex story.
Bonus Features
Deleted Scenes – Deleted, extended, and alternate scenes from the film with various levels of finished or unfinished visual effects.
Marwen's Citizens – A look into the casting of the film's central characters.
A Visionary Director – Cast and crew talk about the experience of working with legendary filmmaker Robert Zemeckis, as well as Zemeckis' motivation for tackling the story of Mark Hogancamp.
Building Marwen – Cast and crew discuss the creation of the town of Marwen for the film, including the dolls modeled after the cast.
Living Dolls – A look at Mark Hogancamp's use of dolls and action figures for photography projects and how it inspired the visual look and narrative tools of the film.
If you have seen Welcome to Marwen and would like to rate/review it yourself, click here.