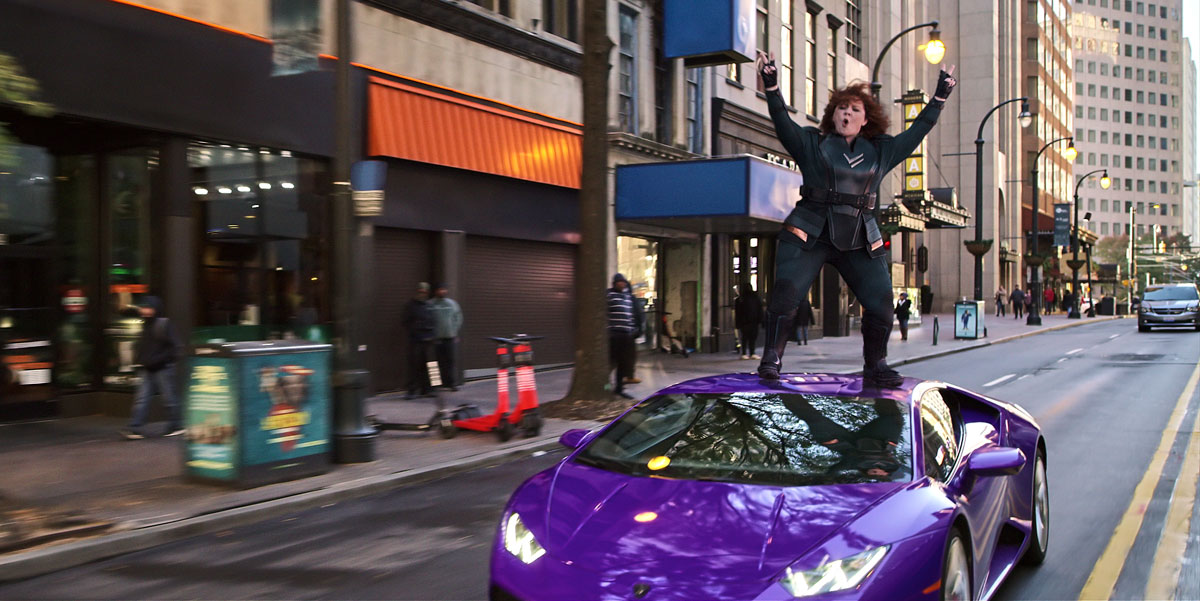 Check out the new DVDs, Blu-rays and streaming shows (Netflix, Amazon Prime Video, BritBox, Disney+, Acorn TV and more) coming out this week, including the action/comedy Thunder Force starring Melissa McCarthy and Octavia Spencer. ~Alexandra Heilbron
Thunder Force – Scientist Emily Stanton (Octavia Spencer) has developed a formula designed to give ordinary people superpowers. When her best friend Lydia (Melissa McCarthy) comes to visit her at her lab, she is accidentally injected with one of Emily's formulas, giving her superhuman strength. Lydia is not the only super-powered human, as Emily has the ability to turn invisible. The two of them form a new superhero team and their first task is to save the city of Chicago from a new criminal (Bobby Cannavale). Debuts April 9 on Netflix.
This is a Robbery: The World's Greatest Art Heist – On St. Patrick's Day weekend in 1990, legendary works by Rembrandt, Vermeer and others worth over half a billion dollars today were stolen from the Isabella Stewart Gardner Museum in Boston — the biggest art heist in history. This four-part docuseries covers the leads, dead ends, lucky breaks and speculations that revolved around the investigation of this mystery, which remains unsolved. Debuts April 7 on Netflix.
Them – This limited anthology series explores terror in America. The first season centers around a Black family who moves from North Carolina to an all-white Los Angeles neighborhood. The family's idyllic home becomes ground zero where malevolent forces, next door and otherworldly, threaten to taunt, ravage and destroy them. Debuts April 9 on Amazon Prime Video.
Barb & Star Go to Vista Del Mar – Best friends Barb (Annie Mumolo) and Star (Kristen Wiig) leave their small Midwestern town for the first time to go on vacation in Vista Del Mar, Florida, where they soon find themselves tangled up in adventure, love, and a villain's evil plot to kill everyone in town. Available April 6 on DVD/Blu-ray/Digital/VOD.
Pandemic (aka Alone) – One morning, lonely surfer Aidan (Tyler Posey) awakens to find that a global pandemic has turned most of humanity into blood-thirsty zombies known as "screamers." Just as he's ready to give up hope, Aidan spots his attractive neighbor Eva across the courtyard, and soon the two become "socially distant" friends. Trying to find a way to rescue her, Aidan confronts an eccentric neighbor (Donald Sutherland) who could be their salvation — or their downfall. Available April 6 on DVD/Blu-ray/Digital/VOD.
April 5
Bloodlands (Acorn TV Original)
The Brokenwood Mysteries: Series 7 (Acorn TV Exclusive)
Coded Bias (Netflix)
Diana (Sundance Now)
Family Reunion: Part 3 (Netflix)
Ida (Sundance Now)
The Norman Conquests (Acorn TV)
Only Foals and Horses (Acorn TV)
Pandora: Season 2 (Amazon Prime Video)
Sheriff (Sundance Now)
April 6
Amundsen: The Great Explorer (VOD/Digital)
Barb & Star Go to Vista Del Mar (DVD/Blu-ray/Digital/VOD)
Dawn of the Beast (VOD/Digital)
Death in Paradise: Season 10 (BritBox)
Embryo (VOD/Digital)
Finding Joy: Season 2 (DVD)
The Last Kids on Earth: Happy Apocalypse to You (Netflix)
Luz (VOD/Digital)
Pandemic (aka Alone) (DVD/Blu-ray/Digital/VOD)
The Pig Farm (Sundance Now)
The Reckoning (DVD/Blu-ray/Digital/VOD)
Senior Moment (VOD/Digital)
Shadow in the Cloud (DVD/Blu-ray/Digital/VOD)
The Slaughterhouse Killer (DVD/VOD)
Sugar Daddy (VOD/Digital)
Underplayed (VOD/Digital)
April 7
The Big Day: Collection 2 (Netflix Original)
Dolly Parton: A MusiCares Tribute (Netflix)
Dragon: The Bruce Lee Story (Netflix)
Elizabeth (Netflix)
Fried Green Tomatoes (Netflix)
Hop (Netflix)
Leap Year (Netflix)
Liar Liar (Netflix)
Missing Link (Netflix)
Pride & Prejudice (2005) (Netflix)
The Priest (Amazon Prime Video)
Ray (Netflix)
Ride Along (Netflix)
Snabba Cash (Netflix Original)
This Is A Robbery: The World's Biggest Art Heist (Netflix)
The Wedding Coach (Netflix Original)
This Is 40 (Netflix)
Wild Child (Netflix)
April 8
Bang: Season 2 (Sundance Now)
Playing for Keeps: Season 2, Episode 8 (Sundance Now)
The Way of the Househusband (Netflix)
April 9
2067 (Amazon Prime Video)
Alvin and the Chipmunks (Disney+)
Alvin and the Chipmunks: Chipwrecked (Disney+)
Alvin and the Chipmunks: The Squeakquel (Disney+)
Cesar Millan: The Real Story (Disney+)
Disney Future-Worm! (Disney+)
Disney Kick Buttowski: Suburban Daredevil: Season 1-2 (Disney+)
Farm to TV (Tubi)
The Falcon and The Winter Soldier: Season 1, New Episode (Disney+)
Grown-ish: Season 3, New Episode (Disney+)
Have You Ever Seen Fireflies? (Netflix)
Hardcore Henry (2015) (Tubi)
Held (VOD)
Helstrom: Season 1, New Episode (Disney+)
Love, Victor: Season 1, New Episode (Disney+)
Maggie (2015) (Tubi)
Man of the House (Disney+)
Mark Twain and Me (Disney+)
The Mighty Ducks: Game Changers: Season 1, New Episode (Disney+)
Night in Paradise (Netflix)
Solace (2015) (Tubi)
Solar Opposites: Season 2, New Episode (Disney+)
Squanto: A Warrior's Tale (Disney+)
Terminal (2018) (Tubi)
Them: Season 1 (Amazon Original)
Thunder Force (Netflix)
Words on Bathroom Walls (Netflix)
Z For Zachariah (2015) (Tubi)
April 10
Question Time 2021 (BritBox)
The Stand In (Netflix)
April 11
Diana: The Interview that Shook the World (Netflix)