What to watch at home this week – October 3 to 9
By Alexandra Heilbron on October 3, 2022 | Leave a Comment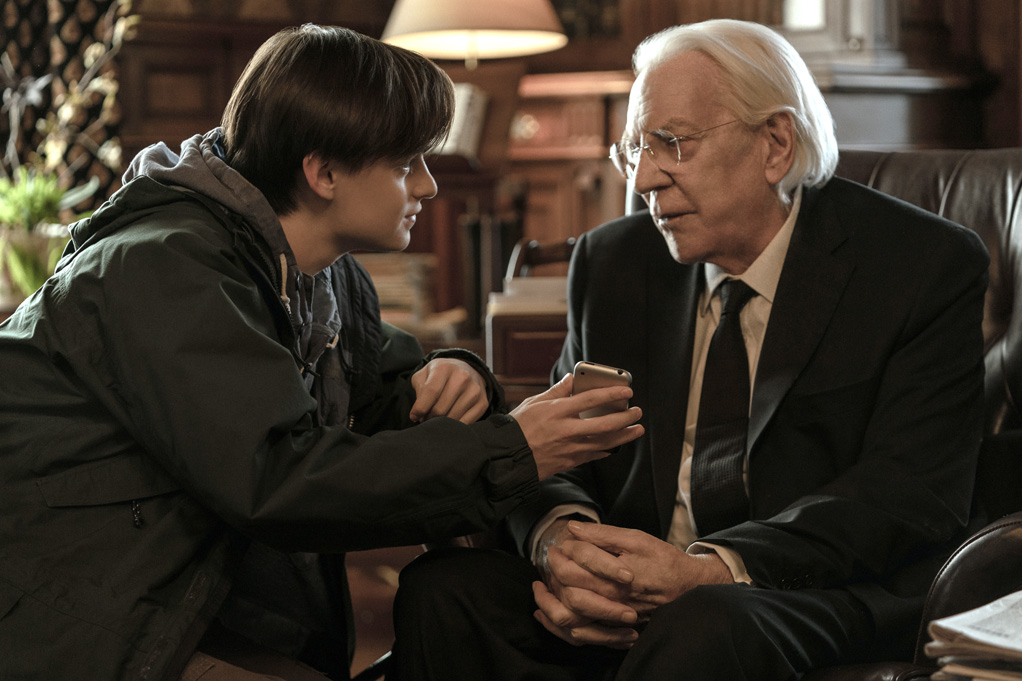 Check out all the new streaming content on Netflix, Prime Video, Disney+, Apple TV+, BritBox, CBC Gem, Paramount+ and more, including the new films Mr. Harrigan's Phone starring Jaeden Martell and Donald Sutherland and Luckiest Girl Alive starring Mila Kunis, as well as new DVD and Blu-ray releases such as DC League of Super-Pets. See the full list of new titles and watch the trailers below. ~Alexandra Heilbron
Mr. Harrigan's Phone – Craig (Jaeden Martell) and aging billionaire Mr. Harrigan (Donald Sutherland) bond over books — and their first iPhones. When the older man dies, Craig puts Mr. Harrigan's smart phone in the casket before burial. Distraught over losing his friend, Craig later texts Mr. Harrison a message, and is shocked when he gets a response. He's even more shocked when the bully he told Mr. Harrison about winds up dead. Debuts October 5 on Netflix.
Catherine Called Birdy – In the Medieval English village of Stonebridge, Lady Catherine (known as Birdy) is the youngest child of Lord Rollo (Andrew Scott) and Lady Aislinn. Financially destitute, Rollo sees marrying his daughter off to a wealthy man for money and land as his path out of financial ruin. But Birdy is spirited, clever, and adventurous and ready to put off any suitor that comes calling — in increasingly ingenious ways. Debuts October 7 on Prime Video.
The Midnight Club – Inside a hospice for terminally ill teens, seven members of an exclusive club meet each night at midnight to tell scary stories. One night, they decide to make a chilling pact: The first to die must send a sign from beyond the grave. Debuts October 7 on Netflix.
Luckiest Girl Alive – Writer Ani FaNelli (Mila Kunis) seems to have it all — an enviable position at a glossy magazine, an amazing wardrobe, and a dream wedding in Nantucket coming up. But when the director of a crime documentary invites her to tell her side of the shocking incident that took place when she was a student at the prestigious Brentley School, Ani is forced to confront a dark truth that threatens to unravel her perfect life. Debuts October 7 on Netflix.
DC League of Super-Pets – Krypto the Super-Dog (Dwayne Johnson) and Superman (John Krasinski) are inseparable best friends, sharing the same superpowers and fighting crime in Metropolis side by side. When Superman and the rest of the Justice League are kidnapped, Krypto must convince a rag-tag shelter pack to master their own newfound powers and help him rescue the superheroes. Available October 4 on DVD/Blu-ray.
October 3
Best in Dough: Season 1, new episodes (Disney+)
Call The Midwife: Season 10 (CBC Gem)
Murdoch Mysteries: Season 16, new episode (CBC Gem)
Solar Opposites Halloween Special: Season 3, new episode (Disney+)
October 4
Acid Test (Digital)
Blaze And The Monster Machines: Big Rig to The Rescue! (DVD)
Blue's Clues & You! Rainbow Puppy Adventures (DVD)
Croc! (DVD)
The Cure (Blu-ray)
DC League of Super-Pets (DVD/Blu-ray)
Dead for a Dollar (DVD/Blu-ray)
The Deer King (Digital)
Dexter: The Complete Series + Dexter: New Blood (DVD/Blu-ray)
Fright Night (4K Ultra HD)
Hasan Minhaj: The King's Jester (Netflix)
Hodan's Story (CBC Gem)
Into the Deep (DVD/Blu-ray)
Melrose Place: The Complete Series (DVD)
The Patient: Season 1, new episode (Disney+)
Python Island (DVD)
Red River Road (Digital)
Reasonable Doubt: Season 1, new episode (Disney+)
Reboot: Season 1, new episode (Disney+)
Sex & Lucia: Unrated Director's Cut (Blu-ray)
Shadowlands (Blu-ray)
Sherwood (BritBox)
Shetland: Season 7, new episode (BritBox)
They Crawl Beneath (Digital/Blu-ray/DVD)
Trick or Treat Scooby-Doo! (Digital)
Twilight Zone (Reboot): The Complete Series (DVD)
Walker: Season 2 (DVD)
Watcher (DVD/Blu-ray)
October 5
American Dad: Season 18, new episode (Disney+)
American Horror Stories: Season 2, new episode (Disney+)
Andor: Season 1, new episode (Disney+)
Beyond the Wasteland (Digital)
Bling Empire: Season 3 (Netflix)
The Captain: Season 1 (Disney+)
The D'Amelio Show: Season 2, new episodes (Disney+)
The Fight for Justice: Paolo Guerrero (Netflix)
Good Trouble: Season 4 (Disney+)
High Water (Netflix)
Jumping from High Places (Netflix)
Legacy: The True Story of the LA Lakers, premiere (Disney+)
The Mighty Ducks: Game Changers: Season 2, new episode (Disney+)
Mr. Harrigan's Phone (Netflix)
King of the Hill: Season 1-13 (Disney+)
Nailed It!: Season 7 (Netflix)
The Paper (DVD/Blu-ray)
Paris Paris (CBC Gem)
Pink Lie: Season 1 (Disney+)
Reginald the Vampire (Prime Video)
The Replacement Killers (Blu-ray)
Reservation Dogs: Season 2, new episode (Disney+)
Shipwreck Hunters Australia: Season 1 premiere (Disney+)
Shot in the Dark (Digital)
The Sound of 007 (Prime Video)
Strike Fighter (DVD)
The Trapped 13: How We Survived The Thai Cave (Netflix)
Togo (Netflix)
Unspoken Tears/Je pleure dans ma tête (NFB.ca)
The Watcher (DVD)
Zombies: Addison's Monster Mystery (Shorts): Season 1 (Disney+)
October 6
Aftershock: Everest and the Nepal Earthquake (Netflix)
Grey's Anatomy: Season 18 (Netflix)
The Joys and Sorrows of Young Yuguo (Netflix)
Maja Ma (Prime Video)
Monster High: The Movie (Paramount+)
She Hulk: Attorney at Law: Season 1, new episode (Disney+)
October 7
Bad Sisters, new episode (Apple TV+)
Beast (Digital)
Catherine Called Birdy (Prime Video)
Conversations with a Killer: The Jeffrey Dahmer Tapes (Netflix)
The Coroner: Season 4 (Netflix)
Derry Girls: Season 3 (Netflix)
Devil in the Dark (CBC Gem)
Doll House (Netflix)
Everybody Dance (VOD)
Glitch (Netflix)
Hinterland (VOD/Digital)
Kev Adams: The Real Me (Netflix)
Luckiest Girl Alive (Netflix)
Man on Pause (Netflix)
The Midnight Club (Netflix)
The Mole (Netflix)
The Mystery Spot (Digital/VOD)
The Next Step: Season 2 (CBC Gem)
Oddballs (Netflix)
Old People (Netflix)
The Redeem Team (Netflix)
Significant Other (Paramount+)
Tiger & Bunny 2: Part 2 (Netflix)
Werewolf By Night (Disney+)
October 9
Heartland: Season 16, new episode (CBC Gem)
The Simpsons: Season 34, premiere (Disney+)
---
---
---