What's Launching on Disney+ November 2019
By Marriska Fernandes on November 13, 2019 | 1 Comment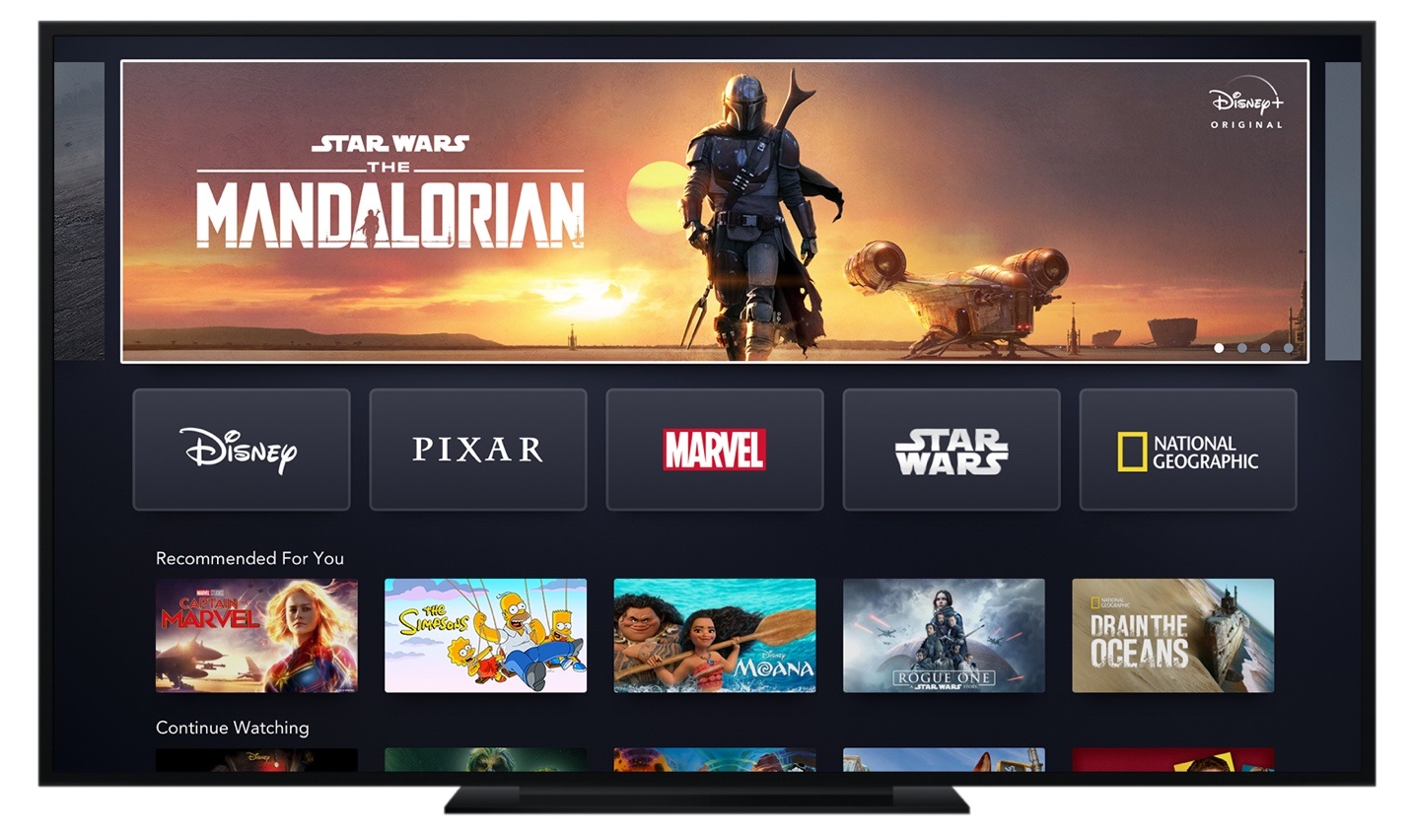 Disney's new streaming service Disney+ launched for fans in the U.S., Canada and The Netherlands on November 12, and will launch in Australia and New Zealand on November 19, 2019. It's expected to be in most major markets within the first two years of release.
The streaming service has tons of content from across Disney's variety of catalogs. From Star Wars, Marvel and Pixar, to animated and live-action classics, and the recently acquired Fox catalog, fans will be able to enjoy a wide selection of content, including Disney+ Originals.
While not every movie or TV show from each of these brands will be available at launch, there is more than enough content to keep everyone entertained and more will be added every month.
Disney+ allows you to stream ad-free and on-demand on up to four devices simultaneously and add up to seven individual profiles. The curated experience also offers personalized recommendations based on your viewing history. Click here to sign up for Disney + and to get the 7-day free trial! After that, it's only $8.99/month (plus tax, where applicable). Beginning November 15, most new episodes of each series will premiere on Fridays at 12:01 AM PST/3:01 AM EST. Click here to see our Disney+ photo gallery.
Disney + Originals:

High School Musical: The Musical: The Series – The 10-episode scripted series, set at East High where the original movie was filmed, follows a group of students as they countdown to opening night of their school's first-ever production of High School Musical. The film is a modern take on the classic from 15 years ago.
The Mandalorian – After the stories of Jango and Boba Fett, another warrior emerges in the Star Wars universe. The Mandalorian is set after the fall of the Empire and before the emergence of the First Order. It follows the travails of a lone gunfighter in the outer reaches of the galaxy far from the authority of the New Republic.
Forky Asks a Question – Forky, a craft project created from trash from Disney and Pixar's Toy Story 4, has important questions about how the world works, such as: What is love? What is time? And of course, the deepest question of all, What is cheese? He explores all of these questions and more in a collection of 10 shorts.
SparkShorts – Disney+ will be the home of "SparkShorts," the Pixar Animation Studios short film series designed to discover new storytellers and explore new storytelling techniques from across the studio.
Encore! – Executive producer/host Kristen Bell brings together former castmates of a high school musical, tasking them with re-creating their original performances in a high school reunion. Emotions run high as the former students face faded friendships, former flames, self-doubt and killer choreography.
Marvel's Hero Project – The series reveals the remarkable, positive change several young heroes are making in their own communities. These young heroes have dedicated their lives to selfless acts of bravery and kindness, and now, Marvel celebrates them as the true Super Heroes they are.
The Imagineering Story – The documentary series chronicles the 65+ year history of Walt Disney Imagineering with parallel storylines of the people, the craft, and the business. The series includes exclusive interviews and never-before-seen footage from Disney's theme parks around the world.
The World According to Jeff Goldblum – Through the prism of Jeff Goldblum's always inquisitive and highly entertaining mind, nothing is as it seems in this new series. Each episode is centered around something we all love — like sneakers or ice cream — as Jeff unravels a wonderful world of astonishing connections, fascinating science and history and surprising insights.
Noelle – In this holiday comedy, Kris Kringle's daughter (Anna Kendrick) is full of Christmas spirit, but wishes she could do something "important" like her brother Nick (Bill Hader), who has to take over from their father this Christmas. When Nick is about to crumble like a gingerbread cookie from all the pressure, Noelle suggests he take a break and get away… but when he doesn't return, Noelle must find her brother and bring him back in time to save Christmas.
Lady and the Tramp – A timeless retelling of the 1955 animated classic about a pampered house dog and a tough but lovable stray as they embark on an unexpected adventure and, despite their differences, grow closer and come to understand the value of home.
Click here to see our Disney+ photo gallery and click here to sign up for Disney +, and to get the 7-day free trial!
Here is just some of the added content now streaming on Disney +. ~Marriska Fernandes
Star Wars
The Mandalorian (2019)
LEGO Star Wars: All-Stars (2018)
Star Wars Resistance (2018)
Rogue One: A Star Wars Story (2016)
Star Wars: The Force Awakens (2015)
LEGO Star Wars: The Freemaker Adventures (2016)
LEGO Star Wars: Droid Tales (2015)
LEGO Star Wars: The New Yoda Chronicles (2014)
Star Wars Rebels (2014)
Star Wars: The Clone Wars (2008)
Star Wars: Revenge of the Sith (2005)
Empire of Dreams: The Story of the Star Wars Trilogy (2004)
Star Wars: Attack of the Clones (2002)
Star Wars: The Phantom Menace (1999)
Star Wars: Return of the Jedi (1983)
Star Wars: The Empire Strikes Back (1980)
Star Wars: A New Hope (1977)

Marvel
Avengers: Endgame (2019)
Marvel's Hero Project (2019)
Captain Marvel (2019)
Marvel Rising: Secret Warriors (2018)
Inhumans (2017)
Spider-Man – Series (2017)
Guardians of the Galaxy – Series (2015)
Ant-Man (2015)
Avengers: Age of Ultron (2015)
Guardians of the Galaxy (2014)
Marvel Studios: Assembling a Universe (2014)
Thor: The Dark World (2013)
Hulk and the Agents of S.M.A.S.H. (2013)
Avengers Assemble (2013)
Iron Man 3 (2013)
Ultimate Spider-Man (2012)
The Avengers: Earth's Mightiest Heroes (2010)
Wolverine and the X-Men (2009)
Iron Man: Armored Adventures (2008)
Iron Man (2008)
Fantastic Four: World's Greatest Heroes (2006)
X-Men: Evolution – Series (2000)
The Avengers: United They Stand (1999)
Spider-Man Unlimited – Series (1999)
Silver Surfer (1998)
The Incredible Hulk – Series (1996)
Spider-Man – Series (1994)
Fantastic Four (1994)
Iron Man – Series (1994)
X-Men – Series (1992)
Spider-Man and His Amazing Friends (1981)
Spider-Man – Series (1981)
Spider-Woman (1979)
Pixar
Cars 3 (2017)
Finding Dory (2016)
The Good Dinosaur (2015)
Inside Out (2015)
Monsters University (2013)
Brave (2012)
Cars 2 (2011)
Toy Story 3 (2010)
WALL•E (2008)
Ratatouille (2007)
Cars (2006)
The Incredibles (2004)
Finding Nemo (2003)
Monsters, Inc. (2001)
Toy Story 2 (1999)
A Bug's Life (1998)
Toy Story (1995)
Feature Films
Lady and the Tramp (2019)
Noelle (2019)
Dumbo (2019)
Pete's Dragon (2016)
The BFG (2016)
Zootopia (2016)
Big Hero 6 (2014)
Muppets Most Wanted (2014)
Saving Mr. Banks (2013)
Frozen (2013)
Wreck-It Ralph (2012)
The Muppets (2011)
Pirates of the Caribbean: On Stranger Tides (2011)
TRON Legacy (2011)
Tangled (2010)
Secretariat (2010)
Waking Sleeping Beauty (2010)
Diary of a Wimpy Kid (2010)
Alice in Wonderland (2010)
Avatar (2009)
The Princess and the Frog (2009)
Bolt (2008)
High School Musical 3: Senior Year (2008)
The Chronicles of Narnia: Prince Caspian (2008)
National Treasure: Book of Secrets (2007)
Dan in Real Life (2007)
The Game Plan (2007)
Pirates of the Caribbean: At World's End (2007)
Meet the Robinsons (2007)
The Santa Clause 3: The Escape Clause (2006)
Flicka (2006)
Invincible (2006)
Pirates of the Caribbean: Dead Man's Chest (2006)
Garfield: A Tail of Two Kitties (2006)
The Wild (2006)
The Shaggy Dog (2006)
Eight Below (2006)
The Chronicles of Narnia: The Lion, the Witch and the Wardrobe (2005)
Chicken Little (2005)
The Greatest Game Ever Played (2005)
Valiant (2005)
Herbie: Fully Loaded (2005)
Ice Princess (2005)
Millions (2005)
The Pacifier (2005)
Aliens of the Deep (2005)
The Princess Diaries 2: Royal Engagement (2004)
America's Heart and Soul (2004)
Sacred Planet (2004)
Home on the Range (2004)
Confessions of a Teenage Drama Queen (2004)
Miracle (2004)
The Young Black Stallion (2003)
The Haunted Mansion (2003)
Brother Bear (2003)
Deep Blue (2003)
Freaky Friday (2003)
Pirates of the Caribbean: The Curse of the Black Pearl (2003)
The Lizzie McGuire Movie (2003)
Piglet's Big Movie (2003)
Treasure Planet (2002)
The Santa Clause 2 (2002)
Tuck Everlasting (2002)
The Country Bears (2002)
Lilo & Stitch (2002)
The Rookie (2002)
Snow Dogs (2002)
The Princess Diaries (2001)
Atlantis: The Lost Empire (2001)
The Emperor's New Groove (2000)
102 Dalmatians (2000)
Remember the Titans (2000)
The Kid (2000)
Dinosaur (2000)
Whispers: An Elephant's Tale (2000)
The Tigger Movie (2000)
Fantasia 2000 (2000)
Inspector Gadget (1999)
10 Things I Hate About You (1999)
Doug's 1st Movie (1999)
My Favorite Martian (1999)
Mighty Joe Young (1998)
I'll Be Home for Christmas (1998)
The Parent Trap (1998)
Mulan (1998)
Meet the Deedles (1998)
Flubber (1997)
Hercules (1997)
Honey, We Shrunk Ourselves (1997)
Jungle 2 Jungle (1997)
That Darn Cat (1997)
101 Dalmatians (1996)
First Kid (1996)
Jack (1996)
Kazaam (1996)
The Hunchback of Notre Dame (1996)
James and the Giant Peach (1996)
Muppet Treasure Island (1996)
Tom and Huck (1995)
Frank and Ollie (1995)
A Kid in King Arthur's Court (1995)
Operation Dumbo Drop (1995)
Pocahontas (1995)
While You Were Sleeping (1995)
A Goofy Movie (1995)
Tall Tale (1995)
Heavyweights (1995)
The Santa Clause (1994)
Camp Nowhere (1994)
The Lion King (1994)
Thumbelina (1994)
Blank Check (1994)
Iron Will (1994)
Sister Act 2: Back in the Habit (1993)
The Three Musketeers (1993)
The Nightmare Before Christmas (1993)
Hocus Pocus (1993)
Rookie of the Year (1993)
Life With Mikey (1993)
The Sandlot (1993)
The Adventures of Huck Finn (1993)
The Muppet Christmas Carol (1992)
Aladdin (1992)
Honey, I Blew Up the Kid (1992)
Sister Act (1992)
Newsies (1992)
Beauty and the Beast (1991)
The Rocketeer (1991)
Shipwrecked (1991)
White Fang (1991)
Three Men and a Little Lady (1990)
The Rescuers Down Under (1990)
Ducktales: The Movie, Treasure of the Lost Lamp (1990)
The Little Mermaid (1989)
Cheetah (1989)
Turner & Hooch (1989)
Honey, I Shrunk the Kids (1989)
Oliver & Company (1988)
Who Framed Roger Rabbit (1988)
Willow (1988)
Three Men and a Baby (1987)
Benji the Hunted (1987)
Flight of the Navigator (1986)
The Great Mouse Detective (1986)
One Magic Christmas (1985)
The Journey of Natty Gann (1985)
The Black Cauldron (1985)
Return to Oz (1985)
TRON (1982)
The Fox and the Hound (1981)
The Great Muppet Caper (1981)
The Muppet Movie (1979)
Pete's Dragon (1977)
The Rescuers (1977)
The Many Adventures of Winnie the Pooh (1977)
Robin Hood (1973)
Bedknobs and Broomsticks (1971)
The Aristocats (1970)
The Love Bug (1969)
The Jungle Book (1967)
That Darn Cat! (1965)
The Sound of Music (1965)
Mary Poppins (1964)
The Sword in the Stone (1963)
The Parent Trap (1961)
The Absent-Minded Professor (1961)
101 Dalmatians (1961)
Swiss Family Robinson (1960)
Pollyanna (1960)
The Shaggy Dog (1959)
Sleeping Beauty (1959)
Old Yeller (1957)
Lady and the Tramp (1955)
20,000 Leagues Under the Sea (1954)
Peter Pan (1953)
Alice in Wonderland (1951)
Treasure Island (1950)
Cinderella (1950)
The Adventures of Ichabod and Mr. Toad (1949)
Melody Time (1948)
Fun and Fancy Free (1947)
Miracle on 34th Street (1947)
The Three Caballeros (1945)
Saludos Amigos (1943)
Bambi (1942)
Dumbo (1941)
The Reluctant Dragon (1941)
Fantasia (1940)
Swiss Family Robinson (1940)
Pinocchio (1940)
Snow White and the Seven Dwarfs (1937)
Live-Action Classics
Herbie Goes Bananas (1980)
The Ghosts of Buxley Hall (1980)
Sultan and the Rock Star (1980)
Unidentified Flying Oddball (1979)
The Black Hole (1979)
The Apple Dumpling Gang Rides Again (1979)
The Cat From Outer Space (1978)
Return From Witch Mountain (1978)
Freaky Friday (1977)
Candleshoe (1977)
Herbie Goes to Monte Carlo (1977)
The Shaggy D.A. (1976)
Treasure of Matecumbe (1976)
Gus (1976)
The Apple Dumpling Gang (1975)
Escape to Witch Mountain (1975)
The Strongest Man in the World (1975)
The Castaway Cowboy (1974)
The Bears and I (1974)
Herbie Rides Again (1974)
Snowball Express (1972)
The Biscuit Eater (1972)
Justin Morgan Had a Horse (1972)
The Million Dollar Duck (1971)
The Barefoot Executive (1971)
The Computer Wore Tennis Shoes (1969)
Blackbeard's Ghost (1968)
The Adventures of Bullwhip Griffin (1967)
The Ugly Dachshund (1966)
Those Calloways (1965)
Emil and the Detectives (1964)
The Incredible Journey (1963)
Sammy, the Way-Out Seal (1962)
Almost Angels (1962)
The Prince and the Pauper (1962)
Babes in Toyland (1961)
Greyfriars Bobby (1961)
Jungle Cat (1959)
Journey to the Center of the Earth (1959)
Darby O'Gill and the Little People (1959)
The Sign of Zorro (1958)
White Wilderness (1958)
Perri (1957)
Secrets of Life (1956)
Davy Crockett and the River Pirates (1956)
The African Lion (1955)
Davy Crockett, King of the Wild Frontier (1955)
The Vanishing Prairie (1954)
The Living Desert (1953)
The Story of Robin Hood and His Merrie Men (1952)
---
---
---
---