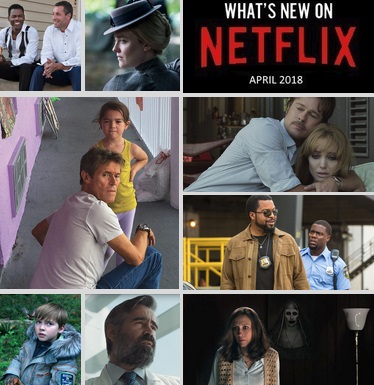 Spring is here! April showers bring a flurry of digestible flicks that you can watch on a Friday night with friends or on a weekday evening when you're simply allergic to people. Been there, done that. Here's your monthly Netflix guide of the highlights to watch!
Netflix Originals
Lost in Space (April 13) is a modern re-imagining of the classic 1960s science fiction series. Set 30 years in the future, where colonization in space is now a reality, we are introduced to the Robinsons, who are selected to make their home on a new planet.
A period drama that's getting a lot of buzz is The Alienist (April 19). Season 1 will satisfy your appetite for a haunting psychological thriller. Set in 1896 New York, criminal psychologist Dr. Laszlo Kreizler (Daniel Brühl) joins crime reporter John Moore (Luke Evans), police clerk Sara Howard (Dakota Fanning) and forensics experts to catch a serial killer who is hunting down and murdering boy prostitutes.
If you'd prefer a comedy, the new series The Letdown (April 21) follows the adventures of a new mom in a new-parents support group. It's a quirky depiction of motherhood.

When a woman (Abbi Jacobson) learns that her brother (Dave Franco) has relapsed on heroin, she drives him across Los Angeles in search of a detox center in the drama film 6 Balloons (April 6).
Four BFFs live the last two weeks of high school contemplating major life changes in the coming-of-age comedy film titled Dude (April 20). Ah, the dramatic high school days. Who doesn't miss those?!
Our Picks
Angelina Jolie and Brad Pitt may not be an It couple any more, but those who miss their on-screen chemistry can enjoy their romantic drama By the Sea (April 1), directed by Angie herself.
An indie favorite is The Florida Project (April 6), which follows the adventures of six-year-old Moonee. With critics loving this movie, this one's worth a watch.
Fans of Prison Break can binge on season 5 (April 4), which picks up seven years after Michael is presumed dead. This season reveals he is very much alive and a family reunion is to be expected.
Comedy Central
If you watched Jumanji in theaters recently and are looking for more laughs and heart (or Hart —  see what I did there?), Ride Along 2 will be available for streaming on April 1. Starring Ice Cube and Kevin Hart, this film promises double the dose of humor and action as the soon-to-be brothers-in-law head to Miami.
Another comedy to watch is The Best Man Holiday (April 1), which follows a group of college friends who reunite after 15 years. You'll find drama, romance and a few tears in this one.
Horror
Horror fanatics can rejoice as The Conjuring 2 (April 30) hits Netflix. Renowned demonologists Ed (Patrick Wilson) and Lorraine Warren (Vera Farmiga) return to rid a demon from an 11-year-old girl in this film. Of course, it's filled with jump scares, and watch out for the nun (who is getting her own spinoff movie soon).
A rather odd, but interesting film to watch if you love thrillers is The Killing of a Sacred Deer (April 5). It follows Dr. Steven Murphy (Colin Farrell), who takes Martin (Barry Keoghan) under his wing since the teen lost his father in an accident. Once Dr. Murphy introduces him to his family, Martin's unsettling behavior becomes frightening.
The Romantics
You can watch Darcy (Matthew Macfadyen) and Elizabeth (Keira Knightley) fall in love in the Jane Austen-inspired classic movie Pride & Prejudice (April 1), or bring out the tissues to watch young love in Kiss & Cry (April 1).
Click here to view our photo gallery of Netflix April Originals and happy streaming! ~Marriska Fernandes
April 1
Batman: The Killing Joke
Batteries Not Included
Bruno and Boots: Go Jump in the Pool
By The Sea
Dare to Be Wild
Dragon: The Bruce Lee Story
Elizabeth
Fishpeople
Fried Green Tomatoes
Ice Guardians
Kiss & Cry
Krampus
Liar Liar
Madagascar 3: Europe's Most Wanted
Ride Along
Ride Along 2
Pride & Prejudice
The Best Man Holiday
The Joel McHale Show with Joel McHale Season 1 – Weekly Episodes every Sunday- Netflix Original Series
The Search for Life in Space
Wakfu: Season 3 – Netflix Original Anime
Wild Child
April 2
An Inconvenient Sequel: Truth to Power
Ash vs. Evil Dead: Season 2
April 3
Black Lighting – Season 1, Weekly Episodes from March 6 – Netflix Original Series
Fary Is the New Black – Netflix Original Comedy
April 4
Prison Break Event Series: Season 5
Shadowhunters: The Mortal Instruments – Season 3, Weekly Episodes from April 4 – Netflix Original Series
April 5
Behind the Curtain: Todrick Hall
The Killing of a Sacred Deer
April 6
6 Balloons – Netflix Original Film
Amateur – Netflix Original Film
Fastest Car: Season 1 – Netflix Original Series
Money Heist: Part 2 – Netflix Original Series
My Next Guest Needs No Introduction With David Letterman: JAY-Z – Netflix Original Series
Orbiter 9 – Netflix Original Film
Ram Dass, Going Home – Netflix Original Documentary
The 4th Company – Netflix Original Film
The Boss Baby: Back in Business: Season 1 – Netflix Original Series For Kids
The Florida Project
Todo lo que sería de Lucas Lauriente – Netflix Original Comedy
Troy: Fall of a City: Season 1 – Netflix Original Series
April 7
Dynasty Season 1, Weekly Episodes from April 7 – Netflix Original Series
April 9
AMO: Season 1- Netflix Original Series
The Nice Guys
April 10
Greg Davies: you Magnificent Beast – Netflix Original Comedy
April 12
Hyori's Bed & Breakfast: Season 2
Pickpockets – Netflix Original Film
April 13
Chef's Table: Pastry – Netflix Original Documentary
Come Sunday – Netflix Original Film
I Am Not An Easy Man – Netflix Original Film
Leatherface
Lost in Space: Season 1 – Netflix Original Series
The Magic School Bus Rides Again: Season 2 – Netflix Original Series For Kids
April 15
Eric ldle's What About Dick?
Monty Python and the Holy Grail
Monty Python's Almost the Truth
Monty Python: Before the Flying Circus
Monty Python Conquers America
Monty Python's Flying Circus
Monty Python's Fliegender Zirkus: Season 1
Monty Python's Life of Brian
Monty Python: Live at Aspen
Monty Python: Live at The Hollywood Bowl
Monty Python Live (Mostly): One Down, Five to Go
Monty Python's Personal Best: Season 1
Parrot Sketch Not Included: Twenty Years of Monty Python
The Meaning of Monty Python
April 16
Loving Vincent
The Gunman
April 17
The Chalet: Season 1 – Netflix Original Series
The Honeymoon Stand Up Special: Collection – Netflix Original Series
Lockup: Chain Linked: Collection 1
April 19
Ainori Love Wagon: Asian Journey: Season 1 – Netflix Original Series
Charité: Season 1 – Netflix Original Series
Riverdale – Season 2 – Weekly Episodes from April 19 – Netflix Original Series
The Alienist: Season 1 – Netflix Original Series
April 20
Aggretsuko: Season 1 – Netflix Original Anime
Dope: Season 2 – Netflix Original Series
Dude – Netflix Original Film
Kodachrome – Netflix Original Film
Mercury 13 – Netflix Original Documentary
Spy Kids: Mission Critical: Season 1 – Netflix Original Series For Kids
April 21
The Letdown: Season 1 – Netflix Original Series
April 24
Kevin James: Never Don't Give Up – Netflix Original Comedy
April 25
Bill Nye: Science Guy
Psychokinesis – Netflix Original Film
April 26
The 100: Season 5
April 27
3%: Season 2 – Netflix Original Series
Bobby Kennedy for President – Netflix Original Documentary
Candy Jar – Netflix Original Film
Holy Goalie
The New Legends of Monkey: Season 1 – Netflix Original Series for Kids
The Week Of – Netflix Original Film
April 29
Superstition: Season 1 – Netflix Original Series
April 30
The Conjuring 2
Last Call
April 1
Hitch
Hancock
Men in Black
Our Brand is Crisis
Black Mass
April 2
Charlie St.Cloud
April 13
Footloose
April 17
American Dad! Seasons 1-6
April 19
Tropic Thunder