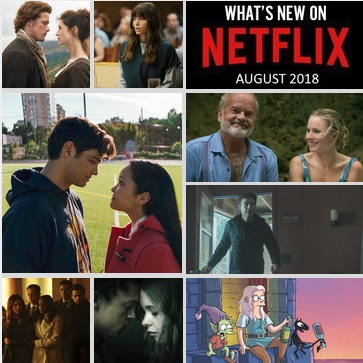 Netflix is churning out a handful of original series and films that will keep you occupied all summer long. From a supernatural teen drama to the second season of Jason Bateman's Ozark, to a cute rom-com starring an Asian-American actress, we can't get enough of this month's diverse and original content.
Also, Netflix is giving fans a new way to show the love with character-inspired profile icons. Are you alien-fighting Steve Harrington or are you ass-kicking Jessica Jones? You can simply change your profile icon by going to "Manage Profiles."
Originals
Jason Bateman returns in the second season of the crime thriller Ozark (Aug. 31). The Byrdes continue to face enemies as the Snells and the Langmores threaten the life they've built together. Jason not only stars in the series alongside Laura Linney, but also serves as executive producer and directed two episodes.
British supernatural teen drama The Innocents is set to premiere on August 24. The series follows teen lovers Harry and June who run away from home to start their own life. However, when June starts to shape-shift, they search for answers. Obviously. This one's pretty interesting and hey, we're totally down for a neat sci-fi series, no?
If comedy is more your speed, Matt Groening, the creator of The Simpsons, brings you a hilarious animated series titled Disenchantment (Aug. 17), which follows a hard-drinking princess, her feisty elf companion and her personal demon. Now that's a princess we can relate to.
When it comes to original films, Netflix is also here to help. Like Father (Aug. 3) is another comedy to watch, starring Kristen Bell, Kelsey Grammer and Seth Rogen. Lauren Miller Rogen makes her feature directorial debut with this one, which she also co-wrote. It follows a workaholic woman who's left at the altar on her wedding day. Her father, whom she hasn't seen since she was five, shows up unannounced. They get drunk and she ends up with her dad for company on her honeymoon cruise. Get ready for emotion, drama and laughs.
A cute teen rom-com coming to the streaming site is To All The Boys I've Loved Before (Aug 17). It follows Lara Jean Covey (Lana Condor), 16, who has been writing letters to her crushes since she was a child and keeping them in a box. One day, these letters get sent out to each of the five boys and well, she feels her life is over. Yup, we're loving this story line already and can totally relate.
The Guernsey Literary and Potato Peel Pie Society (Aug. 10) follows a writer who bonds with the residents of Guernsey and decides to write about the book club they formed during the WWII German occupation. This one stars Lily James and Michiel Huisman.
Our Picks
The Emmy-nominated series The Sinner (Aug. 21), starring Jessica Biel, may be right up your alley. When a young mother (Biel) commits a shocking act of murder on a beach, she is just as horrified as everyone else, and she has no idea why she did it. Detective Ambrose (Bill Pullman) leads the investigation and has to figure out the "why" in this crime thriller. We've seen this and it's definitely worth binging on.
Season 4 of How to Get Away with Murder makes its premiere on Aug. 22. The murder mystery continues as Annalise Keating (Viola Davis) and her students return with more drama. And we're not going anywhere.
One of our favorite horror/thrillers is Don't Breathe (Aug. 15). It's an intense film following three teen thieves who break into a rich, blind man's house and it turns into a deadly game of cat and mouse. Turn the lights out and stream this one.
For more thrills, watch Liam Neeson kick ass in The Commuter (Aug. 10). He plays an insurance salesman who is caught up in a criminal conspiracy on his daily commute home.
Also available is The Accountant (Aug. 27) starring Ben Affleck as a math genius who uncooks the books for a new client, but is soon in hot water with the U.S. Treasury Department.
Here's what's coming to Netflix this month. Also, scroll below to see what's leaving. ~Marriska Fernandes
August 1
8 Mile
Along Came Polly
Dragonheart
The Huntsman: Winter's War
Julie & Julia
Justice League Dark
House of Deadly Secrets
The Land Before Time
Michael Jackson's This Is It
The Perfect Man
Popstar: Never Stop Never Stopping
Public Enemies
Rise of the Guardians
Safe House
Switched – Netflix Original
'Til Death Do Us Part
Touch of Evil
August 2
The 100: Season 5
Wild Oats
August 3
Brij Mohan Amar Rahe – Netflix Film
Cocaine Coast – Netflix Original
Dinotrux Supercharged: Season 3 – Netflix Original
I AM A KILLER – Netflix Original
Like Father – Netflix Film
Marching Orders – Netflix Original
August 4
Flavors of Youth: International Version – Netflix Original
On Children – Netflix Original
August 6
I KILL GIANTS
Jay and Silent Bob Strike Back
Storks
Sully
August 9
A Hologram for the King
Perdida – Netflix Film
August 10
72 Dangerous Animals: Asia – Netflix Original
Afflicted – Netflix Original
All About the Washingtons – Netflix Original
The Commuter
Demetri Martin: The Overthinker – Netflix Original
The Guernsey Literary and Potato Peel Pie Society – Netflix Film
Insatiable – Netflix Original
La casa de las flores – Netflix Original
Million Pound Menu – Netflix Original
Outlander: Season 3
The Package – Netflix Film
Ponysitters Club – Netflix Original
Voltron: Legendary Defender: Season 7 – Netflix Original
Zion – Netflix Original
August 13
Splash and Bubbles: Season 2
August 15
Adventures in Public School
Don't Breathe
Homeland: Season 6
Hurricane Bianca: From Russia With Hate
August 16
Made of Honor
August 17
Den of Thieves
Disenchantment – Netflix Original
Magic for Humans – Netflix Original
The Motive – Netflix Film
Pinky Malinky – Netflix Original
Spirit Riding Free: Season 6 – Netflix Original
Stay Here – Netflix Original
To All The Boys I've Loved Before – Netflix Film
Ultraviolet – Netflix Original
August 19
The Investigator: A British Crime Story: Season 2 – Netflix Original
August 20
Death at a Funeral
August 21
The Sinner
August 22
How to Get Away With Murder: Season 4
Marlon: Season 2 – Netflix Original
August 23
Deadwind – Netflix Original
Follow This – Netflix Original
In Darkness
August 24
The After Party – Netflix Film
Ask the StoryBots: Season 2 – Netflix Original
Bert Kreischer: Secret Time – Netflix Original
Downsizing
Ghoul – Netflix Original
The Innocents – Netflix Original
Trolls: The Beat Goes On!: Season 3 – Netflix Original
August 27
The Accountant
The Blacklist: Season 5
When the Bough Breaks
August 31
The Comedy Lineup: Part 2 – Netflix Original
Inside the Criminal Mind – Netflix Original
The Laws of Thermodynamics – Netflix Film
Ozark: Season 2 – Netflix Original
Paradise PD – Netflix Original
Ultimate Beastmaster: Survival of the Fittest – Netflix Original
Last Call
August 1
Apollo 13
Belle
The Fault in Our Stars
Finding Dory
How to Be Single
In Good Company
The Time Traveler's Wife
August 3
The Truman Show
August 11
Scarface
August 15
Gangs of New York
August 17
Minority Report
August 23
American Hustle
August 24
School of Rock
Sixteen Candles
August 26
Batman v Superman: Dawn of Justice
August 27
Teenage Mutant Ninja Turtles 2