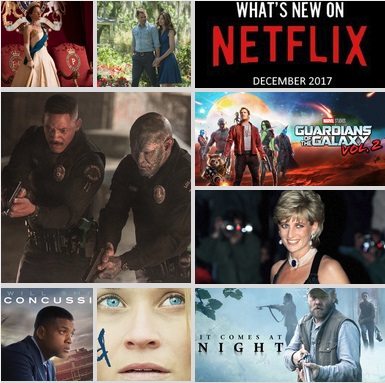 One way to enjoy the holidays with family and friends is to binge on some Netflix holiday favorites along with a few highly anticipated originals.
The Favorites
In an alternate present-day, Daryl Ward (Will Smith), a human cop, is partnered with an orc named Nick Jakoby (Joel Edgerton) in the Los Angeles Police Department. Scott and Nick then go an adventure involving ancient relics in the Netflix original film Bright (Dec. 22). Once Smith has kept you entertained with this one, Chris Pratt takes over in Marvel's Guardians of the Galaxy Vol. 2 (Dec. 5). You know what to expect from this sequel if you enjoyed the first.
The Royals
With everything royal being a hot topic these days, I'd suggest getting down and dirty with the second season of the popular Netflix original series The Crown (Dec. 8). If you're a fan of Princess Diana, like yours truly, I'd suggest watching Diana: In Her Own Words (Dec. 1). This documentary features archival footage and personal recordings, offering candid insight into the life of the beloved princess.
Hot for Horror
One horror to watch this month is It Comes at Night (Dec. 12). Joel Edgerton plays an overprotective father who protects his home from the danger outside. He is faced with the decision to help another family that comes knocking on his door. Horror fans can also sink their teeth into Sinister 2 (Dec. 1) which follows a single mother and her twin sons who move into a rural house, unaware of its history of being inhabited by an evil spirit that preys upon young children.
Mad for Mystery
When a child goes missing, the town goes in search for answers and many secrets come forward in this mystery titled Dark Season 1 (Dec. 1). Another mystery that should be on your radar is Erased Season 1 (Dec. 15). It follows a man who travels 18 years back in time to stop a kidnapping that took the lives of his close friends.
Drama
Of course, our list is not complete without some much-needed drama. Reese Witherspoon plays a divorced woman who goes hiking alone without any prior experience in Wild (Dec. 1). If that isn't your cup of tea, Will Smith's Concussion (Dec. 14), based on the true story of a forensic pathologist who made a controversial link between NFL players' concussions and brain disorders, might just be the drama you won't want to forget.
Two more heartfelt dramas that we recommend watching are Before I Fall (Dec. 1), which follows a young girl as she relives the day of her death over and over again, and The Best of Me (Dec. 4), which follows high school sweethearts who reunite years later at a funeral.
Happy streaming and happy holidays!
~Marriska Fernandes
Here is a complete list of titles releasing on Netflix in December.
December 1:
A StoryBots Christmas – Netflix Original
All Hail King Julien – Season 5 – Netflix Original
Before I Fall
Chelsea – Season 2 – Netflix Original – New Episodes Weekly
Dark – Season 1 – Netflix Original
Diana: In Her Own Words
DreamWorks Home: For the Holidays – Netflix Original
Easy – Season 2 – Netflix Original
Enemy Mine
Exodus: Gods and Kings
Gods or Men (aka Born Strong)
Hired Gun
Monster Island
My Happy Family – Netflix Film
Night at the Museum: Secret of the Tomb
Our Man Flint
Sinister 2
Slap Shot
Sleeping with the Enemy
Table 19
TURN: Washington's Spies – Season 4
Under the Same Moon
Voyeur – Netflix Original
Wild
Wilson
December 2:
Temple
The Survivalist
December 3:
Lost & Found Music Studios – Season 2
December 4:
Paris Can Wait
The Best of Me
December 5:
7 Sisters
Craig Ferguson: Tickle Fight – Netflix Original
Marvel's Guardians of the Galaxy Vol. 2
December 6:
Born in China
Final Fantasy VII: Advent Children
Power Rangers
Trolls Holiday Special
December 7:
Dynasty – Season 1 – Netflix Original – New Episodes Weekly
Riverdale – Season 2 – Netflix Original – New Episodes Weekly
The Red Tent – Season 1
December 8:
El Camino Christmas – Netflix Film
The Crown – Season 2 – Netflix Original
The Oath
December 10:
The Little Hours
December 12:
It Comes at Night
Judd Apatow: The Return – Netflix Original
LEGO: Justice League: Gotham City Breakout
Manhunt: Unabomber – Netflix Original
December 14:
Concussion
Go Back to Where You Came From – Season 1-3
Halt and Catch Fire – Season 4
Murderous Affairs – Season 2
December 15:
Christmas Inheritance – Netflix Film
Discovering Bigfoot
Erased – Season 1 – Netflix Original
Freeway: Crack In The System
PAW Patrol – Season 4
Reggie Yates Outside Man: Volume 2
The Ranch – Part 4 – Netflix Original
Trollhunters – Part 2 – Netflix Original
Ultimate Beastmaster – Netflix Original
Wormwood – Netflix Original
December 16:
Remember

December 17:
Shot Caller
December 18:
Hello, My Twenties! – Season 2 – Netflix Original
December 19:
Miss Me This Christmas
You Can't Fight Christmas
December 20:
La Casa de Papel – Season 1 – Netflix Original
December 21:
Peaky Blinders – Season 4
December 22:
72 Dangerous Animals: Latin America – Season 1 – Netflix Original
Bright – Netflix Film
Dope – Season 1 – Netflix Original
Fuller House – Season 3: New Episodes – Netflix Original
Inconceivable
The Toys That Made Us – Season 1 – Netflix Original
December 23:
Bright: The Music Videos
Creep 2
Myths & Monsters – Season 1
December 25:
Fallen
Cable Girls – Season 2 – Netflix Original
December 26:
El Vato – Season 2 – Netflix Original
NYE Countdowns
Todd Barry: Spicy Honey – Netflix Original
December 27:
Chronically Metropolitan
Correspondence
McLaren
My Life as a Zucchini
The Ottoman Lieutenant
December 29:
Bill Nye Saves the World – Season 2: Part 1 – Netflix Original
La Mante – Season 1 – Netflix Original
Sicario
The Climb – Netflix Film
December 30:
All Roads Lead to Rome
December 31:
Aliens: Zone of Silence
Blurred Lines: Inside the Art World
Dave Chappelle: Equanimity – Netflix Original
Dead Draw
Fun Mom Dinner
Haze
Standing Tall
Last Call
December 1:
Dragon's Den – Seasons 9-10
Glee – Seasons 1-2
Runner Runner
Sherlock Holmes
The Revenant
The Wolverine
December 7:
The Good Dinosaur
December 14:
No Reservations
Pitch Perfect