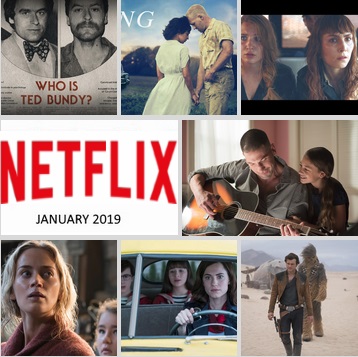 We're almost there — a new year, a new beginning, and a new round of binge-worthy content. From the box office hit A Quiet Place to Conversations with a Killer: The Ted Bundy Tapes, to season two of The Punisher, there's enough new material to keep you occupied throughout the winter woes.
Originals
There's no shortage of Netflix original shows and films in the new year. So whether you want to peek into the mind of a criminal or watch a sinister plot unravel, we promise we won't judge.
In the new Netflix animated show Carmen Sandiego (Jan. 18), we follow Carmen as she embarks on international capers.
Inspired by the life of the world's leading female bodyguard, Jacquie Davis, the Netflix film Close (Jan. 18) will give you goosebumps. To protect an heiress (Canadian actress Sophie Nélisse) from highly trained kidnappers, a lone security expert must unravel a sinister plot — while trying to stay alive.
The film IO (Jan. 18) follows one of the last survivors on Earth as she races to cure her poisoned planet before the final shuttle to a distant space colony leaves her stranded.
Coming to Netflix in January (date TBA), Marvel's The Punisher: Season 2 will be one to watch as Jon Bernthal (Frank Castle/The Punisher), Amber Rose Revah (Dinah Madani), Jason R. Moore (Curtis Hoyle) and Ben Barnes (Billy Russo/Jigsaw) are returning to reprise their roles.
Want to peek into the mind of a murderer? Conversations with a Killer: The Ted Bundy Tapes gives a unique look inside the mind of the infamous serial killer with this cinematic portrait crafted from statements made by Ted Bundy. Brr… we've got goosebumps already.
Squad Movies
You can't go wrong with a Julia Roberts movie. My Best Friend's Wedding (Jan. 1) is a cute rom-com to watch with your boo or BFF. Another one of her films, Mona Lisa Smile, is also coming in January. Speaking about BFFs, you should watch The Sisterhood of the Traveling Pants with your squad.
Award Season Favorites
A Quiet Place (Jan. 2) is a 2018 thriller that you can't (and shouldn't) miss. Emily Blunt, who has a SAG nomination for her role in this film, gives a stellar performance alongside with her husband John Krasinski, who also directed the film.
Based on the true story of interracial couple Richard and Mildred Loving (Joel Edgerton, Ruth Negga), Loving (Jan. 1) is a tearjerker. Ruth was nominated for both a Golden Globe and Academy Award for Best Actress.
Franchise Faves
Jason Bourne fans can enjoy the film series with The Bourne Identity, The Bourne Legacy, The Bourne Supremacy and The Bourne Ultimatum, all streaming on Netflix beginning Jan. 2.
Also, five of the Bring It On films are also going to available for your viewing starting Jan. 2.
For families, we suggest watching Disney/Pixar's Incredibles 2, which will be available Jan. 30. Marvel Studios' Ant-Man and the Wasp is another favorite you can watch with family. The film stars Paul Rudd, Evangeline Lilly, Michael Douglas and Hannah John-Kamen.

Until February, stay warm! ~ Marriska Fernandes
Here's everything coming to Netflix in January.
Jan. 1
A Series of Unfortunate Events: Season 3 – NETFLIX ORIGINAL
Across the Universe
Adrift
Bad Boys
Black Hawk Down
Blood Diamond
COMEDIANS of the world – NETFLIX ORIGINAL
Daddy Day Care
Grown Ups 2
Loving
Mona Lisa Smile
My Best Friend's Wedding
Pinky Malinky – NETFLIX ORIGINAL
Tears of the Sun
The Cable Guy
The Karate Kid Part II
The Sisterhood of the Traveling Pants
Tidying Up with Marie Kondo – NETFLIX ORIGINAL
xXx
XXX: State of the Union
Jan. 2
A Quiet Place
Bring It On
Bring It On Again
Bring It On: All or Nothing
Bring It On: Fight to the Finish
Bring It On: In It to Win It
Red Dragon
The Bourne Identity
The Bourne Legacy
The Bourne Supremacy
The Bourne Ultimatum
Jan. 4
And Breathe Normally – NETFLIX FILM
Lionheart – NETFLIX FILM
Jan. 9
GODZILLA The Planet Eater – NETFLIX ORIGINAL
Solo: A Star Wars Story
Jan. 10
When Heroes Fly – NETFLIX ORIGINAL
Jan. 11
Friends from College: Season 2 – NETFLIX ORIGINAL
ReMastered: Massacre at the Stadium – NETFLIX ORIGINAL
Sex Education – NETFLIX ORIGINAL
Solo – NETFLIX FILM
The Last Laugh – NETFLIX FILM
Titans – NETFLIX ORIGINAL
Jan. 15
Revenger – NETFLIX FILM
Sebastian Maniscalco: Stay Hungry – NETFLIX ORIGINAL
The Reaping
Jan. 18
Carmen Sandiego – NETFLIX ORIGINAL
Close – NETFLIX FILM
FYRE: The Greatest Party That Never Happened – NETFLIX ORIGINAL
GIRL – NETFLIX FILM
Grace and Frankie: Season 5 – NETFLIX ORIGINAL
IO – NETFLIX FILM
Soni – NETFLIX FILM
Trigger Warning with Killer Mike – NETFLIX ORIGINAL
Trolls: The Beat Goes On!: Season 5 – NETFLIX ORIGINAL
Jan. 21
Book Club
Justice – NETFLIX ORIGINAL
Jan. 24
Conversations with a Killer: The Ted Bundy Tapes – NETFLIX ORIGINAL
Jan. 25
Animas – NETFLIX FILM
Black Earth Rising – NETFLIX ORIGINAL
Club de Cuervos: Season 4 – NETFLIX ORIGINAL
Kingdom – NETFLIX ORIGINAL
Medici: The Magnificent – NETFLIX ORIGINAL
Unbreakable Kimmy Schmidt Season 4 Part 2 – NETFLIX ORIGINAL
Jan. 27
Z Nation: Season 5
Jan. 29
Gabriel "Fluffy" Iglesias: One Show Fits All – NETFLIX ORIGINAL
Marvel Studios' Ant-Man and the Wasp
Jan. 30
Disney/Pixar's Incredibles 2
Jan. 31
Resident Evil: The Final Chapter
Coming Soon in Jan
Marvel's The Punisher: Season 2 – NETFLIX ORIGINAL
Last Call
Jan. 1
Shrek
Straight Outta Compton
The Book of Life
Jan. 15
Suicide Squad
Jan. 18
Rogue One: A Star Wars Story
Jan. 25
Captain America: The First Avenger
Jan. 28
Arrival