With spring just around the corner, Netflix's offerings for the month of March are shaping up to be quite the thrilling collection of films and TV series. Netflix films Triple Frontier and The Highwaymen and the new series The Order highlight some of the original content coming out this month to keep audiences on edge.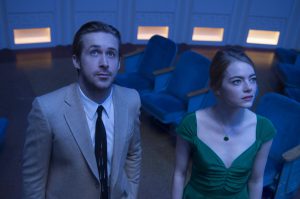 However, there is a healthy amount of uplifting and emotional stories to balance things out. Winner of multiple Oscars and my personal favorite, La La Land, and the inspiring story of The Boy Who Harnessed the Wind bring a lighter side to this month's selection.
Whether you're just looking for something to watch while you kick back and relax on the weekend, or binge watch over the course of spring break for school kids and college students, Netflix's March slate has something for everyone to enjoy.
Netflix Originals:
Kicking off the month is Chiwetel Ejiofor's The Boy Who Harnessed the Wind (Mar. 1). He is just the latest actor to try his hand behind the camera and early reviews have been positive. Following the true story of William Kamkwamba's (played by Maxwell Simba) efforts to save his village by building a wind turbine he read about in a library book, the film promises an emotional and uplifting journey for both the boy and his father (Ejiofor).
Another intriguing supernatural series also on the horizon is The Order (Mar. 7). The series follows Jack Morton (Jake Manley), who is summoned to the underground magical society called The Order after he's accepted into Belgrave University. He pledges himself to the society in order to avenge his mother's death.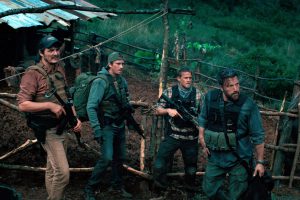 Director J.C. Chandor (A Most Violent Year) brings together a star-studded action thriller with Triple Frontier (Mar. 13). Santiago "Pope" Garcia (Oscar Isaac) recruits his former Special Forces buddies Tom "Redfly" Davis (Ben Affleck), William "Ironhead" Miller (Charlie Hunnam), Francisco "Catfish" Morales (Pedro Pascal) and Ben Miller (Garrett Hedlund) for a job to rob the head of a major drug cartel, but soon discover they're in over their heads.
Perhaps one of the more interesting projects to come out this month is the comedy series Turn Up Charlie (Mar. 15). In it we get to see a different side to Idris Elba, who puts his real-life DJ skills on display. He plays Charlie, a struggling DJ and eternal bachelor who is given one final chance to achieve his dreams. The catch? He reluctantly becomes the nanny of his famous best friend's problem-child daughter.
After nearly a year, the second half of Arrested Development's fifth season finally hits Netflix (Mar. 15). The second half will look to pick up where the last episodes left off, continuing the misadventures of Michael Bluth (Jason Bateman) and his dysfunctional family.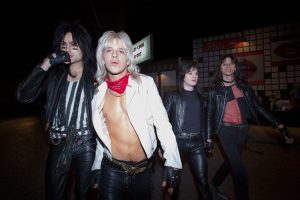 Director Jeff Tremaine, best known for the Jackass films, takes on a similar group of sorts in form of notorious rock band Mötley Crüe. This biopic, titled The Dirt (Mar. 22), is based on the no-holds-barred autobiography written by the band members and chronicles their rise to fame for their music, and infamy due to their behavior.
The hit horror comedy series Santa Clarita Diet (Mar. 29) returns for its third season. The misadventures of married real estate agents Joel (Timothy Olyphant) and Sheila Hammond (Drew Barrymore) continue as they deal with new threats to Sheila's secret.
Netflix sends off the month with another potential heavyweight film in The Highwaymen (Mar. 29). Following their escape from prison, Governor Ma Ferguson (Kathy Bates) makes it a priority to catch the infamous criminals Bonnie and Clyde. This leads to former Texas Rangers Frank Hamer (Kevin Costner) and Maney Gault (Woody Harrelson) to come out of retirement and hunt down the pair.
Animation: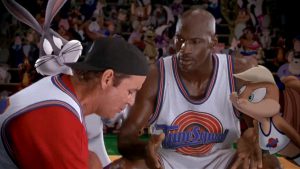 Possibly one of the most gimmicky films of all time, Space Jam (Mar. 1) is still a beloved movie and has a strong following. It speaks to the enduring legacy of not only its cartoon characters, but that of his Air-ness himself, Michael Jordan. With a sequel starring Lebron James set to begin filming this summer, revisiting this nostalgic classic from the '90s is a must for the kid inside, as well as new generations.
From directors Tim Miller (Deadpool) and David Fincher (The Social Network) comes the animated anthology series titled Love, Death & Robots (Mar. 15). Suffice to say from the two directors and its title alone, this animated anthology series is far from being kid friendly and features a wide variety of animation and art styles covering numerous genres.
Stop-motion animation house Laika's Oscar-nominated film Kubo and the Two Strings (Mar. 23) follows a young boy named Kubo, son of a sorceress, who must embark on a quest to find a magical suit of armor worn by his late father in order to stop a vengeful spirit after him.
Overlooked gems:
Unjustly overlooked during its theatrical run in late 2016, audiences will now get a chance to check out director J.A. Bayona's A Monster Calls (Mar. 1). The film is a fantastical story about a young boy (Lewis MacDougall) who is sent to live with his grandmother (Sigourney Weaver) following his mother's (Felicity Jones) terminal illness. With his father absent, he turns to the help of a tree monster (voiced by Liam Neeson) to help cope with the loss of his mother.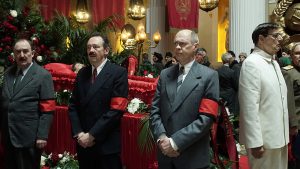 One of 2018's underseen, underappreciated and downright hilarious comedies is the satirical comedy The Death of Stalin (Mar. 22). With a talented ensemble cast that includes Jeffrey Tambor, Steve Buscemi, Jason Isaacs, Paddy Considine, Rupert Friend, Olga Kurylenko and Andrea Riseborough, the film chronicles the power struggle for the Soviet leadership when Josef Stalin unexpectedly drops dead.
Snowpiercer (Mar. 31) ends the month with another spectacular and underappreciated movie, thanks in no part to its handling by The Weinstein Company for its U.S. theatrical release. The dystopian sci-fi film from Korean director Bong Joon-ho features a jaw-dropping ensemble cast headlined by the MCU's Chris Evans and featuring Oscar-winners Tilda Swinton and Octavia Spencer as well as Oscar-nominees Ed Helms and John Hurt. Snowpiercer tells the tale of the last remnants of humanity surviving on a trans-global train and enduring an endless class struggle between those who live at the end of the train versus those that live at the front. ~Paolo Maquiraya
Here's everything coming to Netflix this March.
March 1
A Monster Calls
Budapest – Netflix Film
Cricket Fever: Mumbai Indians – Netflix Original
Dog Days
La La Land
Larva Island: Season 2 – Netflix Original
Losers – Netflix Original
On My Block: Season 2 – Netflix Original
PAW Patrol: Season 5
River's Edge – Netflix Film
Space Jam
The Boy in the Striped Pajamas
The Boy Who Harnessed the Wind – Netflix Film
The Dark Knight Rises
The Girl on the Train
Your Son – Netflix Film
March 2
Romance is a Bonus Book – Netflix Original
March 3
Patriot Act with Hasan Minhaj: Volume 2 – Netflix Original
March 5
Disney's Christopher Robin
Life
March 6
Forgetting Sarah Marshall
Happy Gilmore
Lucy
Secret City: Under the Eagle: Season 2 – Netflix Original
March 7
The Order
March 8
After Life – Netflix Original
Bangkok Love Stories: Hey You! – Netflix Original
Bangkok Love Stories: Innocence – Netflix Original
Formula 1: Drive to Survive – Netflix Original
Hunter X Hunter (2011): Seasons 1-3
Immortals – Netflix Original
Juanita – Netflix Original
Shadow – Netflix Original
Walk. Ride. Rodeo. – Netflix Film
March 11
Timeless: Season 2
March 12
Jimmy Carr: The Best of Ultimate Gold Greatest Hits – Netflix Original
Terrace House: Opening New Doors: Part 6 – Netflix Original
March 13
Triple Frontier
March 15
Burn Out – Netflix Film
Dry Martina – Netflix Film
Girl – Netflix Film
If I Hadn't Met You – Netflix Original
Las muñecas de la mafia: Season 2 – Netflix Original
Love, Death, and Robots — Netflix Original
Paskal – Netflix Film
Queer Eye: Season 3 – Netflix Original
Robozuna: Season 2 – Netflix Original
Turn Up Charlie – Netflix Original
March 16
Green Door – Netflix Original
March 19
Amy Schumer Growing – Netflix Original
March 21
Antoine Griezmann: The Making of a Legend – Netflix Original
March 20
Smurfs: The Lost Village
March 22
Charlie's Colorforms City – Netflix Original
Carlo & Malik – Netflix Original
Delhi Crime – Netflix Original
Historia de un crimen: Colosio – Netflix Original
Mirage – Netflix Film
Most Beautiful Thing – Netflix Original
ReMastered: The Miami Showband Massacre – Netflix Original
Selling Sunset – Netflix Original
The Death of Stalin
The Dirt – Netflix Film
March 23
Kubo and the Two Strings
March 26
Nate Bargatze: The Tennessee Kid – Netflix Original
March 28
Ainori Love Wagon: Asian Journey: Season 2 – Netflix Original
Jane the Virgin: Season 5
March 29
15 August – Netflix Film
Bayoneta – Netflix Film
McQueen
Osmosis – Netflix Original
Santa Clarita Diet: Season 3 – Netflix Original
The Highwaymen – Netflix Film
The Legend of Cocaine Island
Traitors – Netflix Original
March 31
El sabor de las margaritas – Netflix Original
Love, Rosie
Snowpiercer
The Giver
Trailer Park Boys: The Animated Series – Netflix original
Tyler Perry's Madea's Witness Protection
Tyler Perry's The Single Moms Club
Last Call
Leaving March 5
A Million Ways to Die in the West
Bridesmaids
Fear
National Lampoon's Animal House
Neighbors
Leaving March 18
Disney's Beauty and the Beast
Leaving March 31
Blade: Trinity
Clerks 2
Hairspray
Hanna
Lucky Number Slevin
Men in Black 3
Party of Five: Seasons 1-6
The Back-Up Plan
The Lord of the Rings: The Return of the King