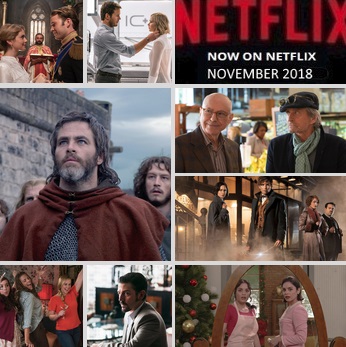 A new month means a whole new selection of fresh content to choose from. Netflix brings an exciting palette of originals as well as popular films that will keep you occupied all November long. Check out your next Netflix obsession!
Originals
Outlaw King (Nov. 9) was this year's opening film at TIFF. It played in select theaters and will now make its debut on Netflix. Set in 14th century Scotland, the film follows Robert the Bruce (Chris Pine) as he assumes the throne as King of Scotland and battles the English in a war for independence.
After over four decades, Michael Douglas returns to a starring role in a TV series with The Kominsky Method (Nov. 16), produced by none other than Chuck Lorre. Douglas stars as a successful actor-turned-revered Hollywood acting coach, sharing the screen with veteran actor Alan Arkin.
If you were obsessed with Narcos, then you'll be binging on the new Narcos: Mexico (Nov. 16). It follows the rise of the Guadalajara Cartel as an American DEA agent (Michael Peña) learns the danger of targeting narcos in Mexico.
Another original coming to Netflix is The Princess Switch (Nov. 16). Starring Vanessa Hudgens, it tells the story of down-to-earth Chicago baker who looks exactly like a soon-to-be princess. They decide to switch places at Christmastime and what follows is for you to find out.
The weekly titles Riverdale and Dynasty are back, so don't forget to stream those and keep up with the nonstop drama.
Our Picks
How about getting that adrenaline pumping with some action? Matt Damon stars as the titular character in Jason Bourne (Nov. 1). Or maybe watch Tom Hanks save the day in The Da Vinci Code (Nov. 1)? T(hanks), Netflix!
Harry Potter fans can get their share of magic and mystery as Fantastic Beasts and Where To Find Them (Nov. 7) lands on Netflix. Bring your friends and your fam for a sleepover and immerse yourself in everything magical.
What's life without some classic romantic comedy? Spend date night with bae watching the classic Love Actually (Nov. 7).
Amy Schumer wants you to know that she feels pretty sexy in I Feel Pretty (Nov. 17). After hitting her head, she wakes up and sees herself differently.
If you're not in the romance headspace right now (totally understandable), maybe something like
The Break-Up (Nov. 7) will help. This comedy starring Vince Vaughn and Jennifer Aniston is exactly what you might need right now.
If all else fails, watch Jesse Eisenberg play a stoner whose life turns upside down in the 2015 film American Ultra (Nov. 10).
Until next month,
Marriska Fernandes
Here's everything that's new on Netflix this November.
Nov. 1
21
Angela's Christmas
Batman: Return of the Caped Crusaders
Beverly Hills Ninja
Children of Men
Disobedience
Ethel & Ernest
Follow This: Part 3 – Netflix Original
Jason Bourne
Katt Williams: The Pimp Chronicles: Pt. 1
Look Who's Talking Too
Lowriders
Once Upon a Time in Mexico
Schitt's Creek: Season 4
Star: Season 3 (Streaming Every Thursday)
The Da Vinci Code
The Judgement – Netflix Original
The Untold Tales of Armistead Maupin
The Water Horse: Legend of the Deep
Nov. 2
Brainchild – Netflix Original
House of Cards: Season 6 – Netflix Original
ReMastered: Tricky Dick & The Man in Black – Netflix Original
The Holiday Calendar – Netflix Film
The Other Side of the Wind – Netflix Film
They'll Love Me When I'm Dead – Netflix Original
Trolls: The Beat Goes On! Season 4 – Netflix Original
Nov. 3
A Taiwanese Tale of Two Cities (Streaming Every Saturday) – Netflix Original
Dynasty: Season 2 (Streaming Every Saturday) – Netflix Original
Nov. 4
Patriot Act with Hasan Minhaj (Streaming Every Sunday) – Netflix Original
Nov. 5
Homecoming: Season 1
John Leguizamo's Latin History for Morons – Netflix Original
Nov. 6
Black Lightning: Season 2 (Streaming Every Tuesday) – Netflix Original
Happy! Season 1
Nov. 7
Fantastic Beasts and Where To Find Them
Live by Night
Love Actually
Robin Hood
Scent of a Woman
Smokin' Aces
The Break-Up
Nov. 8
Riverdale: Season 3 (Streaming Every Thursday) – Netflix Original
Nov. 9
Beat Bugs: Season 3 – Netflix Original
Medal of Honor – Netflix Original
Outlaw King – Netflix Film
Spirit Riding Free: Season 7 – Netflix Original
Super Drags – Netflix Original
Treehouse Detectives: Season 2 – Netflix Original
Westside – Netflix Original
Nov. 10
American Ultra
Shaun the Sheep Movie
Nov. 12
My Little Pony: Friendship Is Magic: Season 8
Nov. 13
Loudon Wainwright III: Surviving Twin – Netflix Original
Oh My Ghost – Netflix Original
Warrior – Netflix Original
Nov. 14
The Flash: Season 5
Nov. 15
May The Devil Take You – Netflix Film
The Crew – Netflix Film
Nov. 16
Cam – Netflix Film
Narcos: Mexico – Netflix Original
Ponysitters Club: Season 2 – Netflix Original
Prince of Peoria – Netflix Original
She-Ra and the Princesses of Power – Netflix Original
The Ballad of Buster Scruggs – Netflix Film
The Kominsky Method – Netflix Original
The Princess Switch – Netflix Film
Nov. 17
I Feel Pretty
Nov. 19
Donald Glover: Weirdo
The Last Kingdom: Season 3 – Netflix Original
Nov. 20
Kulipari: Dream Walker – Netflix Original
Motown Magic – Netflix Original
Sabrina – Netflix Film
The Final Table – Netflix Original
Trevor Noah: Son of Patricia – Netflix Original
Nov. 21
The Tribe – Netflix Film
Nov. 22
Mystery Science Theater 3000: The Gauntlet – Netflix Original
The Christmas Chronicles – Netflix Film
Nov. 23
Fugitiva – Netflix Original
Sick Note: Season 1 and 2 – Netflix Original
Sing Street
Nov. 24
Forever My Girl
Hostiles
Nov. 25
Harold and Lillian: A Hollywood Love Story
Nov. 26
Bad Santa
Nov. 27
Bumping Mics with Jeff Ross & Dave Attel – Netflix Original
Operation Red Sea
Nov. 28
Bleed for This
Nov. 29
Passengers
Soltera codiciada – Netflix Film
Nov. 30
1983 – Netflix Original
A Christmas Prince: The Royal Wedding – Netflix Film
Baby – Netflix Original
Death by Magic – Netflix Original
F is for Family: Season 3 – Netflix Original
Happy as Lazzaro – Netflix Film
Nicky Jam: El Ganador – Netflix Original
Rajma Chawal – Netflix Film
Spy Kids: Mission Critical: Season 2 – Netflix Original
The World Is Yours – Netflix Film
Tiempo compartido – Netflix Film
Last Call

Nov. 1
The Queen
Nov. 11
Central Intelligence
Nov. 21
Moonlight
Nov. 29
Philomena
Nov. 30
Doctor Strange