What's New on Netflix Canada – October 2017
By Marriska Fernandes on September 29, 2017 | 1 Comment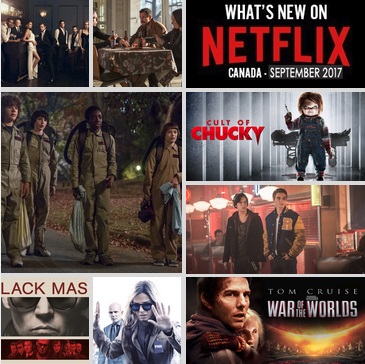 October means we have a whole month to look forward to as we prepare for Halloween! In addition to fan favorite horror movies and cult classics, Netflix is also offering new ones to celebrate this scary time of year. Of course, there's plenty to watch for non-horror fans, including steamy dramas, nail-biting thrillers and rib-tickling comedies. Here's what we can look forward to this frightful and festive month.
Feed 'Em Some Horror
For horror-hungry fans like myself, there's a frenzy of slasher flicks and hair-raising films to satisfy the thirst for gore. The Chucky doll returns in Cult of Chucky (Oct. 3) to terrorize his old enemies with the help of his girlfriend.
Psychological thriller 1922 (Oct. 20) tells the story of a farmer who murders his wife and then starts to have a guilt trip. This psychological thriller is another highly anticipated adaptation from Stephen King.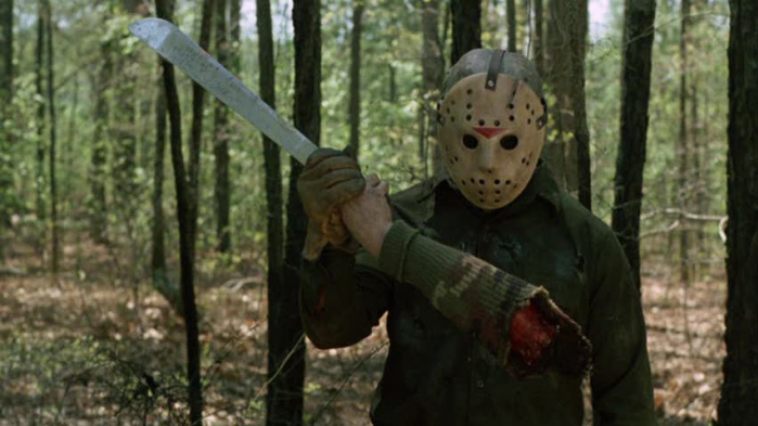 Friday the 13th Parts 4, 5, 6 and 7 begin streaming on Oct. 26 as hockey-masked psychopath Jason Voorhees returns in the horror franchise. Each of these films will take us through an adventure that promises violent and horrific deaths. Marathon, anyone?
If you're a fan of the Scream franchise like yours truly, then you'll enjoy Slasher: Guilty Party (Oct. 15), which follows a woman who returns to her hometown years after the grisly slaying of her parents. But of course, another serial killer waits as he recreates crimes from the past. Are you getting goosebumps yet?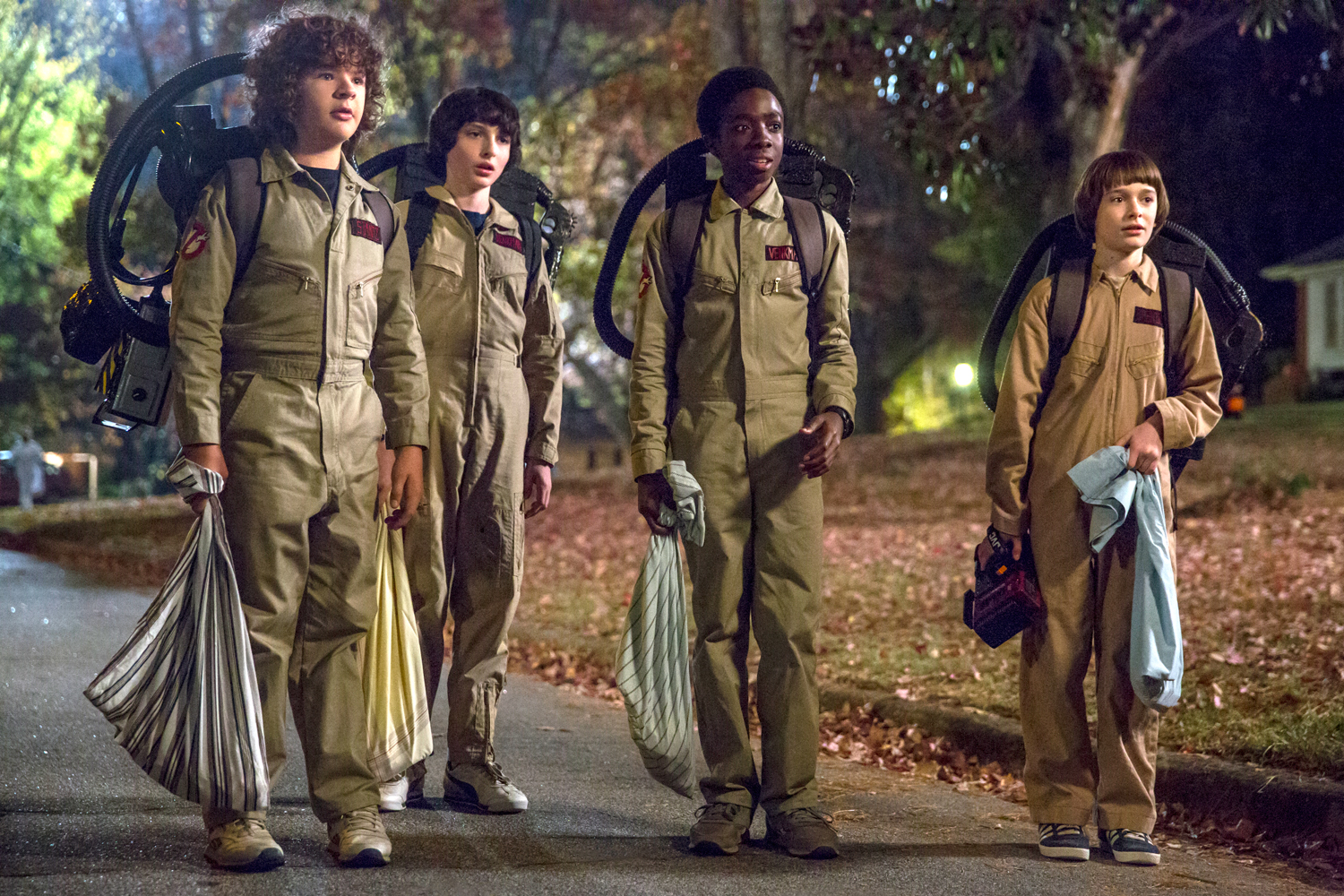 On a lighter note, the adorable kids from Stranger Things return for a second season on Oct. 27. In the aftermath of the Demogorgon, the town is still at risk from a sinister entity. As a bonus, we can confirm we'll be seeing Eleven again.
Starting Oct. 3, a young man and his friends stumble across a medieval board game called 13 Demons.
Need Me Some Drama
If you liked Gossip Girl, then the modern reboot of the 1980s prime time soap opera Dynasty (Oct. 12) might just be the drama you're craving. It follows two wealthy families in America and how they leverage control over the lives of their children.
Sandra Bullock gives a power-packed performance in the political dramedy Our Brand is Crisis (Oct. 1). Season two of the popular series Riverdale — very loosely based on the Archie comics — doubles the drama and mystery, picking up right after Archie's dad is shot in the diner. Yeah, this series doesn't really resemble the comics you enjoyed as a kid, but it's oh-so addictive!
Crazy for Crimes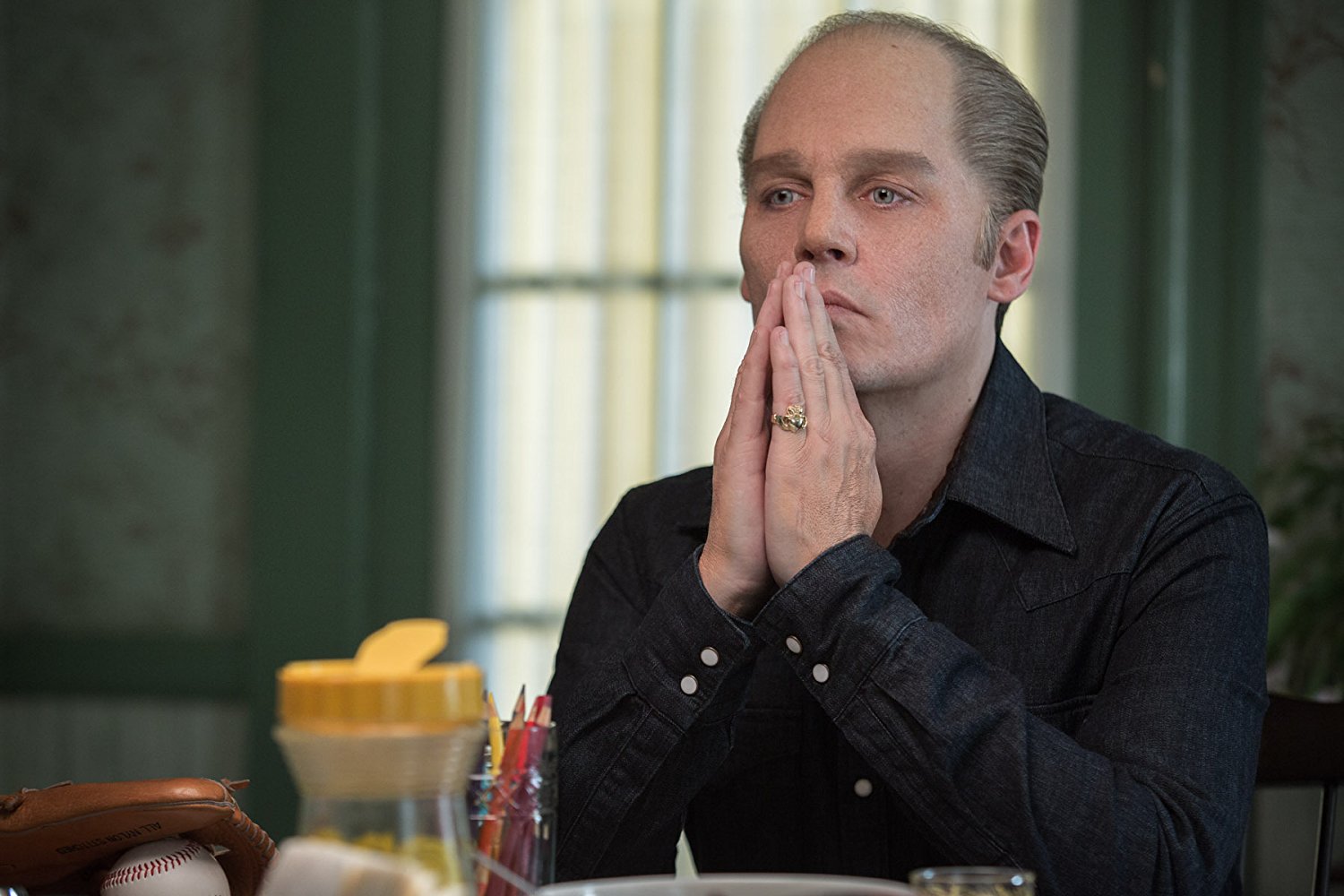 Get into the minds of criminals as two agents learn profiling techniques to catch bad guys in the new Netflix original series Mindhunter (Oct. 13). Or you could join Johnny Depp for his portrayal of notorious criminal Whitey Bulger in Black Mass (Oct. 1).
Another must-watch is Patriots Day (Oct. 1) starring Mark Wahlberg, based on the 2013 Boston Marathon terrorist bombing. It's a riveting story of survival, heroism and the strength of a community.
A thriller on my watch list is Wheelman (Oct. 20), which follows a getaway driver fighting for his life after a bank robbery goes wrong. His car is full of money and his family is in danger, so he races against the clock to figure out who cheated him.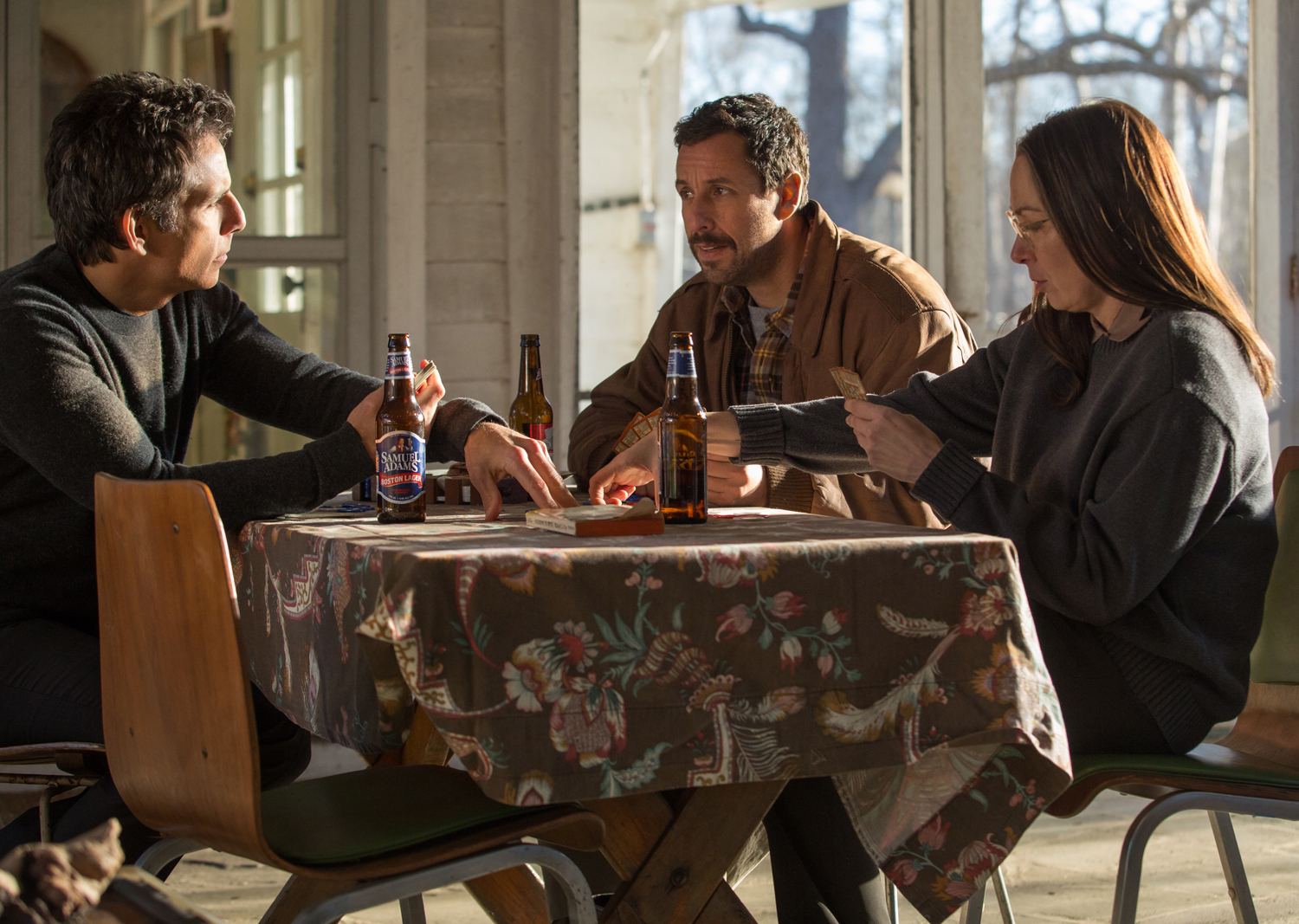 Just for Laughs
For a dose of laughter, Adam Sandler and Ben Stiller join forces in The Meyerowitz Stories (New and Selected) (Oct. 13), in which three adult siblings return to New York to attend their father's (Dustin Hoffman) new art exhibition.
Another option for laughs is Learning to Drive (Oct. 15), which follows a Manhattan writer who gets driving lessons from a Sikh instructor.
Teen Horror
Season eight of The Vampire Diaries (Oct. 21) will find Stefan continuing his search for Damon, months after his disappearance. Also on mine and Tribute's radar is the R.L. Stine-adapted movie Goosebumps (Oct. 11), which gets a thumbs up from us.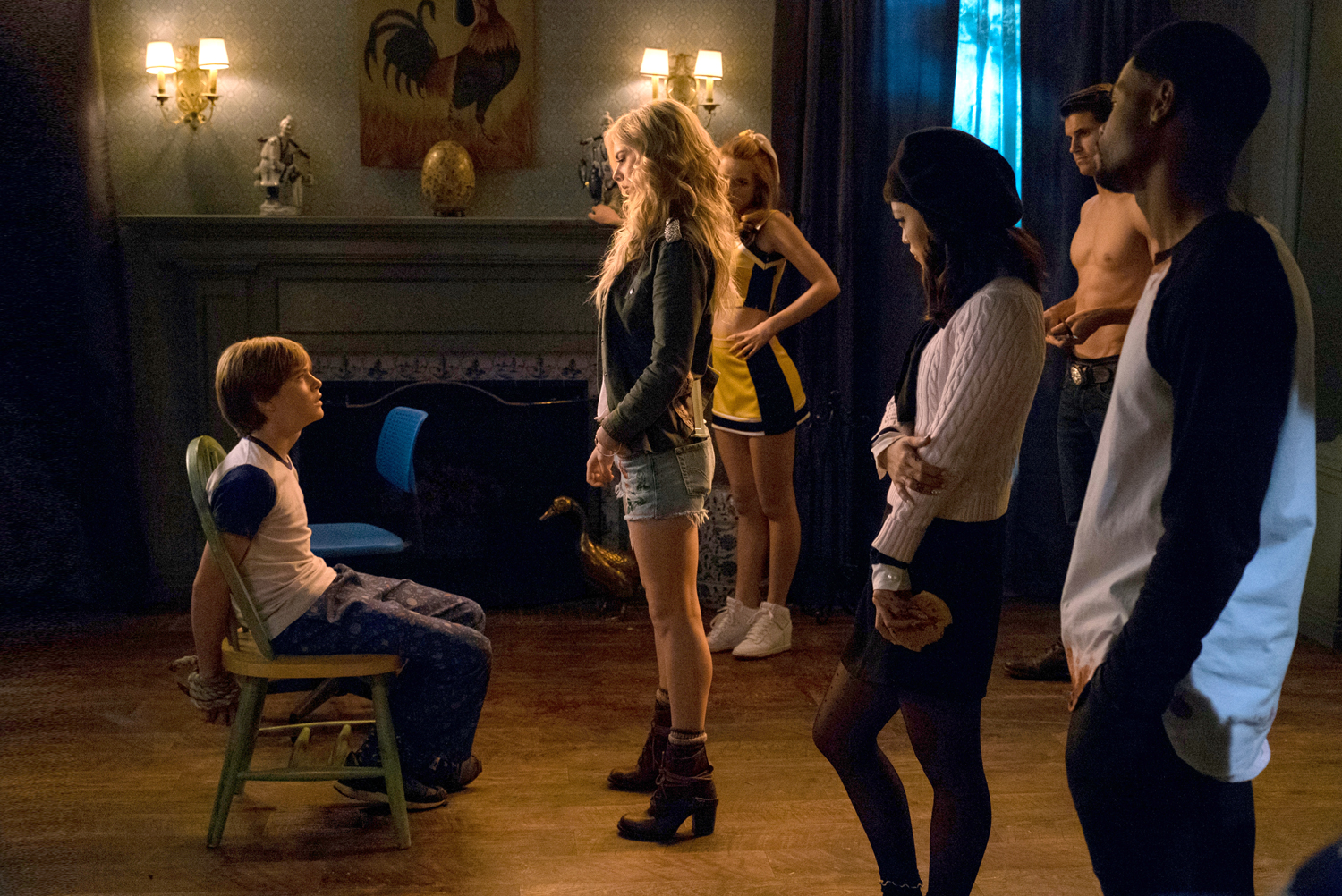 Lastly, The Babysitter (Oct. 13) is a Netflix original film that follows a 12-year-old boy who stays up late at night to spy on his hot babysitter (Bella Thorne). However, he finds out she's a member of a satanic cult in league with the Devil. Yup, you can imagine what happens next (check out the photo to the right).
Here is a complete list of series and films streaming in October — and make sure to scroll to the bottom to find out what's leaving Netflix this month.
Happy haunting, until next month! ~ Marriska Fernandes

October 1:
Alienate
As You Are
Boys in the Trees
Dead Set
Equestria Girls: Tales of Canterlot High – Season 1
Generation Iron 2
Ghost Patrol
Lockup: Disturbing the Peace: Collection 1
Sticky Notes
Valley of the Dolls
October 2:
The 33
Mr. Dynamite: The Rise of James Brown
October 3:
Rodney Carrington: Here Comes The Truth – Netflix Original
October 5:
Bonus Family (Bonusfamiljen) – Season 1 – Netflix Original
It Was Fifty Years Ago Today! The Beatles: Sgt Pepper And Beyond
October 6:
Chelsea – Season 2 – Netflix Original – New Episodes Weekly
ID-0 – Season 1 – Netflix Original
Kibaoh Klashers – Season 2
Once Upon a Time – Season 6
Scandal – Season 7
Skylanders Academy – Season 2 – Netflix Original
Word Party – Season 3 – Netflix Original
October 7:
Chris Brown: Welcome To My Life
Wolves
October 10:
Christina P: Mother Inferior – Netflix Original
October 12:
Ali G Indahouse
Dynasty – Season 1 – Netflix Original – New Episodes Weekly
Nanny McPhee and the Big Bang
The Kite Runner
October 13:
Dragons' Den – Season 14
Kingdom Of Us – Netflix Original
Super Monsters – Season 1 – Netflix Original
Supernatural – Season 12
Voltron: Legendary Defender – Season 4 – Netflix Original
October 14:
Jane The Virgin – Season 4 – New Episodes Weekly
This is Not What I Expected
October 15:
LEGO: City – Season 1
Money
West Coast Customs – Season 6
What We Did on Our Holiday
October 16:
Deep Undercover Collection: Collection 1
October 17:
Patton Oswalt: Annihilation – Netflix Original
October 19:
EDtv
War of the Worlds
October 20:
Do the Right Thing
Haters Back Off – Season 2 – Netflix Original
One of Us – Netflix Original a
The Day I Met El Chapo: The Kate del Castillo Story – Netflix Original
Wheelman – Netflix Film
October 24:
The Hunt – Season 1
Wanted – Season 1 – Netflix Original
Wanted – Season 2 – Netflix Original
October 25:
Godzilla
The Final Master
October 26:
Iceman
Strange Weather
October 27:
Joan Didion: The Center Will Not Hold – Netflix Original
Life in Pieces – Season 2
October 30:
Judah Friedlander: America Is The Greatest Country In The United States – Netflix Original
October 31:
Ben's at Home
Last Call:
October 1:
Romeo+Juliet
The Dark Knight
Titanic
October 9:
Mad Max: Fury Road
October 10:
300
October 15:
Happy Feet
P.S. I Love You
The Lord of the Rings: The Fellowship of the Ring
October 16:
Entourage
---
---
---
---
Similar Articles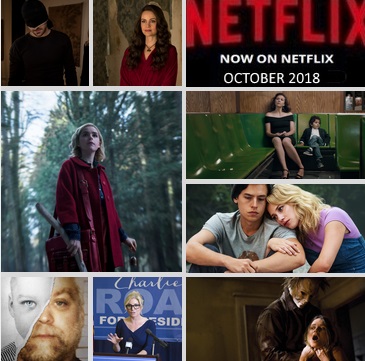 September 28, 2018 | Leave a Comment
This October on Netflix, there's a scary helping of horrors, thrillers and comedies to satisfy all movie-loving souls. So binge away with some classics and originals.
---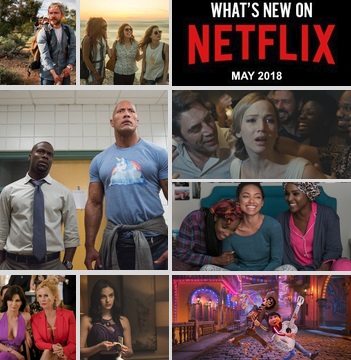 April 27, 2018 | Leave a Comment
A new month brings a whole new selection of movies and TV to obsess over. Check out what's new on Netflix Canada this May and enjoy the new original films.
---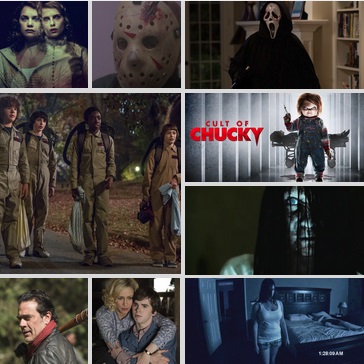 October 20, 2017 | Leave a Comment
Netflix has a wide selection of creepy, gory and funny Halloween picks to enjoy this month. Check out which ones we suggest that you should binge-watch.
---