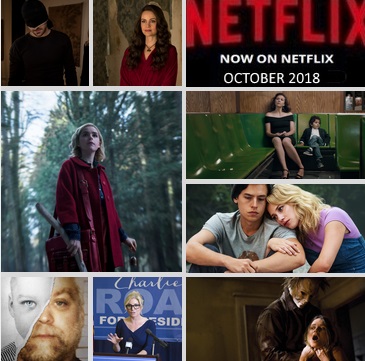 October is one of my favorite months — thanks to Halloween. There's a coffin full of horrors and thrillers on Netflix to scare the stuffing out of anyone. Bring your ghoul friends and watch away.
Original Netflix Boos
Fans of all things horror (like yours truly) will love digging into the series The Haunting of Hill House (Oct. 12), director Mike Flanagan's reimagining of the classic novel by Shirley Jackson. This one's not for the faint of heart. It tells the story of a family haunted by traumatic events that took place in their old home, taking the audience for a spin between the past and present. Grab your boo for a night of scares.
Find out what's happened to Steven Avery since he was sent to prison a second time in Making a Murderer: Part 2 (Oct. 19). It's intense and you'll want to binge.
Paul Greengrass takes you deep into another one of his signature-style films with 22 July (Oct. 10), which is based on true events, following the survivors of a horrific terrorist attack in Norway as they rally for healing and justice.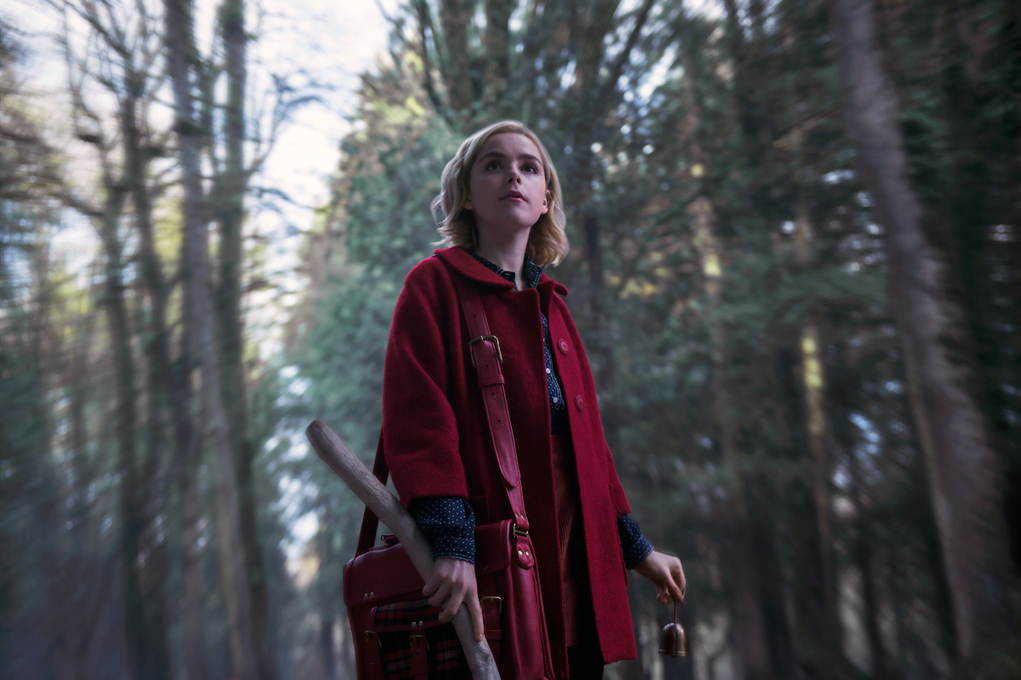 Chilling Adventures of Sabrina (Oct. 26) takes on a dark twist as the original Netflix series joins Sabrina on an adventure in which she must choose between the witch world of her family and the human world of her friends. This one's spellbinding for sure.
For those who want a lighter dose of Netflix, Marvel's Daredevil (Oct. 19) returns for a third season. Taking place after The Defenders, this follows Matt Murdock fighting for justice as he finds out that Wilson Fisk is out of prison and back to corrupting Hell's Kitchen.
Fans of Riverdale are going to soak up new episodes of season 3 as it streams every Thursday starting Oct. 10. Dynasty returns on Oct. 13 as we find out who was killed in the fire set at the Carrington family home. Bring on the drama!
Maggie Gyllenhaal stars in the Netflix original film The Kindergarten Teacher (Oct. 12). It's an eye-opening drama. For those who have been inquiring about Operation Finale (Oct. 3), Netflix is streaming it starting this month in all regions other than the U.S. (where it opened in theaters), so watch out for that!
Horror-loving gems
Couldn't handle the boos (pun intended) at the Halloween party? Get your own party together and binge on some Halloween classics, including Halloween, Scream, Scream 2 and Scream 3. If horror-comedies lift your spirits, then Scary Movie parts 1 to 5 are all yours.
More gory therapy arrives with The Purge: Election Year (Oct. 1), Dawn of the Dead (Oct. 3), Malevolent (Oct. 5) and Sinister (Oct. 20).
On a lighter note…
Bridget Jones's Baby (Oct. 28) will be available for laughs as well as Anger Management (Oct. 1). If you haven't seen Collateral Beauty (Oct. 28), you'll enjoy watching Will Smith in this magical drama.
That's all, ghouls! Happy Halloween!
~Marriska Fernandes
Here's everything coming to Netflix this month!
Oct. 1
Anger Management
See No Evil, Hear No Evil
The Purge: Election Year
Warcraft
Oct. 2
Joe Rogan: Strange Times – Netflix Original
MeatEater: Season 7 – Netflix Original
Oct. 3
Alvin and the Chipmunks Meet Frankenstein
Angela's Christmas
Casper
Dawn of the Dead
Dune
Mr. Bean's Holiday
Operation Finale – Netflix Film
Spy Game
Oct. 4
Star: Season 3 (Streaming Every Thursday)
Violet Evergarden: Special: Extra Episode
Oct. 5
Big Mouth: Season 2 – Netflix Original
Dancing Queen – Netflix Original
Elite – Netflix Original
Empire Games – Netflix Original
Little Things: Season 2 – Netflix Original
Malevolent – Netflix Film
Private Life – Netflix Film
Super Monsters Save Halloween – Netflix Film
Super Monsters: Season 2 – Netflix Original
The Rise of Phoenixes – Netflix Original (Streaming Every Friday)
YG Future Strategy Office – Netflix Original
Oct. 6
Little Things: Season 1
Oct. 8
Mo Amer: The Vagabond – Netflix Original
Oct. 9
Inferno
Supergirl: Season 3
Terrace House: Opening New Doors: Part 4 – Netflix Original
Oct. 10
22 July – Netflix Film
Oct. 11
Riverdale: Season 3 – Netflix Original (Streaming Every Thursday)
Salt Fat Acid Heat – Netflix Original
Oct. 12
Apostle – Netflix Film
Errementari: The Blacksmith and the Devil – Netflix Film
Feminists: What Were They Thinking? – Netflix Original
FightWorld – Netflix Original
ReMastered: Who Shot the Sheriff – Netflix Original
Tarzan and Jane: Season 2 – Netflix Original
The Boss Baby: Back in Business: Season 2 – Netflix Original
The Curious Creations of Christine McConnell – Netflix Original
The Haunting of Hill House – Netflix Original
The Kindergarten Teacher – Netflix Film
Oct. 13
Dynasty: Season 2 – Netflix Original (Streaming Every Saturday)
Oct. 14
A Taiwanese Tale of Two Cities – Netflix Original (Streaming Every Sunday)
Oct. 15
Octonauts: Seasons 2-4
The Seven Deadly Sins: Revival of The Commandments – Netflix Original
Oct. 16
Black Lightning: Season 2 – Netflix Original (Streaming Every Tuesday)
Ron White: If You Quit Listening, I'll Shut Up – Netflix Original
Oct. 19
Accidentally in Love – Netflix Original
Ask the Doctor – Netflix Original
Best.Worst.Weekend.Ever.: Limited Series – Netflix Original
Derren Brown: Sacrifice – Netflix Original
Distrito salvaje – Netflix Original
Gnome Alone – Netflix Film
Haunted – Netflix Original
Hip-Hop Evolution: Season 2 – Netflix Original
Illang: The Wolf Brigade – Netflix Film
Larva Island – Netflix Original
Making a Murderer: Part 2 – Netflix Original
Marvel's Daredevil: Season 3 – Netflix Original
The Night Comes For Us – Netflix Film
Wanderlust – Netflix Original
Oct. 20
[REC]
Halloween
Scary Movie
Scary Movie 2
Scary Movie 3
Scary Movie 4
Scary Movie 5
Scream
Scream 2
Scream 3
Sinister
The Cabin in the Woods
Oct. 21
Robozuna – Netflix Original
The Cured
Oct. 22
The Secret Life of Pets
Oct. 23
ADAM SANDLER 100% FRESH – Netflix Original
Oct. 24
Batman Ninja
Bodyguard – Netflix Original
Oct. 25
Great News: Season 2
Hell or High Water
Oct. 26
Been So Long – Netflix Film
Castlevania: Season 2 – Netflix Original
Chilling Adventures of Sabrina – Netflix Original
Dovlatov – Netflix Film
Jefe – Netflix Film
Shirkers – Netflix Original
Terrorism Close Calls – Netflix Original
Oct. 27
Girl from Nowhere – Netflix Original
Oct. 28
Bridget Jones's Baby
Certain Women
Collateral Beauty
Patriot Act with Hasan Minhaj – Netflix Original (Streaming Every Sunday)
Oct. 30
Fate/EXTRA Last Encore: Illustrias Geocentric Theory – Netflix Original
The Degenerates – Netflix Original
Oct. 31
Gun City – Netflix Film