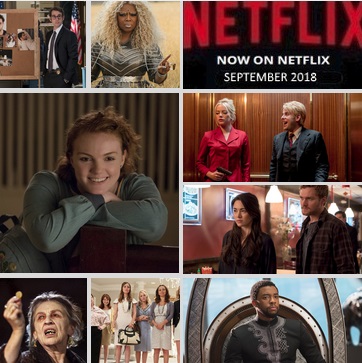 Summer is almost coming to an end, but Netflix is making sure you have enough original content to make you want to stay indoors — at least, some of the time! From original films like Sierra Burgess is a Loser to the original limited series Maniac, there's something for every movie/TV lover.
Originals
Another summer rom-com to add to your watch list is Sierra Burgess is a Loser (Sept. 7), starring Shannon Purser (Barb from Stranger Things) and teen heartthrob Noah Centineo.
Emma Stone and Jonah Hill take you on an unforgettable journey with Maniac (Sept. 21). Marvel fans can enjoy the second season of Marvel's Iron Fist (Sept. 7), which sees Danny Rand (Finn Jones) as the protector of the streets of NYC after the defeat of the Hand. A comedy for all is the new series The Good Cop (Sept. 21), starring Tony Danza and Josh Groban.
Our Picks
A blockbuster hit that was a fan favorite is Black Panther (Sept. 4) and it's finally coming to Netflix. Also new is Disney's family film, A Wrinkle in Time (Sept. 25).
A comedy everyone will love is Bridesmaids (Sept. 5), starring Kristen Wiig, Maya Rudolph, Rose Byrne, Melissa McCarthy and Chris O'Dowd. It follows a group of colorful bridesmaids down the road to their friend's matrimony. This one will get you LOL-ing.

Horror lovers will love Drag Me to Hell (Sept. 5), which follows what happens when an old woman places the powerful curse of the Lamia on Christine, transforming her life into a living hell. A thriller that's worth a watch is Annihilation (Sept. 30), which follows a biologist who signs up for a secret expedition into a mysterious zone where the laws of nature don't apply.
Other favorites to check out include Iron Man 2 (Sept. 25), The Adjustment Bureau (Sept. 5) and the second season of This is Us (Sept 26). ~Marriska Fernandes
Check out the entire list of what's new on Netflix this month and what's leaving as well!
September 1
Neighbors 2: Sorority Rising
Death at a Funeral
Family Guy: Season 16
The Flash: Season 1 to 4
Hancock
The Hollars
Kramer vs. Kramer
La Catedral de Mar
Labyrinth
Legend
Monkey Twins
Mr. Sunshine
Sisters
September 2
Quantico: Season 3
September 4
Black Panther
September 5
A Million Ways to Die in the West
The Adjustment Bureau
Bridesmaids
Drag Me to Hell
Fear
Land of the Lost
National Lampoon's Animal House
Neighbors
Paul
September 6
Once Upon a Time: Season 7
September 7
Atypical: Season 2
Cable Girls: Season 3
City of Joy
First and Last
Marvel's Iron Fist: Season 2
The Most Assassinated Woman in the World
Next Gen
Sierra Burgess is a Loser
Stretch Armstrong & the Flex Fighters: Season 2
September 9
Wyonna Earp: Season 2
September 11
Daniel Sloss: Live Shows
The Resistance Banker
September 12
Jane
On My Skin
September 14
American Vandal: Season 2
The Angel
Archer: Season 9
Barbie Dreamhouse Adventures: Season 1
Bleach
BoJack Horseman: Season 5
Car Masters: Rust to Riches
The Dragon Prince
Ingobernable: Season 2
The Land of Steady Habits
Last Hope
Norm Macdonald has a Show
Super Monsters Monster Party: Songs
September 17
The Witch
September 18
D.L. Hughley: Contrarian
September 20
The Good Place: Season 2
September 21
Battlefish
Dragon Pilot: Hisone & Masotan
The Good Cop
Gotham: Season 4
Hilda
Maniac: Limited Series
Nappily Ever After
Quincy
September 23
The Walking Dead: Season 8
September 25
A Wrinkle in Time
Iron Man 2
September 26
Lethal Weapon: Season 2
Norsemen: Season 2
This Is Us: Season 2
September 27
Grey's Anatomy: Season 14
September 28
Chef's Table: Volume 5
Forest of Piano
Hold the Dark
Jack Whitehall: Travels with My Father: Season 2
Lessons From A School Shooting: Notes from Dunblane
Lost Song
Made in Mexico
Skylanders Academy: Season 3
The 3rd Eye
Two Catalonias
September 29
The Exorcist: Season 2
September 30
Annihilation
Sherlock Gnomes
LAST CALL
September 1
13 Going on 30
How to Lose a Guy in 10 Days
Pitch Perfect 2
September 17
Pete's Dragon
Star Trek Beyond
September 30
Jurassic World