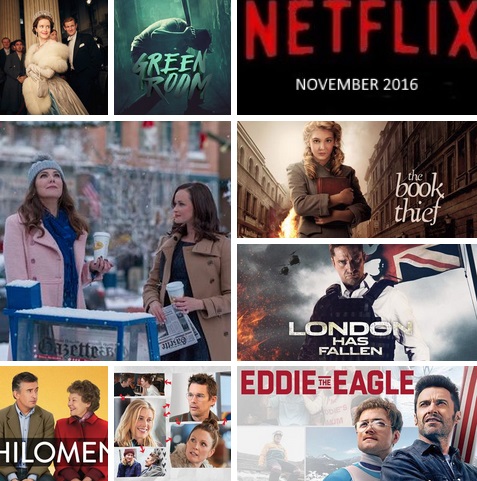 I know, November is here and we still can't believe it. Even though it means the beginning of cold weather, November has its perks. We are super excited to see the return of Gilmore Girls with the new Netflix series Gilmore Girls: A Year in the Life. This four part mini-series is ready to take over the streaming channel on November 25.
Netflix Original series The Crown is also ready for viewing this month. Here's what you can watch during this season of hot cocoa, warm blankets and toasty socks while in your PJs.
Netflix Originals
This might not need repetition, but how excited are you for the mother-daughter duo return of Gilmore Girls. If well-timed jokes, on-point pop culture references and lots of drama isn't your cup of coffee, maybe a story of 25-year-old Queen Elizabeth II's early reign as she navigates life as the monarch of a nation might be of interest? The Crown premieres on Nov. 4.
A Slice of Emotion
Heartfelt movies are sometimes necessary. We highly recommend Eddie the Eagle, a biopic about Great Britain's most famous ski jumper, Eddie "The Eagle" Edwards (Taron Egerton). Who doesn't love an underdog story? Also highly recommended is The Book Thief, which tells the story of a young girl named Liesel (Sophie Nélisse) who is sent to live with a German foster family during World War II, where she learns to read thanks to her foster father, and helps the family hide a young Jewish man.
Craving Comedy?
The search for the perfect guy in 30 days? Possible? Perhaps. But not without a few challenges. Flight attendant Montana Moore (Paula Patton) is determined to get engaged and uses her connections to meet her dream guy in Baggage Claim. Another comedy you might enjoy is Maggie's Plan, which follows a woman with a plan for a successful longterm relationship and a child.  These comedies seem to have a theme going.
Action Packed
Handsome hunk Gerald Butler comes to the rescue in London Has Fallen as he tries to save the President of the United States. Drama? Check. Action? Check. Eye Candy? Double Check. This one has it all. If that isn't up your alley, how about a flurry of bullets and blood in Jane Got a Gun? Jane (Natalie Portman) tries to save her family with the help of her former friend, Dan (Joel Edgerton).
Horror-ified
Who says we can't enjoy horror movies just because Halloween is over? How about a good dose of Green Room, which follows the story of a punk band and what happens when they accept a last-minute gig that isn't truly what it seems.
Have a warm and cozy November! ~Marriska Fernandes