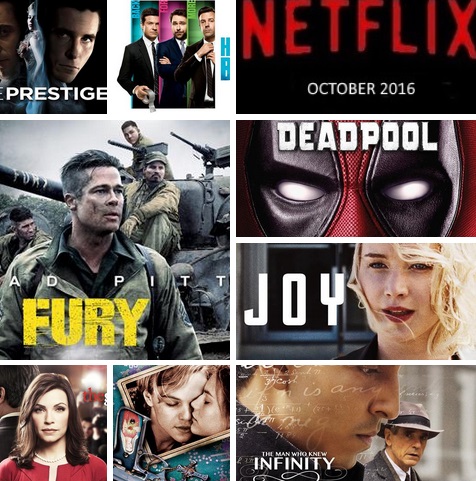 Fall is here and so are some of the most anticipated new series. Netflix is chock-full of new Originals that will keep you binging all season long. So how about a documentary on Justin Timberlake + The Tennessee Kids or Trailer Park Boys? Here's your monthly fix of something new and something borrowed.

Netflix Originals
There's a whole new set of Netflix Originals, which include Haters Back Off!, Trailer Park Boys: Out of the Park: Europe, Word Party: Season 2, Chewing Gum: Season 1, Into the Inferno, I Am the Pretty Thing that Lives in the House, Dinotrux: Season 3, Project MC²: Season 3 and more!
Emotionally charged
Anything Jennifer Lawrence is guaranteed to be worth a watch. JLaw earned an Oscar nomination for her performance in Joy, which tells the true story of Joy Mangano who battles every rock thrown her way. Another film with a lot of heart is the Dev Patel starrer The Man Who Knew Infinity, which tells the story of a self-taught mathematics genius from India who is invited to Cambridge and faces a less-than-pleasant experience.
Laugh it Out
We can handle some inappropriate humor if it's coming from Ryan Reynolds, right? He brings his R-rated comedic chops to the screen in Deadpool. Love it or hate, you cannot ignore Mr. Charming in this one. Your boss giving you trouble? Well, your boss might feel like a gift from above once you've seen what these guys are up to in Horrible Bosses 2. And no, don't get any ideas. The Switch brings our fave comedic duo Jennifer Aniston and Jason Bateman, who create chemistry (and a kid) with as much humor and wit as possible.
Action Packed
While the tears and gags are always a favorite, how about a healthy dose of hardcore action? Brad Pitt and Shia LaBeouf take you back to the last few months of WWII in Fury while Sharlto Copley becomes the most hunted and valuable man in the world in Neill Blomkamp's District 9.
Fall Favorites
The Oscar-nominated thriller The Prestige is one to watch this fall. Starring Hugh Jackman and Christian Bale… need I say more? Alicia Florrick. Name ring a bell? Yes, The Good Wife Season 7 is now available to binge on. The new season brings drama, suspense and of course, politics. Keep the popcorn coming. And just 'cause Brad and Angie didn't make it after 12 years, love isn't dead. The famous love story of Romeo + Juliet will be hitting the streaming channel this month and you can watch this with your significant other. Err… this wasn't a happy ending either, right? Well, then love is dead. Maybe a little Parent Trap could ease of some of that heartache?

Here's a lil Netflix video to sweeten your stream sesh. Until next time, folks! ~Marriska Fernandes