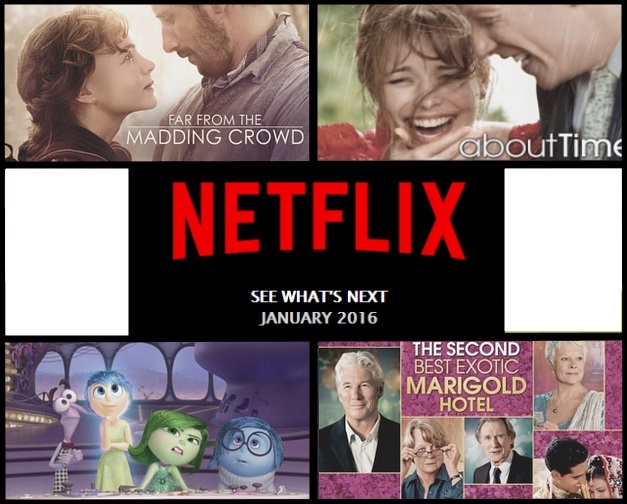 Post-vacation blues? Say no more. If you're missing all the holiday binge-watching, the new year brings much more nail-biting drama, action packed thrillers and never-too-cheesy rom-com flicks on Netflix.
Netflix will be adding over 16 new shows to the streaming channel this year, including Marvel's Luke Cage and Fuller House. If you're sitting at work wishing you could bundle up and simply binge-watch these shows all day, then my job here is done.
Here's a peek at what's new and sure to keep you busy this January.
Originals, Oh My!
The first of many Netflix originals this year is here. Chelsea Handler's Netflix Documentary series, Chelsea Does (Jan. 23), explores topics of personal and universal fascination, from marriage to drugs, to racism and Silicon Valley. You can also check out the Toronto-filmed series Shadowhunters: The Mortal Instruments (Jan. 13) 
Just a lil' bit of love
Starting January 1, love is in the air. Rachel McAdams and Domhnall Gleeson will make you swoon as they tell their time-bound love story in About Time (Jan. 1). If that doesn't catch your fancy, Matthias Schoenaerts takes you a on a wild ride back to Victorian England as a dashing soldier who woos a Victorian beauty, played by Carey Mulligan in Far from The Madding Crowd. Swooning, yet? I'll See You in My Dreams. Um, I am referring to the other movie that's also streaming this month starring Blythe Danner.
Dark Streets of London
Need to shake out the stressful family drama over the holidays? There's a selection of dark and gritty shows to soothe your soul. Ripper Street Series 3, Run Season 1 and Gangster: Faces of the Underworld Seasons 1 and 2 are available for your entertainment.
Truth Uncovered
Secrets and scandals and all things nice, right? James Franco and Jonah Hill join forces to tell the real life story of murderer Christian Longo in True Story, available Jan 1. Benedict Cumberbatch and Daniel Brühl give quite a performance in Bill Condon's The Fifth Estate (Jan. 1), based on real events surrounding WikiLeaks.
Visually Vibrant
Adventure awaits as you travel to exotic India in The Second Best Exotic Marigold Hotel (Jan. 1) starring Dev Patel and Richard Gere. Handsome hunk George Clooney takes you to a world unknown in the Disney film Tomorrowland, available January 1.
For the Feels
Feeling blue or maybe overjoyed? Disney's popular animated film, Inside Out, that won hearts young and old alike is all set to stream on January 26. So strap up as you experience fear, disgust, joy and sadness with the whole family. Click here to watch our interview with Phyllis Smith, who voices Sadness.
Until next time, stay warm and happy streaming!
~Marriska Fernandes