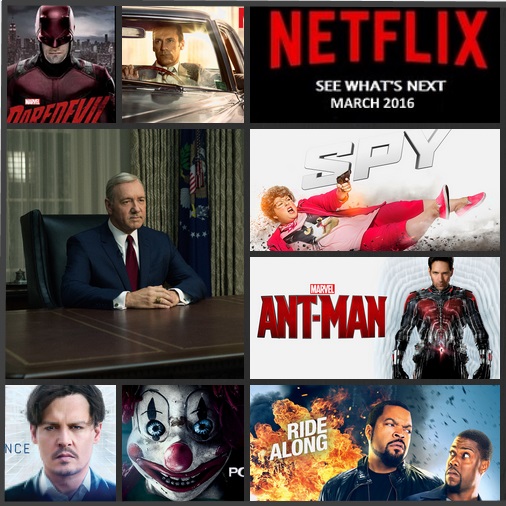 Yay, it's almost Spring. Well, sort of. It may not feel like it, but it's coming, so hang in there. While you're keeping warm, there's a bunch of new Netflix shows which, if you're like us, you can't wait to watch!
Marvel's Daredevil is back with a Season 2 and House of Cards: Season 4 is also here! So here's what you can cozy up to this March.
Netflix Originals
House of Cards: Season 4 (Mar. 4) is back with four times the drama and politics. You can sip a glass or two while you enjoy Frank Underwood going head to head with a new power couple. There are also a bunch of new faces joining the Underwoods this season. Then Marvel's Daredevil: Season 2 (Mar. 18) picks up with new forces in Hell's Kitchen including Frank Castle and Elektra Natchios.
Will Arnett plays the lead in the new Netflix Original comedy series Flaked (Mar. 11). A new original film also coming your way is Pee-wee's Big Holiday (Mar. 18). Trailer Park Boys Season 10 (Mar. 28) will also be available for the fans of the show.
Netflix Originals – for the kids
The Mr. Peabody & Sherman Show: Season 2 (Mar. 18) will entertain the kids this month. If that's not enough, Dinotrux: Season 2 (Mar. 4) will take a front seat at the dinner table as the kids won't be able to take their eyes off of this one.
Penny for Comedy
Melissa McCarthy kicks butt in Spy (Mar. 1) as she does fieldwork alongside British hunk Jason Statham. Also along for the ride are Kevin Hart and Ice Cube in Ride Along (Mar. 27). Another new movie is The Voices (Mar. 1), starring Ryan Reynolds and Anna Kendrick.
Dish Me Some Dark & Gritty
Charlize Theron stars in the dark drama Dark Places (Mar. 1), about uncovering a family secret. Season 1 of The Returned (Mar. 9) is now available to feed your hungry soul as the undead come to life on this show. Fierce warrior Keanu Reeves slays in 47 Ronin (Mar. 1) as he embarks on a journey of revenge. If all that doesn't soothe your soul, horror film Poltergeist will certainly put those anxieties to bed as evil forces take over and well, let's just say you'll never trust electronics again.
Bad-ass kick ass
Paul Rudd shows his mettle in Ant-Man (Mar. 1) as the master thief dons a suit that will allow him to control an army of ants and save the world against an evil force. Johnny Depp takes artificial intelligence to a whole new level in Transcendence (Mar. 1), which explores the quest for power and thirst for knowledge. Time to bid farewell to Jon Hamm in the final part of the series, Mad Men: The End of an Era Season 7: Part 2 (Mar. 31).
All the Feels
Me and Earl and the Dying Girl (Mar. 1) brings all the emotions you can handle tied in with humor so you're not just crying your heart out. Did I forget to mention you would need tissues?
Happy streaming!
~Marriska Fernandes