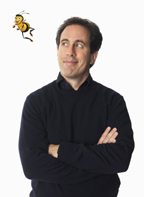 In Bee Movie, we see Jerry Seinfeld in a different type of role: as a bee! For parents and kids alike, this animated feature, about a disillusioned Bee named Barry B. Benson who is set on suing the human race for stealing their honey, is cute, funny and everything you would expect from Seinfeld. Rounding out the cast is Renée Zellweger, Matthew Broderick, John Goodman, Chris Rock, Megan Mullally, Kathy Bates and Alan Arkin.Tribute's Bonnie Laufer Krebs talked to the funnyman himself about what it was like to make this animated family film.
How did you come up with the idea for this story and why Bees?
Seinfeld: I came up with the idea for the story because I always found bee society to be the most interesting on those documentaries that they show. Bees are so sophisticated in their societal hierarchy and how they do their jobs and the division of labor and the class system. It's so advanced, really and evolved, and I got very interested in how each person – each bee in the hive has a very unique job and they just do that job, and how the geometry of the hexagon and how they figured that out, which is the strongest shape in the world.
Coming from stand-up comedy, did you find doing animation challenging?
Seinfeld: That is something that I worked very, very hard on. And you know I've spent three years doing the animation and all of the expressions that the characters make are similar to the ones I make and the ones that the actors make. And so I think one of the things that people have been telling us when they watch the movie is they start to forget that they're watching an animated movie because the behavior is very human-like in facial and physically. The movie comes to life in slightly different way than maybe some other animated movies you've seen.
I would think that this had to be a completely different process than putting together a weekly TV series. Seinfeld: What challenged me the most was to hang in there for four years. You know, we'd do an episode probably write in three or four days [on Seinfeld], shoot it in another four days, edit a couple of days. I mean it was no more than two weeks for the whole show, and [Bee Movie] was four years. So that was a little bit different for me to focus on that, but that's what the movie business is.
What is it about the movie that you think will particularly appeal to kids?
Seinfeld: You know, my experience has been with my kids that they have a very keen eye for what is funny and what is not funny. And I think kids have a better sense of humor than their parents give them credit for. So for me as a comedian, I just try to make the movie as funny as I could, and I think kids sniff that out. I find a lot of kids love to watch my show because they love Kramer because he's really funny. So I think that the humor actually does translate across generations sometimes in ways parents can be surprised by.