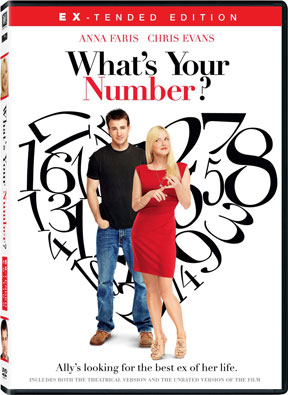 When Ally, played by Anna Faris, reads an article that says the average American woman sleeps with 10.5 men in her lifetime, and that 96 per cent women who have had 20 or more sex partners can't find a husband, she decides to make a list of the men she's been with. She's shocked when she realizes she's up to 19 men, and compares herself to her sister, who's about to be married, and their friends to see how many they've been with. Unfortunately, she finds out that she's been with twice as many as the next highest (whom they jokingly call a slut) and decides that she has to find her exes to see if maybe she missed a diamond in the rough. Ally definitely doesn't want to go over 20, so she either has to find an ex, or the next man she sleeps with had better be the one she marries.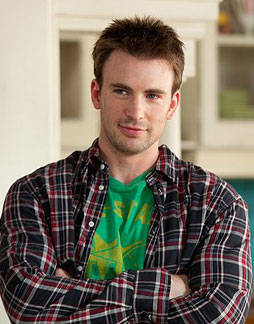 Colin (Chris Evans), her hunky neighbor across the hall, who seems to bed a different woman every night, mentions that he's able to find out all kinds of things about the people who live in their apartment by using Google. Ally tries finding her exes that way, but doesn't have any luck, so she gets Colin to help her. As he finds them one by one, Ally has a series of hilarious encounters. Along the way, she and Colin, who are both artists at heart, have a great time together and when she's in Washington tracking down yet another ex, Colin begins to realize he's developed feelings for Ally. The course of love however, does not always run smoothly. Ally isn't sure a guy who has a history of using women would be the right man for her and she doesn't want to add Colin to her list if he's just going to be a one night stand.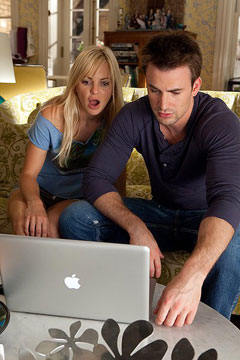 The trailer for What's Your Number? is funny, but as we've all experienced, many movies manage to put every hilarious moment into the trailer, only to leave audiences disappointed when they see the rest of the film. That's not the case here; there are numerous laugh out loud moments throughout.
Anna Faris is very funny in her role, and Chris Evans brings just the right amount of zaniness combined with smouldering sexiness to his. The supporting cast is equally brilliant — especially Blythe Danner as Ally's annoying mother and Ari Graynor as her younger sister. This is a romantic comedy with heart that lets the leads take their time getting to know one another — a rarity in romantic comedies of the past few decades. Extras on the DVD include an unrated extended cut, theatrical trailer and deleted scenes. ~Alexandra Heilbron