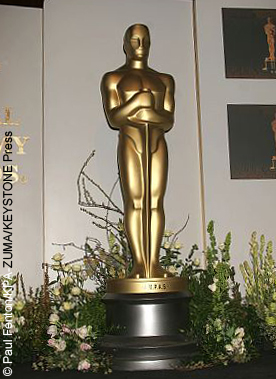 The Big Six categories at the Oscars are the ones that cinephiles wait for. Best Picture, Best Actor, Best Actress, Best Supporting Actor, Best Supporting Actress and Best Director are the prestige wins, the ones where all the proverbial marbles lie. We've gone to the trouble of compiling the odds-on favorites (with help from Onlinegambling.lv), so before you fill out your ballot and enter that heated office pool, check out who the experts are pegging to prance home with Oscar.
Best Picture
Everyone is under the impression that The Revenant is a shoe-in for the win. With its 3/1 odds and 60 awards so far, it looks pretty likely. However, The Hollywood Reporter recently released some "Brutally Honest Oscar Ballots," which give an inside look at how a select few Oscar voters actually voted and, you guessed it, their brutally honest opinions on the nominees. From the looks of the three ballots, there's a bit of a backlash against the nature epic winning the big prize.
The Revenant's exhaustive marketing strategy espousing the man vs. elements struggle seems to have some voters irked, with one voter saying they're "really bored with the publicity about how hard it was to make it. Why the f- didn't you get a better location manager then?" Another said: "I dislike The Revenant intensely — it's a beautifully shot Road Runner movie."
If there were to be an upset, Spotlight might be the one to do it. It's currently sitting at 7/2 odds. Definitely not great compared to The Revenant. But, it's undeniably been a low key critics' darling. So far, it's won an impressive 98 awards, including Best Picture from film critics associations in Los Angeles, Florida, Denver, Detroit, as well as the Broadcast Film Critics Association. Because of its likable cast and critically acclaimed writing (it's a lock for Best Screenplay), and because it's a heavily publicized true story, Spotlight could take the win.
The Big Short is making a slow surge, with 7/1 odds, up from 8/1. It recently won Best Picture at the Producers Guild Awards, which could account for that. It's the clear favorite for best Adapted Screenplay, winning the BAFTA, Broadcast Film Critics Association Awards, and various other film critics association awards, and it's also won a few awards for its all-star ensemble cast, including at The National Board of Review. If writing and star power is a factor, The Big Short might stand a chance.
Best Actor
There's no denying it — Leonardo DiCaprio's got this one in the bag. He's now sitting at 1/3 odds. And the odds have only gotten stronger (from 3/2) for the five-time Oscar nominee considering his wins at the SAG Awards, BAFTAs, Golden Globes and Satellite Awards, to name a few.
The closest contender is Eddie Redmayne for The Danish Girl at 9/1 odds, down significantly from his previous 4/1, obviously due to Leo's reputation as the "perpetually snubbed" one. In the seriously unlikely event that Leo won't win, and with the next best odds at 14/1 for Michael Fassbender, Eddie will certainly take it.
Best Actress
Brie Larson is another lock for a win. The buzz around her performance in Room has been a slow, but mighty, burn. She's now at 1/1 odds, a huge surge from 5/1 thanks to her wins at the Golden Globes, SAG Awards and BAFTAs, the ultimate trifecta indicating a win.
Oscar-favorite and two-time winner Cate Blanchett isn't far behind in her odds though, sitting at 2/1. If Cate were to win for her role in Carol, it would solely be because of her popularity with Oscar voters and reputation as a consistent actor.
Best Supporting Actor
Sylvester Stallone is certainly a nostalgia win. It makes for a great story to have the 69-year-old actor finally win an Oscar for his role as Rocky Balboa on the 40th anniversary of the first Rocky film. And his odds for Creed are good — 2/1. He won the Golden Globe, but was locked out of the BAFTAs and SAGs.
Bridge of Spies' Mark Rylance is slowly creeping up behind the veteran actor, his odds improved greatly (from 9/1 to 4/1) following his win at the BAFTAs and the Australian Academy of Cinema and Television Arts Awards (ACCTAS). He's got a much greater international profile, to be sure. If the SAG Awards were any clue as to who would win, they're no help here, considering non-nominee Idris Elba won for his supporting role in Beasts of No Nation.
Best Supporting Actress 
This one is a little murkier. Steve Jobs' Kate Winslet is looking to take the gold with 2/1 odds, up from 5/1 after winning the Golden Globe and BAFTA, and a select few film critics association awards for Best Supporting Actress. Like Cate, she's an Oscar and critics mainstay.
However, newcomer Alicia Vikander isn't far behind with 3/1, and she also won the SAG Award for her role in The Danish Girl. The SAG Awards are oftentimes a stronger indicator of a win because it's decided by the acting community itself, which comprises the largest voting bloc in the Academy. Either way, it'll certainly be a race to the finish for Kate and Alicia.
Best Director 
Alejandro G. Iñárritu won the Best Director Oscar for Birdman last year, and is gaining momentum to earn his second this year. He won the BAFTA, Golden Globe and Directors Guild of America Award, and is sitting at 9/5 odds as of right now. This is due in large part to the many media stories about the harsh elements he and his cast faced while filming The Revenant.
George Miller, director of the action flick Mad Max: Fury Road, has 4/1 odds currently, and might actually steal the statuette, considering his recent wins at the ACCTAs and the Critics Choice Awards.
To enter our Pick the Oscar winners contest to win a 50″ LED TV, click here. Don't wait, the contest closes Saturday, February 27 at 11:59 p.m.
Enjoy the Oscars this Sunday, February 28 and check back here for a recap on Monday morning!
~Shelby Morton