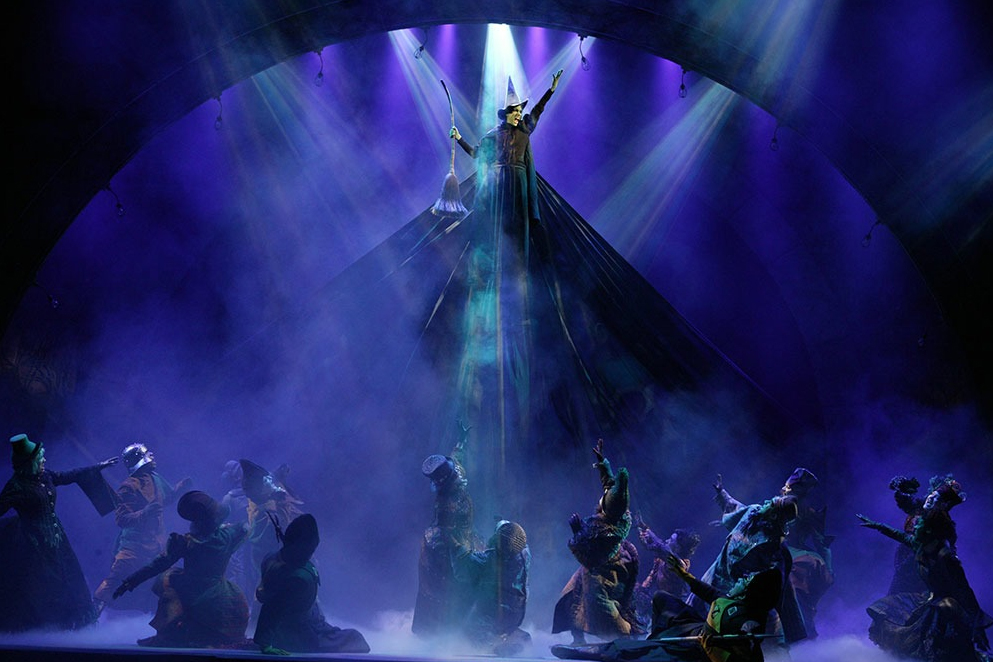 With some characters from the beloved classic The Wizard of Oz, and music and lyrics by Stephen Schwartz (Pippin, Godspell), Wicked has a lot going for it.
From the opening number, which features the cast in deliciously strange makeup and costumes, to the facinating story, Wicked has the audience enthralled from the moment it begins.
The story begins well before Dorothy gets to Oz, as a young, green-skinned teen named Elphaba tries to fit in at school with the other students, who are initially afraid of her. Meanwhile, the beautiful and shallow Glinda is immediately popular and hilariously egotistical. The two girls hate each other at first sight. To their horror, they find out they're roommates.
Elphaba, in addition to taking care of her wheelchair-bound younger sister (Catherine Charlebois), is socially conscious. She cares deeply when her teacher, Doctor Dillamond (Chad Jennings), tells the class that animals are being silenced. They're discovering they can no longer talk, and therefore, can't be teachers. Dillamond is afraid it's happening to him, and Elephaba vows to get help from The Wizard (Jason Graae) in order to correct this atrocity.
Mary Kate Morrissey is a force to be reckoned with as Elphaba, and her voice sends shivers down your spine as she belts out the most memorable song from the show, "Gravity." Her co-star, Ginna Claire Mason, is deliciously ditsy and lovable as Glinda, while Jon Robert Hall plays Fiyero as an extra-studly guy with much more to him than first meets the eye.
Although somehow reminiscent of Alice in Wonderland because of the strange characters and the words that are comicly made up, this is very much a tale of two women who are complete opposites, but who support each other through thick and thin.
This iteration of Wicked does justice to the original Broadway musical that earned 10 Tony nominations and won three in 2004, including one for Idina Menzel, the original Elphaba. Ironically, Menzel went on to voice Elsa in the 2013 Disney musical movie Frozen, which has the same theme of women sticking together through tough times and a killer hit song ("Let It Go") sung by Menzel.
Wicked is a treat for audiences who love modern musicals — the performances by the entire cast, the book by Winnie Holzman, the thrilling tunes by Schwartz, the costumes, the choreography and the exquisite lighting — all make for a great night out at the theatre.
Wicked runs at the Ed Mirvish Theatre to August 5, 2018. Click here for more information and to purchase tickets. ~Alexandra Heilbron