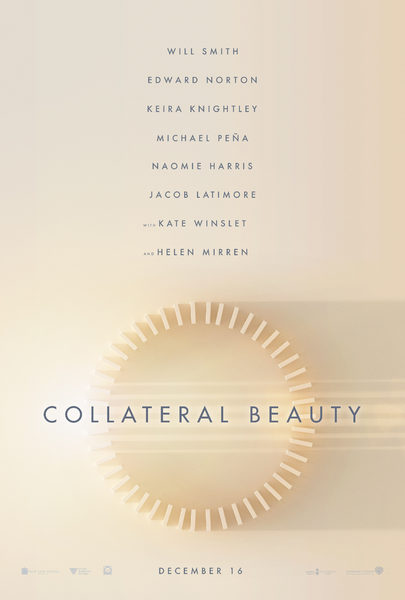 Get ready for a drama-filled week of film trailers! First we have Collateral Beauty, where Will Smith plays a New York ad man on a downward spiral after a tragedy, while Time, Death and Love try to help him deal with his loss.
Vampire death dealer Selene (Kate Beckinsale) is back once again in Underworld: Blood Wars, this time to end the war between the Lycan clan and the Vampire faction that betrayed her. Then in A United Kingdom, Prince Seretse Khama (David Oyelowo) of Botswana and a white office worker named Ruth Williams (Rosamund Pike) face fierce opposition towards their relationship. ~ Natalia Makarski
Don't stop there! Keep scrolling, as we have even more new trailers for you to check out:
1.) Collateral Beauty
2.) Underworld: Blood Wars
3.) A United Kingdom 
4.) Shut In
5.) Certain Women
6.) Kevin Hart: What Now?
7.) Goat 
8.) Skiptrace
9.) Max Steel
10.) Elle
Collateral Beauty: Howard Inlet (Will Smith) was once a brilliant, creative ad man. All that changed when his young daughter died. He takes part in a grief counselling group and writes letters to time, love and death as a way to cope with his sadness. As he sinks into a downward spiral of depression, Death (Helen Mirren), Time (Jacob Latimore), and Love (Keira Knightley) show up in his life to try to help him deal with his loss.

Underworld: Blood Wars: In the fifth installment of the Underworld franchise, Kate Beckinsale returns as Selene with Theo James as her ally David, as the war between Vampires and Lycans rages on.

A United Kingdom: In London in 1947, Prince Seretse Khama (David Oyelowo) of Botswana falls in love with a white London office worker named Ruth Williams (Rosamund Pike). They face fierce opposition from their families and from the British and South African governments. Nonetheless, they are married, despite the outcry their union causes. Seretse, who is soon to be King, must also lead his nation to independence from the British Empire as the first president of Botswana.

Shut In: Child psychologist Mary (Naomi Watts) is trying to put her life back together after losing her husband in a car accident. Her son survived the same car accident, but is in a coma. Mary is given a new patient named Tom (Jacob Tremblay) who is grieving after his mother's death, but he later gets lost during a winter storm and is presumed dead. Mary suddenly starts hearing his voice in her house. She finds her strength and courage put to the test when more mysterious things happen as she's trapped in her isolated home during the storm.

Certain Women: Four women strive to forge their own paths in the American Northwest. Beth (Kristen Stewart) is an awkward young woman, Jamie (Lily Gladstone) is a lonely ranch hand, Laura (Laura Dern) is a lawyer who finds it difficult to shake a disgruntled client (Jared Harris), and Gina (Michelle Williams) is a wife and mother eager to build her dream home. We discover the sadness, the intricacies, and the struggles of each of their lives, and how they all intertwine with each other.

Kevin Hart: What Now?: In the follow-up to 2013's Let Me Explain — Kevin Hart once again takes center stage, only this time in front of 50,000 people at Philadelphia's Lincoln Financial Field, making it the first time a comedian has performed to a sold-out football stadium. Some of his jokes range from topics such as iPhone's program Siri, kids these days having no edge, and airport washroom problems.

Goat: Brad (Ben Schnetzer) feels compelled to follow in his older brother's (Nick Jonas) footsteps and pledge to a college fraternity. Still trying to get over an earlier assault, Brad finds the hazing process for Phi Sigma Mu more brutal and inhumane than he'd expected. As the pledges get more and more disturbing, both brothers begin to question whether or not the fraternity "brothers" are going too far.

Skiptrace: Bennie Chan (Jackie Chan), Hong Kong's top detective, has been given the task of bringing down China's deadliest gang, led by the mysterious and notorious crime boss Matador. He's paired up with American conman and gambler Connor Watts (Johnny Knoxville). When Connor is kidnapped by a Russian kingpin to answer for cheating his daughter, Bennie rescues him in the nick of time and the two head for Mongolia, where they get into further hijinks.

Max Steel: Small-town teenager Max McGrath (Ben Winchell) discovers he's been given energy-manipulating super powers by his late scientist father. An extraterrestrial entity named Steel befriends Max and trains him to use his powers, and they learn that they can merge together to form superhero Max Steel.

Elle: When businesswoman Michele Leblanc (Isabelle Huppert) is raped by a masked man who forced his way into her house, she tries to hide the assault from others. Although she didn't report the crime to the police, the assault left her with emotional scars. As it turns out, Michele is the daughter of a notorious serial killer. When she learns the identity of her attacker, she begins to stalk him, determined to get revenge.