Willow Smith's AMA outfit criticized
By Alexandra Heilbron on November 23, 2010 | 18 Comments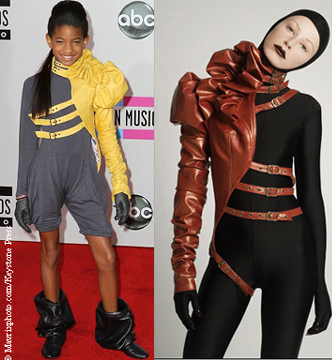 Willow Smith created a stir when she appeared at the American Music Awards wearing a "poorly-made yellow garment," according to coilhouse.net. The outfit is a direct knockoff  of a Mother of London leather harness outfit by designer Mildred Von Hildegard. 
Immediately following Willow's appearance on the red carpet, people were angrily posting tweets to Twitter, saying things such as "This Mother of London/MildredVon ripoff is just beyond the pale. Furious for my friend. WTF!" (bethanygrienier) and "Iwhip my hair back and forth, I rip designs off and such" (forgetful_man). When asked about seeing the copycat version of her outfit worn by Smith, Von Hildegard stated: "I'm disappointed and saddened that this will negatively impact my business. My original design is now recognized in the mass media as someone else's work, and it's very hurtful on both a personal and professional levels. I hope this can be resolved, and I wish nothing but the best to Willow." Smith's usual stylist, Mariel Haenn, denied dressing her client in a knock off, replying to accusations, "To be honest I have no idea who 'styled' her or the designer. Wish I did. I don't ask my clients who they used when I'm not available."
---
---
---
---
Similar Articles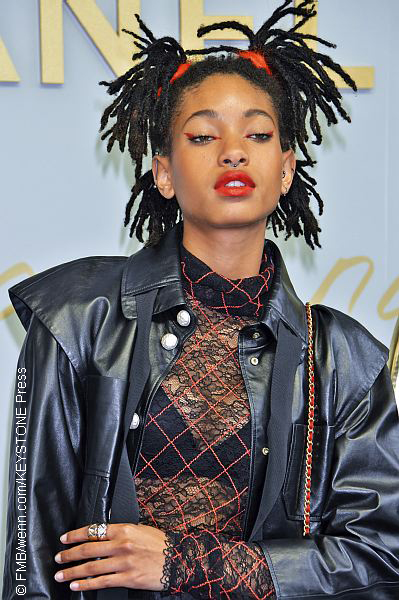 August 3, 2017 | 9 Comments
Shortly after Willow Smith's hit single, Whip My Hair came out when she was 11, she took drastic actions when she decided she didn't want to tour anymore.
---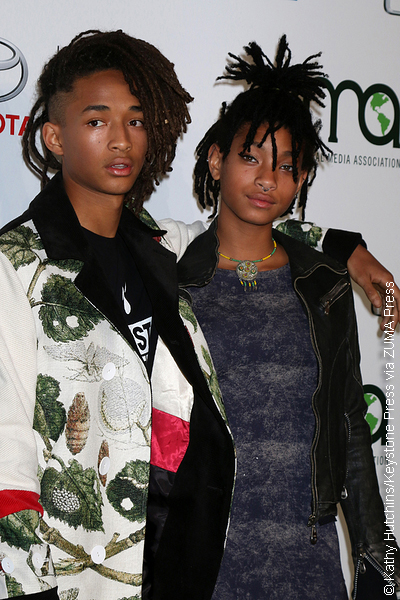 June 15, 2017 | 8 Comments
In an interview Jada Pinkett Smith opened up about raising her children Jaden and Willow and revealed that the teens have moved out of the family home.
---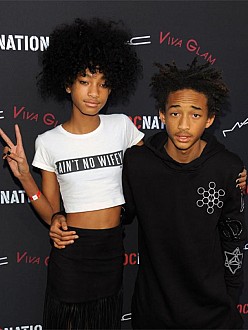 August 19, 2015 | 1 Comment
Jaden and Willow Smith are "100 percent" misfits. The 17-year-old actor and the 14-year-old singer – whose parents are Will Smith and Jada Pinkett Smith – have insisted they are happy to challenge gender stereotypes through their clothing line 'MSFTS…
---