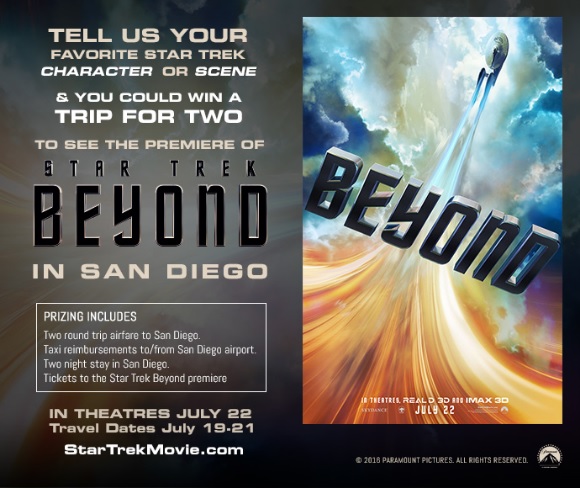 With Star Trek Beyond set to hit theaters in mere weeks (July 22), we've launched a nationwide contest that will let one lucky Tribute Trekkie and their guest go to the film's star-studded San Diego premiere on July 20!
The trip for two, valued at more than $3000, is for a two-night hotel stay (July 19-21) with full accommodations, and comes with two admission tickets to the Star Trek Beyond premiere at Embarcadero Marina Park in sunny San Diego, California.
The rules are simple — just send us your absolute favorite Star Trek character or scene, from the original '60s series starring William Shatner to the latest J.J. Abrams/Justin Lin reboots, and any adaptation in between, and you'll be automatically entered to win. To increase your chances of winning, you can also send a photo from your personal Star Trek collection. And bonus: you can enter as many times as you like!
If you're still not sure about entering, just ask our previous winner Ken Maingot, who called his trip to the Dallas premiere of 13 Hours: The Secret Soldiers of Benghazi a "once-in-a-lifetime experience," or Rob Stubbs, a lucky Tribute fan who got to see megastars Ben Stiller, Will Ferrell and Jennifer Aniston at the ultra-swanky New York City premiere of Zoolander 2 earlier this year.
We've received some pretty interesting entries so far, and based on our super-scientific number-crunching, the fan-favorite ST scene seems to be "The Trouble with Tribbles," the furry 15th episode of the original Star Trek's second season.
And no surprise here, the top character so far has been none other than the most famous half-Vulcan, half-Human in history — Mr. Spock. The character, originally played by Leonard Nimoy and now taken over by Zachary Quinto, serves as science officer and Captain James T. Kirk's first officer aboard the starship Enterprise.
Don't like Tribbles? Prefer Kirk to Spock? Don't miss your chance to let us know — the contest (valid to Canadian residents only) ends on July 10. Click here to enter!
Take a look at some of the photos Tribute users have sent us so far: