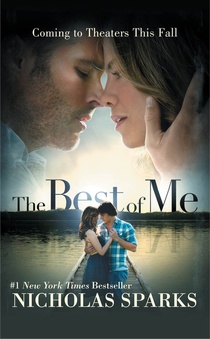 The Best of Me opens in theaters today, starring James Marsden as Dawson and Michelle Monaghan as Amanda. The film is based on the book by Nicholas Sparks and fans of the author will be happy to know that we are giving away copies of the book to three lucky winners. The story revolves around former high school sweethearts Dawson and Amanda who reunite after 20 years apart when they return to their home town for the funeral of Tuck, the man who took Dawson in when he needed refuge from his violent family. The two parted when Amanda's parents refused to pay for college if she continued to see Dawson. Realizing she was in danger from his family and not wanting her to miss out on college, he broke up with her. Although she moved on and got married, the memory of Amanda never left him and he remained single.
Their bittersweet reunion reignites the love they've never forgotten, but his family continues to pose a threat, and although Amanda has stayed with her alcoholic husband for her children's sake, she can't ignore the fact that Dawson is her one true love.
If you want to win a copy of the book, simply leave a comment below and tell us which is your favorite Nicholas Sparks book and why.