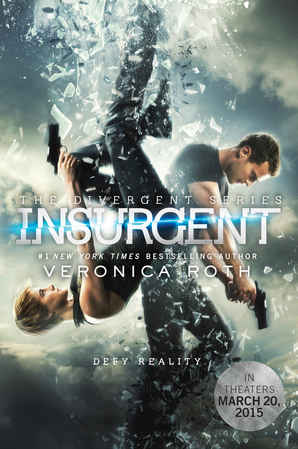 Fans of Divergent, hold your breath! With the release of the movie The Divergent Series: Insurgent just a week away, we are giving away four copies of the book. Read below to find out how you can own a copy.
Exposed as Divergents, Tris (Shailene Woodley), Four (Theo James), Caleb (Ansel Elgort) and Peter (Miles Teller) are on the run from Jeanine (Kate Winslet), the ruthless leader of the Erudite faction. Along with Four's father Marcus (Ray Stevenson), they take refuge at Amity.
Tris tries to cope with her guilt at having killed Will, even though it was in self defense. The group, especially Tris and Four, find Amity's no weapons rule difficult to live with and they soon find themselves on the run again.
Tris tries to find out what the secret was that her parents died to protect – and once she finds out what it was, it will explain why Jeanine is so bent on capturing her.
The film is based on the bestselling young adult novel Insurgent by Veronica Roth. To enter the contest, simply leave a comment below to tell us which faction you think you would belong to and why!