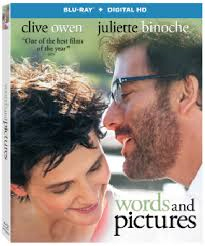 Seasoned actors Clive Owen and Juliette Binoche aim to rejuvenate their students' academia through an unintentional war of words against pictures. Owen brings life to Jack Marcus, an uninspired English teacher on the brink of losing his job at a wealthy prep school. After years of teaching and failing his professional consciousness, he turns to alcohol to tame his inner demons. Things begin to look up for Owen when the school welcomes renowned painter Dina Delsanto (Binoche) as a member of the faculty.
Dina is one of the the few who engages Jack in colloquial banter. Jack has gained the reputation of being lazy and an alcoholic, after a rough night at the local tavern. Unfortunately for him, Dina is commonly known as the "The Icicle" and carries a chip on her shoulder due to rheumatoid arthritis leaving her virtually disabled. Dina professes to her class that art, in pictorial form, tends to evoke more emotion than a block of text. Upon hearing this, Jack vows to show his class the importance and eloquence that can be put into words. He attempts to move them past the 140 characters that social media has infringed upon them and to deliver verses that would put poets to shame. Thus, the war between words and pictures is born.
Fires of sorts are ignited within the classroom and amongst the teachers. Jack finds himself compelled to better himself and his written word, despite several failed evenings in front of the computer screen. Dina inspires his livelihood, though he desperately fails to court her. A cross between a romance and an inspirational film, Words and Pictures delivers a warm feeling to viewers of all ages.
The Blu-ray release includes a behind-the-scenes featurette that reveals Binoche is the artist behind all of the paintings her character uses in the film. The paintings in themselves reveal a history of Dina's declining health, a story that Binoche worked tirelessly to portray. Owen revealed he was pleased to have the art of the written word delivered to him in such a well-written script. His fellow actors were in awe of the skill he uses to recite lines after minimal rehearsal, a skill he said he picked up from his days on stage.
The history of the prep school is also revealed – the production team was desperate to find a school with character and in its place stumbled upon a modern looking school in Vancouver. Words and Pictures is now available on Blu-ray. Also releasing this week: Transformers: Age of Extinction, McCanick (featuring Cory Monteith's last role), Very Good Girls, Chef and La petite reine. ~Nadira Chand