Worst Movie Trailers of 2013
By Marriska Fernandes on December 30, 2013 | 3 Comments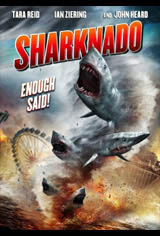 A good movie trailer should get you excited to see a film without misleading or revealing the whole plot. With 2013 coming to an end, it's time for a round up of the worst movie trailers of 2013. Here are the top ten worst movie trailers that Tribute fans have helped us compile.
Do you think any other movie deserves to be on the list? Tell us in the comments below.
Grown Ups 2

The first thing about this trailer that makes you groan at the not-funnyness of it is when Adam Sandler tells the kids that getting "wasted" means you have a "hankering for ice cream." Immediately the kids all say they want to get "wasted," and Sandler guffaws when one little girl says she wants to get "chocolate wasted." Watch for more lameness as the guys get bullied by much younger guys, who force them to get naked and jump off a cliff into water.
Hell Baby

Hell Baby is a comedy horror, so if the scary stuff is somewhat cheesy, it's to be expected. But Robert Ben Garant and Thomas Lennon as two really unfunny priests are pretty annoying, as they crack lame joke after lame joke. It almost seems like they're in a different movie than the one the trailer is about.
The Family

Robert De Niro can't seem to say no to a script. The trailer for The Family is so disjointed and incomprehensible, it's amazing anyone went to see the movie. With a 29% rating at Rotten Tomatoes and a 2.8 star rating at Tribute.ca, it's obvious the movie isn't any better than the trailer.
Sharknado

The canned screaming alone is enough to make you realize you are not watching top-notch entertainment. The ridiculousness of sharks coming out of the sky and doofuses planning to bomb each one makes for groans. If you like really kitschy, lowbrow movies, this one's for you.
Atlantic Rim

Cheesy special effects and a bad script make for a barely watchable trailer in this
Pacific Rim
ripoff.
Machete Kills

Disjointed, offensive from start to finish, it's not surprising no one could tell what this movie was supposed to be from watching this trailer. The tag lines are "Cover Your Ears" and "Block Your Ears." Not a good message to send to people who are paying to watch (and hear) a movie. It earned an extremely low 4% rating at Rotten Tomatoes and 2.6 stars at Tribute.ca.
The Legend of Hercules

The combination of action and melodramatic romance is jarring.
Enemies Closer

Starts off okay, with Tom Everett Scott playing Henry, who has retired from the military to a cabin far away from other people. Clay, who turns out to be his sworn enemy, bursts in. Much violence ensues, and he drags Henry off. Just as he's about to kill him, a spotlight hits them and a heavily accented voice announces: "You haff to leave de beach. Now." Henry and Clay join forces to save themselves from a drug cartel. If that isn't preposterous enough, it's a groaner when Clay tells Henry he has to save him so he can kill him later.
Gallowwalkers

Lots of gore, no plot, weak script and bad acting. Does watching this make you want to see this groaner?
---
---
---
---
Similar Articles
---
---
---