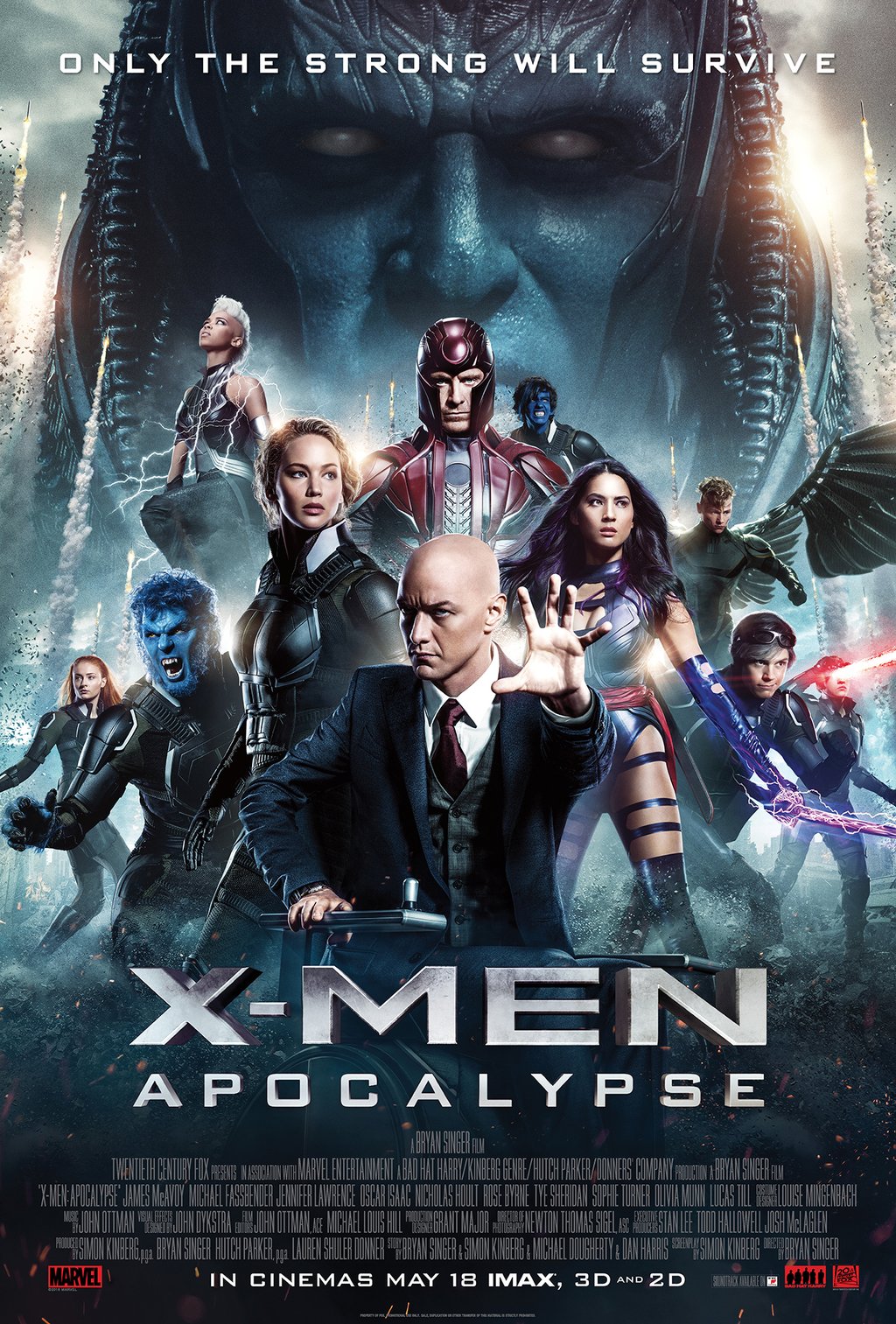 The flying vertebrates of The Angry Birds Movie weren't so angry when they soared away with the box office crown last weekend. However, they're sent back to their nests empty handed this weekend as a mob of mutants tore through theaters and firmly established their dominance.
X-Men: Apocalypse wasted no time making its presence known across theaters in its premiere weekend, raking in $65 million. The hotly anticipated Brian Singer-directed film, about the rise of an unruly mutant keen on creating a new world order (and willing to annihilate all who stand in opposition to that goal) received a 2.8 star rating from Tribute.ca readers. Its cast is as powerful as the characters in it, with Jennifer Lawrence, Michael Fassbender, James McAvoy and Oscar Isaac leading the charge.
Alice may not have jumped down the rabbit hole in the sequel to Alice in Wonderland, but she certainly helped her film, Alice Through the Looking Glass, jump to second place on this weekend's box office list. With a 4.1 star rating on Tribute.ca, the fantasy flick based on Lewis Carroll's treasured story enticed enough audiences in its debut weekend to return to Underland with a $28.1 million take. The picture brings back Mia Wasikowska, Johnny Depp, Anne Hathaway and Helena Bonham Carter, while also introducing Sacha Baron Cohen to the imaginative world of wonder. It's safe to say  Alice's filmmakers won't be too pleased with its weekend earnings, considering Alice in Wonderland opened to a remarkable $116 million in 2010.
Falling from the top spot on last weekend's chart, The Angry Birds Movie swooped down to pick up $18.7 million this weekend, making its total box office gross $66.4 million. The animated film is brought to life with the voices of Jason Sudeikis, Maya Rudolph, Sean Penn and Keegan-Michael Key, and didn't anger too many Tribute.ca users, evident with its 4.5 star rating.
Still fighting strong in its fourth weekend of release, Captain America: Civil War remains among the top five box office performers. Its colossal profit now sits at $373.6 million after taking in an additional $15.1 million this weekend, successfully pushing past Deadpool to become this year's top-grossing picture. The Chris Evans and Robert Downey Jr. superhero showdown film is continuing to impress Tribute.ca readers as it boasts a rating of 4.2 stars.
Dropping from third spot last weekend to fifth this weekend, Neighbors 2: Sorority Rising is anything but rising at the box office. But a decent $9.1 million earning in its second weekend of release brings its box office sum to $38.3 million. Starring Seth Rogen, Rose Byrne and Zac Efron (plus his abs), the comedy received a 3.3 star rating on Tribute.ca.
~Matthew Pariselli