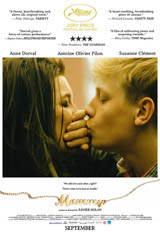 Telefilm Canada announced today that Xavier Dolan's feature film Mommy, which recently screened at TIFF and the Cannes Films Festival, where it shared the Jury Prize, is Canada's selection for the Best Foreign Language Film category at the next Academy Awards, which will be held on February 22, 2015 in Los Angeles. Carolle Brabant, Executive Director of Telefilm Canada, said, "The Oscar selection committee has chosen Xavier Dolan's Mommy, which has had a brilliant career since its release. Canada has had five films in nomination for the Best Foreign Language Oscar in five years, which bodes well for Mommy, a work that has profoundly moved Canadian and international audiences. There's no question that members of the Academy will be moved by the film as well."
Mommy has also been hailed at a number of other international festivals, including Karlovy Vary, Melbourne, Sydney, Angoulême and Telluride, before its Canadian premiere at the Toronto International Film Festival. Mommy is also screening at the San Sebastian International Film Festival and will screen at more than 15 festivals in the next two months.
Mommy is Xavier Dolan's fifth feature film as a director. Only 25, he has won numerous awards for his previous films, including a Canadian Screen Award for Laurence Anyways and a Claude Jutra Award for his debut film, J'ai tué ma mère, which was submitted to the Academy by Canada for the Oscars in 2010.
Only one film per country is accepted in the Best Foreign Language Film category, and the selected film must have been produced outside the United States, be primarily in a language other than English, and have been shown in a movie theater for at least seven consecutive days in its country of origin between October 1, 2013, and September 30, 2014. Mommy opens in theaters today in Quebec. A shortlist of nine films will be announced early January 2015, and on January 15, 2015, the Academy will subsequently announce the five films to be nominated in the category.