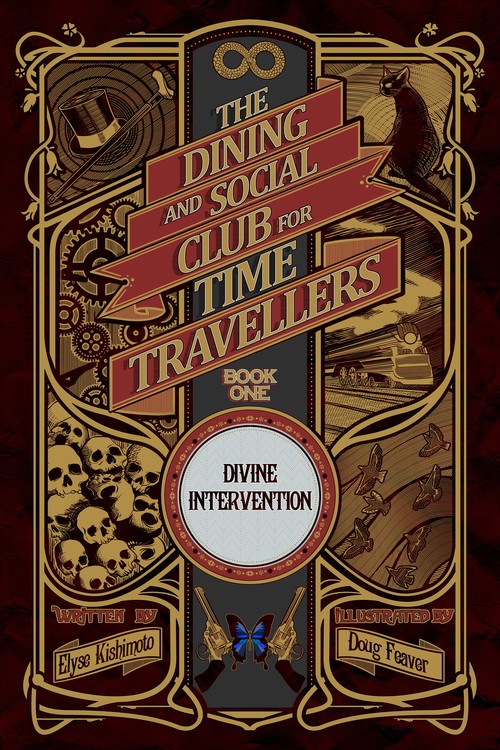 The action-adventure novel for young adults, Divine Intervention, was launched at the Wychwood Barns in Toronto last weekend and we have three copies of this exciting new book to give away to readers!
This is Canadian author Elyse Kishimoto's debut novel and it is co-written and illustrated by her husband Doug Feaver. Divine Intervention is the first novel in the three book series titled The Dining and Social Club for Time Travellers.
The book launch was filled with family, friends and people excited about the launch of the new novel. The theme of the night was Parisian, inspired by the novel. Elyse's friends Nicole Barbetta, 12, and Anna Gabriella Villacencio, 14, read two chapters from the novel for guests.
Divine Intervention is about a little girl named Louisa, whose parents die in a car crash on the night of their anniversary. Louisa goes to live with her grandfather, who lost his parents in a war. He gives her an old coat, and she finds a gold watch in the pocket. While she is playing with it, she suddenly dematerializes and finds she's time travelling. Soon after, she gets an invitation to The Dining and Social Club for Time Travellers.
This book is full of fantasy and will be enjoyed by young readers who like oddball characters and time-travelling adventures. The heroine, Louisa, is very likable and it's easy to sympathize with her, especially when she's sent to live with a distant and very annoying relative and his wacky servants.
The book is available in paperback for $12.95 or in hardcover for $21.95. If you're not one of our lucky winners, you can order the book by clicking here.
To be eligible to win a copy of this brand new release, please tell us below what your favourite childhood book was. Winners will be contacted Thursday, May 21 and their names will be listed here and included in our moviemail email newsletter. ~Erin Stewart