Youth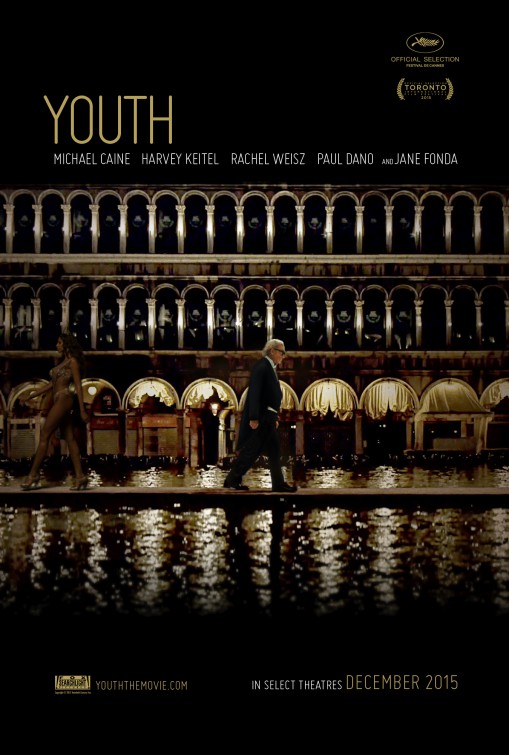 leads the new trailers this week. The film is about two elderly men who come to realize that old age might not be the end of their lives.
Another trailer worth a look this week is Kill Your Friends, about a music producer who will stop at nothing to further his career. ~Greg Chisholm 
1. Youth
3. Hellions
5. Ashby
6. Scouts Guide to the Zombie Apocalypse
8. The Witch
Youth – Fred (Michael Caine) is an acclaimed composer. His best friend Mick (Harvey Keitel) is a renowned filmmaker. When the two go on vacation with Mick's daughter to a spa in the Swiss Alps, the two men find that life may not be over at old age.
Kill Your Friends – A music executive (Nicholas Hoult) at the height of the Britpop era stops at nothing to further his career. Even if that means killing his friends in order to succeed.
Hellions – When a teenage girl becomes pregnant she must tell her boyfriend. On Halloween a group of seemingly innocent trick or treaters come to her door. The are possessed and demand her baby.
Hell and Back – After Curt (Rob Riggle) gets sucked into Hell, his friends Augie (T.J. Miller) and Remy (Nick Swardson) set out to rescue him from the clutches of The Devil (Bob Odenkirk).
Ashby – A boy is given an assignment to write a paper on an elder in the community only to discover the subject of his paper used to work for the C.I.A.
Scouts Guide to the Zombie Apocalypse Trailer – Three lifelong boy scouts are about to get a new badge, in Zombie fighting. When their peaceful town is overrun with zombies the three must work together to save their town and themselves.
Every Thing Will be Fine – After a fight with his girlfriend, Tomas Eldan (James Franco) finds himself driving aimlessly around the countryside to relax. He accidentally hits a child and kills him. For years after, he is plagued by the fact that he accidentally ended a life and uses his writing to help distract him from his own grief.

The Witch – When a Christian family from New England find their crops failing, things seem grim. It escalates when their youngest child goes missing, and they begin to turn on each other. As tensions rise, the family leaves their lives open to a great evil.