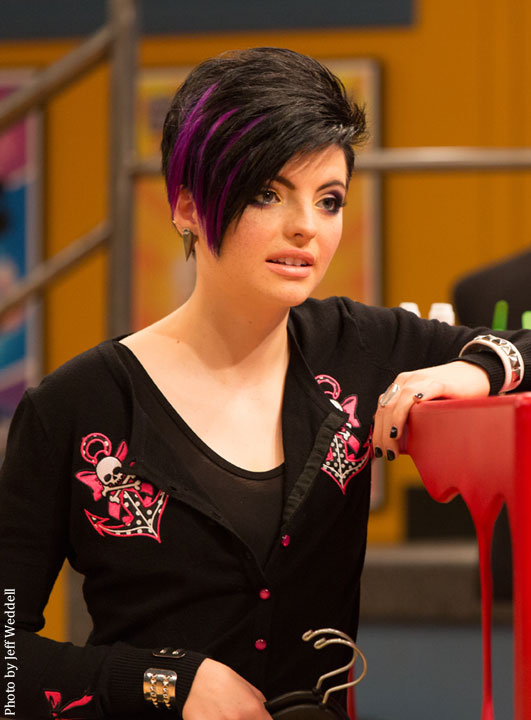 Charlie Storwick won the fourth season of YTV's singing competition show The Next Star at when she was just 12 years old. Now, four years later, Charlie is acting in her breakout role as alternative "hacker chick" Piper Gray on the YTV comedy Some Assembly Required. We had the chance to speak with the young Calgarian at our studio about her journey from singer to actress and what we can expect from her next. ~Sandra D. Sukraj
Your real name is Melissa. How did you become known as Charlie?
When I was on The Next Star we were in the final six and we were all sitting around one day and we were giving each other nicknames and I remember this one girl April was like, "I was thinking about this nickname for you" and I was like, "Okay, tell me" and she's like, "How about Charlie?" And I was like, I kind of really like that. I love the idea of having a show name because it kind of helps you stay grounded. To be able to make a distinct difference between I'm Charlie and I'm Melissa. It helps you put your perspective where it needs to be. So, it stuck and it's been like that ever since.
You auditioned for The Next Star. You WON The Next Star. And you were only 12 years old. Tell us what was going through your head when they announced your name as the winner.
I kind of just blacked out unintentionally [laughs]. I don't know, it was so unexpected. It really was. There was a great chance that a lot of other contestants were going to win and I didn't have my heart set on winning – I mean I sure wanted to – so, winning was the most unexpected thing. I didn't sleep for weeks. I still don't because I'm still excited about it, but it's just been so good from there.
Why did you want to audition for The Next Star?
I remember reading an advertisement in a newspaper the day before they were coming to Calgary and I just wanted to go for fun. I didn't expect to win, I just wanted to go for the fun of it with my friends. We decided to go the day before and I asked my parents and they were like, "Fine, fine" so I brought my big clunky Yamaha keyboard – that was not easy to carry when you're 12 – and I wanted to sing them a song I had written. I made it further than I had expected. My mom and I had agreed – and my family, this is why they're so great – we were just thinking, let's go for the experience, if you don't make it let's go for ice cream after and celebrate that you were courageous enough to go. It was a very unexpected chain of events that just kept coming.
Describe your sound.
Right now, I'm really leaning towards more alternative. Not like Green Day – I wish, but they're legends and you can't live up to that. More like Florence and the Machine. Very raw. I'm trying in my music to make it more about the music as opposed to the production. There's two ways to go and I respect both ways, but for me personally, I prefer to make it more about the music.
What or who are your musical influences or inspirations?
Is it super cliché if I say The Beatles? I love The Beatles. I grew up with them, listening to them on vinyl and it's a big part of my life. Whitney Houston. I remember the first song I ever sang on karaoke was "I Will Always Love You" by Whitney Houston. I really love Florence and the Machine and Coldplay. I really love some of the alternative bands no one's really heard of, like Catfish and the Bottlemen. I love Green Day. I'm open to all music because I just love the experimental – there's a sound for everybody. I love expanding my horizons and picking up pieces here and there to try and see in the future if I can make something as unique as The Beatles.
You're a singer and now an actress on YTV's Some Assembly Required. How did you transition from singer to actress?
It's a crazy story. When I won The Next Star – which is still wild – I had a talent agency reach out to me. I never really thought to be an actor. I sure loved it and I did theatre when I was younger and I was so into everything artistic, but we had this talent agency reach out to us and so we looked into it and we ended up signing with them. Even now, I'm pretty much like a deer in headlights. I started with no skills, still developing my skills and I have a long way to go, but we started auditioning with them. Then a year later, after auditioning a lot and not getting anything, the show came out. My agent was like, "Why don't you read for this?" I read the description and fell in love with the show. I thought if I don't get this I'm still going to watch it. So, I read for the part and I got a callback and that's never happened to me before. I've never gotten a callback. I ended up landing the role for the show and now we're two seasons in and time has just flown.
What was it about the script that attracted you?
There were no boundaries. I think the neat thing is, a lot of kid shows involve a premise of having family life and going to school and stuff, which is really great and I love watching shows like that, but this show was so different. It had nothing to do with school; you never met the kids' families. It was very, "What are we going to do today? Let's go make a giant mountain out of purple Play-Doh." And it turns into a monster. It was just this vibrant, new dimension to kids' TV that I didn't even know could be explored. It was so fascinating. I was just so enthralled with the idea of a brilliant, limitless show. You could do anything on the show.
Tell me about your character, Piper. Are there any similarities between you and her?
The sass, for sure. Piper's definitely supporting of being an individual, being unique and she stands behind being an individual and that's something her and I connect to and present common ground for sure. Another thing is, her style is pretty outrageous and sometimes when I wear these outfits for the show, I'm like, "Can I take this home? I would wear that!" We're very similar. I'm really lucky that I landed a role that's very much like myself. Minus that sometimes she gets a little intense and crazy, but it's fun to play.
Because of your singing background you're probably, more or less, used to performing in front of large crowds and with the show you shoot in front of a live studio audience. Is that intimidating?
At first it was a little startling because I was still getting used to being in front of people. It still makes me nervous to get in front of people, but I remember someone saying to me, "If something makes you nervous that means it means something to you." Now, I'm a lot more used to it and I love the live audience, the energy, getting to meet them after and laughing with them. It's like sharing this priceless moment with them. Even if you make a mistake, they laugh about it and then you just go again. They support you, which is really nice.
How do you prep for the live audience?
Every Friday we have the audience. We film half the script, generally, during the week prior to Friday and we save half the script for Friday. We generally save the scenes that have the really fun things for the audience to watch, like the gags of someone getting drenched in some sort of substance or a crazy costume or someone doing a stunt. We want to make it fun for the people that came out to watch. Right before the live audience, we gather the whole cast backstage, then we count down and we pick a favorite word of the week and then we go out and have fun.
You were nominated for a Canadian Screen Award for Best Performance in a Children's or Youth Program for your role – what does that mean to you?
It was very unexpected because I've only been acting for a short period of time and I'm extremely, extremely humbled to have crossed the Academy's mind. I went to the gala where they announced who won in my category and unfortunately I didn't win, but Degrassi won and that's a great show and they've been around for a while and I have a lot of respect for Canadian television in general. But just to be in the same room with such hard working, talented, motivated people in the film industry, that was winning for me. Getting to even be put in that crowd meant the absolute world. I didn't win, but I still got to be there and I'll never forget it. I'm only 16 and it was such a treat, such a humbling honor to have just been there. Just to be in that room was really inspiring.
Your show just got picked up by Netflix. What does that mean for the show?
I am so excited to see where the show goes now. I'm so excited to share it with the United States and across the globe and I cannot even contain the excitement. Now we get to share this brilliant, vibrant, colorful show and I'm so excited to see how many people connect with it. I'm hoping that it goes a long way.
What's been your most memorable part of the show so far?
I think the thing that I treasure the most is the cast and crew. We're like a really tight family now and we know each other really well and it's so nice to come to work every day and feel like you have a family away from your family. I don't get to see my family as often, but I have one there and it makes you feel really secure and really safe and really supported that someone supports you for doing what you love. They're standing behind you 100 per cent even if you make a mistake, thick and thin, that's just my favorite part. Coming to work, being able to laugh, being able to have fun every day. It doesn't feel like work, ever. The best part is seeing the joy on the kids' faces that come, which makes all the hard work worth it. You feel so proud to have been a part of something that gives someone so much joy.
How do you balance being 16, working, traveling, music and going to school?
I'm a strong believer in moderation. I feel like that's the only way that I can keep common ground in my mind, so I make sure school's a priority, but I don't let it consume my life. I make sure to put enough time in for school. Work is my life, I love it, but then I also make sure, even if I have a really busy schedule, to go home and see my family because that's where I started. They're the ones that raised me. There are times where I have a week off at a time and I make sure to go out with my friends. Friends and family are really important. They're the ones that loved you before you were on the show. They don't let the show define you, they still love you no matter what. You have to just take it one day at a time. That's how I've started to do things, one day at a time because even if I try and book like a week in advance, my head explodes [laughs].
You're on a TV show, but what's YOUR favorite TV show.
I'm loving Netflix right now. I'm really loving The Office with Steve Carell. I just think it's so funny. He's so funny.
What is one character or role that you would, without question, love to play?
Wynona Ryder's character in Beetlejuice. I'm a huge Tim Burton fan. I love how outside-of-the-box and abstract he is and I've been a fan since I was really little, which kind of scared my parents. But definitely Wynona Ryder's character. Or Johnny Depp's Edward Scissorhands. If I could be Edward Scissorhands, I totally would be. Or the Mad Hatter. Or Alice from Alice in Wonderland. Anything Tim Burton. Probably Alice in Wonderland. This is what Some Assembly does, same with Alice in Wonderland, they just created this really trippy outside-the-box, no one would have ever thought of but a genius, idea or concept. Some Assembly is like a modern wonderland. Just a roller coaster running through the lobby and colors and wild things. I love that. It's like a crazy, trippy fairy tale.
In terms of music, do you plan on releasing any more songs or an album?
I really hope to in the future because music is a huge part of my life and that's where I started. I try to not let that get too far out of my reach. I've teamed up with some writers and we're working on just trying to get the flow of what my sound is. It could take years or it could take months or it could be tomorrow. It's kind of a time thing. We're experimenting around with sound, lyrics and music. I'm really hoping to release something within the next couple of years, at the latest. I'd love to release something tomorrow, but I want to take my time with it because I want it to be really special.
What's next for you?
I'm not sure if there's another season of Some Assembly Required, but I'd love to do another season. If that doesn't go on, it'll still be on Netflix, which is pretty cool. I'm hoping to continue with my acting and study the art of drama acting because I've only done comedy. I'd love to also tweak my skills in comedy. I have a long way to go. So, I would love to take some classes and then audition some more for, well, anything. I would love to expand my resumé. And continue working on music for sure. That'll be a big priority for me. ~Sandra D. Sukraj