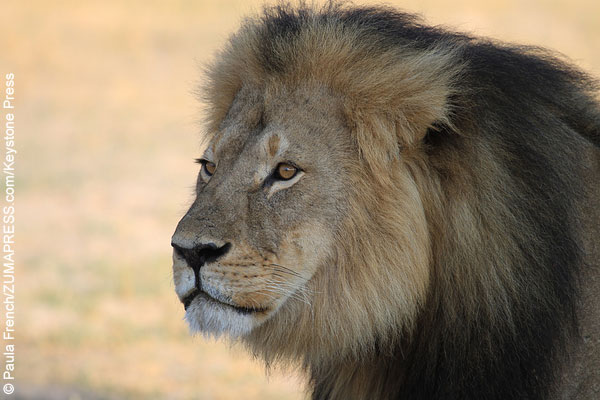 Zimbabwe's environment minister Oppah Muchinguri said earlier today during a news conference that Walter Palmer, 55, the American dentist who killed Cecil the lion (pictured above), is a "foreign poacher." He also said the hunt Palmer paid for was illegal and is asking the States to extradite the thrill killer to Zimbabwe to face justice.
Muchinguri described Cecil, who was a favorite with foreign tourists to the Hwange National Park because of his black mane, as an "iconic attraction."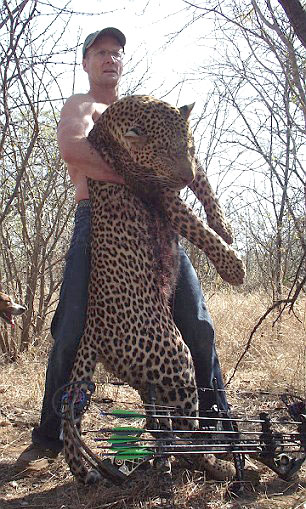 "Unfortunately it was too late to apprehend the foreign poacher as he had already absconded to his country of origin," Muchinguri said during the news conference. "We are appealing to the responsible authorities for his extradition to Zimbabwe so that he be made accountable."
The 13-year-old lion was lured out of the sanctuary where he lived by Palmer and two guides, who were dragging the carcass of another animal behind their car. Palmer then shot Cecil with an arrow that wounded, but did not kill him.
They pursued Cecil for 40 hours before Palmer killed him with a gun. That's when they found out he was wearing a GPS collar, so they cut off his head and skinned him. They tried to destroy the collar but were not successful, allowing authorities to find Cecil's remains.
Muchinguri said using a bow and arrow to kill a lion was in direct contravention of Zimbabwean hunting regulations. Palmer is pictured at left with a leopard he killed using a crossbow. Director of National Parks and Wildlife Edson Chidziya said that so far none of Cecil's cubs had been killed by rival male lions, but added that no rescue missions have been planned.
Palmer, who fled the country, is believed to have killed more than 50 big game animals, including polar bears and elephants, and posed with their dead bodies for photos that appear on hunting websites.
Palmer has gone into hiding and his dentistry office, River Bluff Dental, in Bloomington, Michigan has been closed.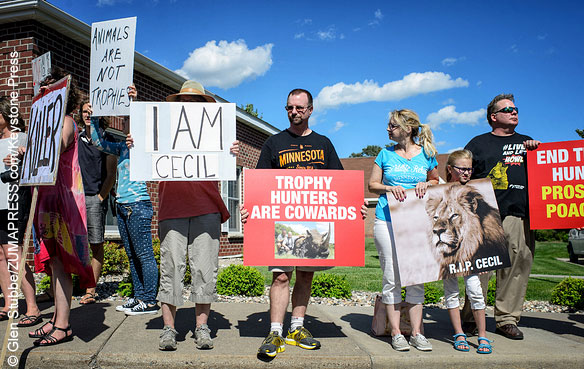 However, he wrote a note to his patients saying he would resume his practice "as soon as possible." People have been leaving stuffed doll animals in front of the building as a memorial for Cecil and protesters were at the building earlier this week (pictured at left).
Under a 1998 treaty between Zimbabwe and the United States, a person can be extradited if they are accused of an offence that carries a sentence of more than a year in prison. Palmer faces up to 10 years in prison in Zimbabwe for the illegal killing of a lion, as well as a mandatory fine of $20,000.
The two Zimbabwean guides who helped Palmer kill Cecil have been arrested and one of them, professional hunter Theo Bronkhorst, was charged this week in court and released on $1,000 bail. He is due back in court on August 5th. ~Alexandra Heilbron